Starlux Tokyo flight woes probed by CAA
UNAUTHORIZED TAKE-OFF? The airline chairman piloted a flight after a night without sleep to help get stranded planes back to Taiwan, local reports said
The Civil Aeronautics Administration (CAA) is reportedly investigating whether Starlux Airlines chairman Chang Kuo-wei (張國煒) contravened aviation regulations by piloting an A350 aircraft to Taiwan from Tokyo while fatigued on Sunday, along with issues related to weather-induced flight disruptions that caused more than 300 passengers to be stranded in Tokyo on Saturday.
The operation of the Taipei-based airline came under scrutiny after 302 passengers were forced to spend Saturday night at Narita International Airport due to substantial delays of two flights to Taiwan — flights JX801 and JX803 — that were caused by strong crosswinds at the airport.
The delays also caused the airline to reschedule two flights that were to depart from Taipei to Los Angeles over the weekend.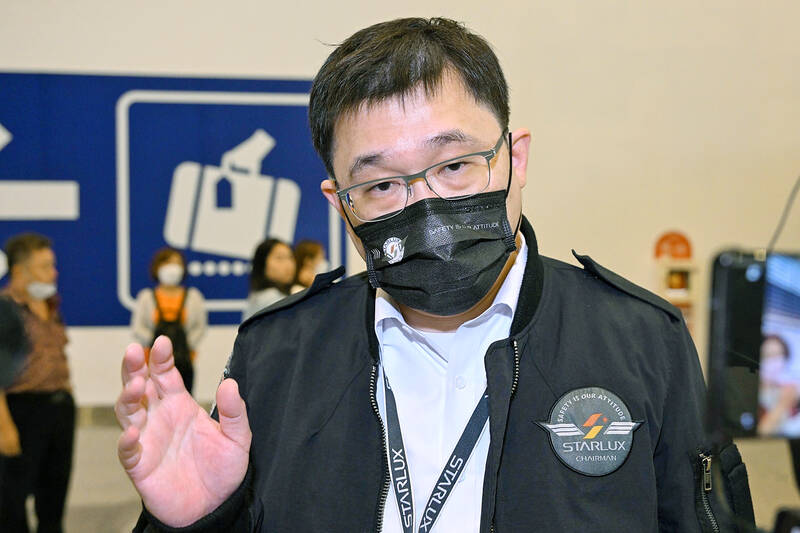 Starlux Airlines Co chairman Chang Kuo-wei speaks to reporters at Taiwan Taoyuan International Airport on Sunday.
Photo: CNA
Chang, who is a pilot, went to Tokyo with three Starlux staff pilots on Sunday to fly back two Airbus 350 aircraft stranded at Narita airport because of the flight delays. Chang operated one of the flights.
He told reporters at Taiwan Taoyuan International Airport that "he did not sleep the night before because he tried to catch a red-eye flight to handle the situation in Tokyo."
The CAA said it has launched an investigation into the incident on Saturday.
"We have asked Starlux to explain what happened with the return flights from Tokyo on Saturday. Some of the key issues we are seeking to clarify include whether the airline has thoroughly followed aviation safety measures in handling the weather-induced flight disruption, whether cabin crew have worked overtime, how it dealt with problems caused by flight delays and cancelation, and how it has planned to compensate passengers, the agency said.
It has also asked the airline to address the issues immediately, it added.
Local media reported that the agency would also investigate an abnormality with a navigation light on flight JX803, and whether Narita Airport had agreed to have one of the airline's planes take off during the airport's curfew.
As Chang said he did not sleep the night before operating an aircraft back to Taipei, the agency would examine if he complied with regulations on flight duties for pilots, the reports said.
Comments will be moderated. Keep comments relevant to the article. Remarks containing abusive and obscene language, personal attacks of any kind or promotion will be removed and the user banned. Final decision will be at the discretion of the Taipei Times.