KMT backs Terry Gou's Taiwan-wide nuclear plan
CLIMATE GOALS: The party said its national energy policy would give Taiwan clean, stable and affordable electricity while meeting greenhouse gas reduction targets
The Chinese Nationalist Party (KMT) on Thursday backed a proposal by Hon Hai Precision Industry Co founder Terry Gou (郭台銘) to build small nuclear fission reactors in every administrative region of Taiwan.
The proposal to build small modular reactors (SMR) is forward-looking and has broad international vision, as many countries are developing SMRs to meet industrial and residential power demand, KMT spokesman Alfred Lin (林家興) told reporters.
Moreover, the plan would allow Taiwan to reach its goal of being energy self-sufficient, Lin said.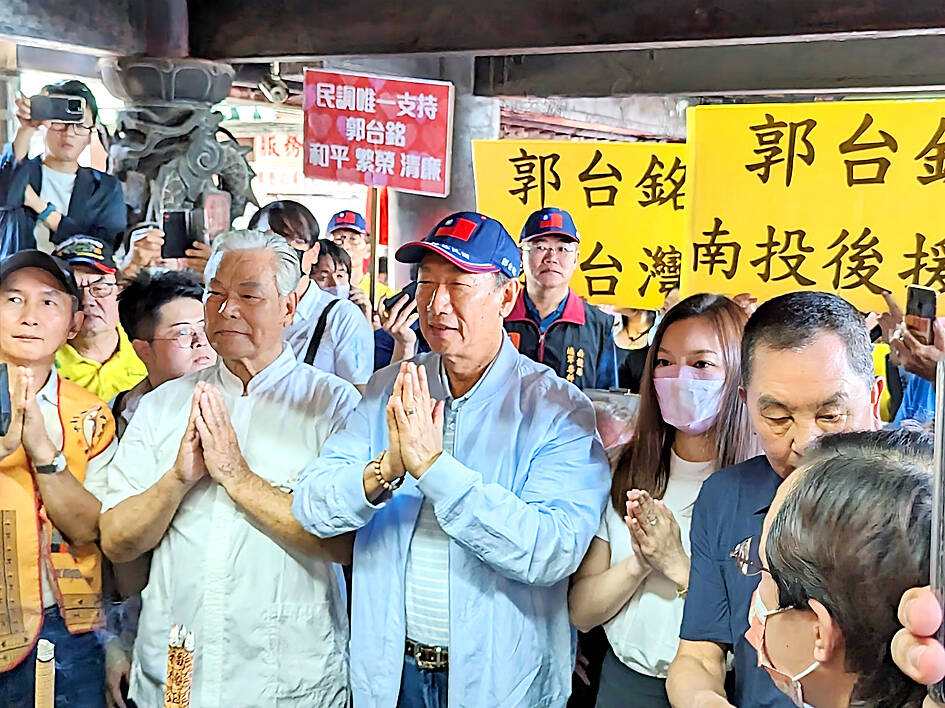 Hon Hai Precision Industry Co founder Terry Gou, center, prays at a temple in Nantou County's Jhushan Township on Thursday.
Photo: Liu Pin-chuan, Taipei Times
The Democratic Progressive Party (DPP) government's "misdirected" energy policy has resulted in shortages and impeded economic growth, the KMT said, adding that people's health has been harmed by the expansion of coal-derived power.
"The KMT in 2021 presented a national energy policy to enable Taiwan to have clean, stable and affordable electricity from a variety of sources while meeting greenhouse gas reduction targets to adapt to long-term climate change," Lin said. "Only the KMT's policy can achieve the aims of low-carbon emissions and a homeland that does not burn coal."
Gou — who is seeking the KMT's presidential nomination — on Tuesday told an event in Kaohsiung's Zuoying District (左營) that he backed SMRs.
SMRs are a proposed class of nuclear reactors that have a power capacity of less than 300 megawatts per unit.
Gou's proposal to put SMRs in "each municipality and county" has sparked heated debate.
The National Nuclear Abolition Action Platform said in a news release on Thursday that Gou's energy policy was "totally irresponsible."
"SMRs and conventional nuclear power plants use nuclear fission, but SMRs produce 20 to 30 times more radioactive waste than conventional nuclear power plants," it said.
Gou is likely confusing SMRs with nuclear fusion and is misleading the public by packaging his proposal in technical terms, the group said.
"Nuclear fusion is still in the research stage after many years," it said.
"While it is expected to be much safer — as it would not generate radioactive waste — there has not been a commercial breakthrough, as it requires more energy to run than it can generate," it said. "There is no timetable for fusion technology to be viable in the near future."
"We oppose nuclear energy, because we have no way to treat radioactive waste," it said.
The Green Citizens' Action Alliance also slammed Gou's proposal.
"Taiwan must not become an experimental site for the nuclear power industry, and energy policy requires professional evaluation and monitoring," it said.
"Nuclear issues should not be politicized for campaign purposes," it added.
"Building SMRs would not help the electricity situation much, nor would it improve Taiwan's competitiveness," it said. "Taiwan has no place to permanently store the spent nuclear fuel it has now, so it is delusional to suggest constructing SMRs, which could generate up to 30 times as much waste."
"Has Gou asked local government heads whether they would be willing to allow nuclear waste storage sites in their regions?" it asked.
"Nuclear power can be destructive if it is mishandled," DPP Legislator Cheng Yun-peng (鄭運鵬) said, adding that electricity supply must be stable, but disasters can hit nuclear power plants and there is no technology to deal with a nuclear disaster.
"Gou's outrageous proposals have led to anxiety and panic in society," DPP spokesman Chang Chih-hao (張志豪) said. "He is promoting himself by presenting bizarre ideas. It is regretable that he has such disregard for the lives of our citizens and their property."
Comments will be moderated. Keep comments relevant to the article. Remarks containing abusive and obscene language, personal attacks of any kind or promotion will be removed and the user banned. Final decision will be at the discretion of the Taipei Times.