NPP calls for firefighters' rights
SHAKY ENFORCEMENT: Rules regarding work hours, overtime, standby and breaks need to be enforced nationwide so firefighters are protected, the NPP said
The government should ensure that firefighter work hour reforms are enforced nationwide, the New Power Party (NPP) caucus said as the nation observed International Firefighters' Day yesterday.
Since the National Fire Agency in January implemented a work hour system, irregularities in enforcement of the new model have been reported in multiple fire departments, NPP Legislator Chiu Hsien-chih (邱顯智) told a news conference in Taipei.
"Some firefighters complained that break times had become even more fragmented, and their standby time was not counted as work hours. Others said that they were banned from taking a few days off consecutively," he said.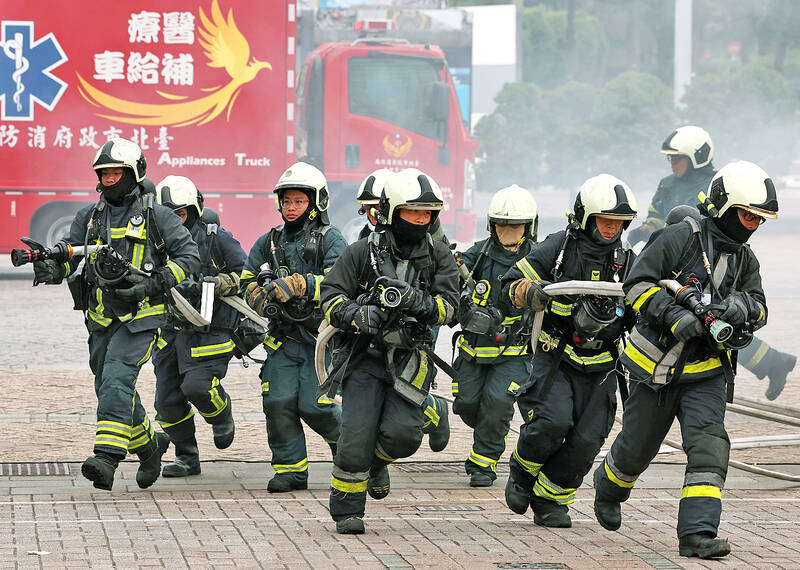 Firefighters conduct a Minan civilian defense drill in front of Taipei City Hall yesterday.
Photo: CNA
The agency has eliminated rules encouraging firefighters to work extra hours in exchange for merit, but it has enforced rules to give firefighters compensatory days off for working overtime, Chiu said.
"The central government should also enhance its oversight of local fire departments, to make sure that firefighters get overtime pay. It should work with local fire departments and firefighters' unions to identify reasons for incongruities in the enforcement of the new system," he said.
Firefighters might be inadequately rewarded if their overtime pay is inaccurately calculated, NPP Legislator Chen Jiau-hua (陳椒華) said.
The Ministry of the Interior should consider raising the allowance for firefighters to engage in high-risk tasks, as it considers raising the salaries of police officers, she said.
A female firefighter at the Yilan County Fire Department was reportedly sexually harassed, but the department dismissed the complaint, NPP Legislator Claire Wang (王婉諭) said, adding that the investigation disregarded medical evidence and damaged her well-being, forcing her to leave the job.
Comments will be moderated. Keep comments relevant to the article. Remarks containing abusive and obscene language, personal attacks of any kind or promotion will be removed and the user banned. Final decision will be at the discretion of the Taipei Times.