Unclear who would help in war: foreign minister
Taiwan intends to fight for itself in any armed conflict with China and is unclear as to what countries might stand beside it, Minister of Foreign Affairs Joseph Wu said (吳釗燮).
In an interview on Friday last week with Sky News Australia, Wu said that Taiwan, with a population of 23 million compared to China's 1.4 billion, has to defend itself and is not asking other countries to fight for it.
Regarding who might fight alongside Taiwan in the event of a war with China, Wu said: "This is a very good question."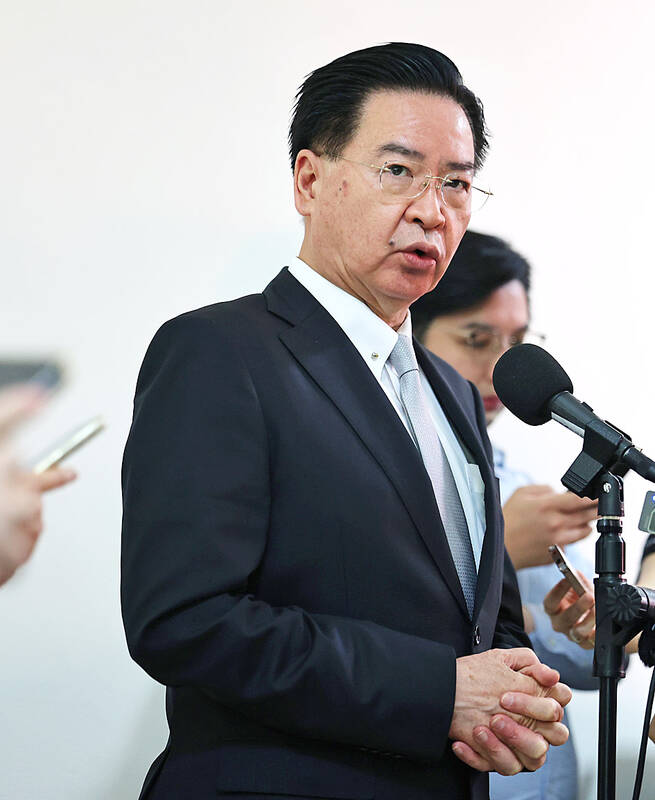 Minister of Foreign Affairs Joseph Wu speaks at the Legislative Yuan in Taipei yesterday.
Photo: CNA
"A lot of people are debating strategic ambiguity or strategic clarity, but to us, we know our own responsibility," Wu told the news channel from Taipei.
"Taiwan has to defend itself, the people have to defend Taiwan, this country, and we are determined to defend ourselves and we are not asking other countries to fight for Taiwan," he said.
US President Joe Biden has repeatedly said that US forces would help defend Taiwan, although US official policy remains ambiguous over if and how forces would be dispatched.
Australian Minister for Defence Richard Marles in March said that his country had made no promise to support the US in any conflict over Taiwan as part of an agreement to obtain US nuclear-powered submarines.
Biden and the leaders of Australia and the UK have announced that Australia would purchase nuclear-powered attack submarines from the US to modernize its fleet, amid growing concern about China's influence in the Indo-Pacific region.
Australian critics of the deal say that the US would not hand over as many as five of its Virginia-class submarines without assurances that they would be made available in the event of a conflict with China over Taiwan.
Asked if Taiwan was destined for war, Wu said: "I certainly hope not."
"The reason is very clear: War means devastation, not just for the one who got attacked, but possibly also for other countries as well," he said.
"And therefore, at this moment, even though we see that the tension has been rising and the conflict seems to be more likely and peace is less likely to maintain, but we need to do everything to prevent war from happening," he said.
Wu said that Taiwan is working to maintain the "status quo" — essentially de facto independence without a formal declaration.
The US remains Taiwan's closest military and political ally, despite the lack of formal diplomatic ties between them. US defense officials have warned of the potential of conflict in coming years and US forces have been bolstering their presence in Asia, most recently in the Philippines, to respond to such a contingency.
Comments will be moderated. Keep comments relevant to the article. Remarks containing abusive and obscene language, personal attacks of any kind or promotion will be removed and the user banned. Final decision will be at the discretion of the Taipei Times.