Former US official John Bolton could visit Taiwan
'CHINA HAWK': Bolton has long advocated for the US to recognize Taiwan as a sovereign country, which would be substantial in a possible US presidential bid, RFA reported
John Bolton, a former US national security adviser and an outspoken China hawk who said he might run for president next year, is scheduled to visit Taiwan this week, a Radio Free Asia (RFA) report said on Friday.
Bolton said in January that he might run for the Republican US presidential nomination next year against former US president Donald Trump, telling the New York Post that "Trump's support within the party itself is in terminal decline."
Prior to being a US national security adviser under Trump from April 2018 to September 2019, he was a US ambassador to the UN from 2005 to 2006.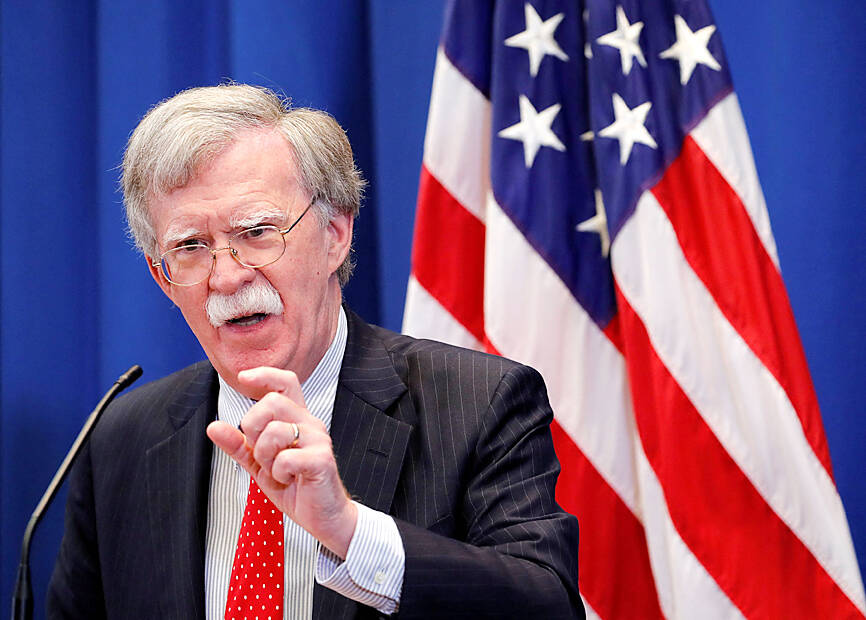 Then-US national security adviser John Bolton speaks at a news conference in Geneva, Switzerland, on Aug. 23, 2018.
Photo: Reuters
Bolton's office told RFA that he would deliver remarks at two pro-Taiwanese independence events in Taipei.
The first is a keynote speech at the World Taiwanese Congress on Saturday, with the theme "Maintaining Long-Term Peace and Security in Taiwan," while the other is a keynote address at the Formosan Association for Public Affairs' 40th anniversary banquet on May 1, RFA said.
Bolton has long advocated for a hard line on China and US recognition of Taiwan as a sovereign nation, RFA said, adding that the White House bid he is pondering would be "a long shot, but his position on China is politically astute."
US polls show that an unfavorable view toward China is increasing among the population, and support for Taiwan is rising, University of Nevada, Las Vegas political science professor Austin Wang (王宏恩) told RFA.
"Bolton's visit to Taiwan as a [potential] presidential candidate carries two significant meanings: Firstly, it could help him in the primaries of his party, and secondly, it reflects the importance of Taiwan issues for supporters of various political parties," Wang was quoted as saying.
Bolton would not be the only high-profile Republican to visit Taiwan.
Former US vice president Mike Pence, who said he is also considering a presidential bid, is due to visit Taiwan in June, RFA said.
Virginia Governor Glenn Youngkin, who has been touted by supporters as a potential presidential contender, is also scheduled to visit Taiwan ahead of Bolton, RFA said.
Separately, Japanese media reported yesterday that former president of House of Councilors of Japan and Liberal Democratic Party lawmaker Akiko Santo is scheduled to visit Taiwan from May 3 in an effort to deepen relations.
The 80-year-old Santo was elected for the eighth time in 2019, making her the longest-serving lawmaker in the chamber, and was also the party's first female faction head, as well as the first female vice president and president of the House of Councilors, stepping down as president last year.
While hosting a meeting in the Chamber of Japan House of Councilors on June 11, 2021, Santo announced the passing of a motion calling for Taiwan's attendance at the World Health Assembly, which was passed without objection.
Comments will be moderated. Keep comments relevant to the article. Remarks containing abusive and obscene language, personal attacks of any kind or promotion will be removed and the user banned. Final decision will be at the discretion of the Taipei Times.