News report on China's air prowess false: MND
UNDERESTIMATED: The military is confident that it can repel any Chinese attack, the defense ministry said after a US newspaper reported on leaked US documents
A media report citing leaked US intelligence documents as saying that China would probably gain air superiority quickly if it were to attack Taiwan was not true, the Ministry of National Defense (MND) said yesterday.
The Washington Post reported that classified documents, allegedly leaked by a US Air National Guard member, showed that the leadership of the Taiwanese military doubts that its air defense systems can "accurately detect missile launches," while only about half of its aircraft are capable of effectively engaging the enemy.
The report said Taiwan fears it could take up to a week to move its aircraft to shelters, leaving them vulnerable to Chinese missile strikes.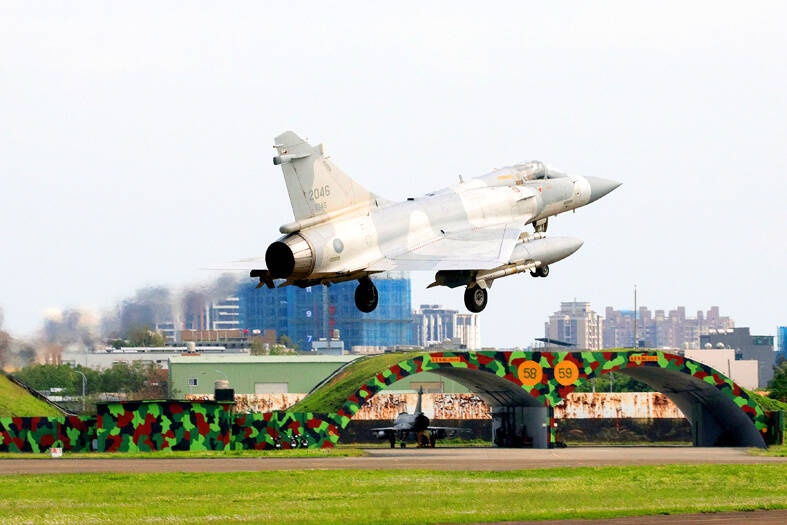 A Mirage 2000 fighter jet lands at Hsinchu Air Base on April 9.
Photo: Jameson Wu, AFP
China's use of civilian ships, including passenger ferries, for military purposes has hampered the US intelligence community's ability to detect preparations for a Chinese invasion of Taiwan, the Washington Post said.
The report said the US Department of Defense had criticized Taiwan's missile drills as too highly scripted, potentially leaving its armed forces and their leadership unprepared for a "real-world event."
Chinese President Xi Jinping (習近平) has undertaken a huge overhaul of the Chinese military to expand and modernize it. The Chinese People's Liberation Army is estimated to be 14 times the size of Taiwan's armed forces.
The Washington Post quoted the MND as saying that the armed forces are confident that they can defend Taiwan.
Taiwan's response to Chinese drills around the nation in the past few days showed that its military is "absolutely capable, determined and confident" about its capabilities, the report cited the ministry as saying.
The ministry yesterday said in a statement that the content of the report was not true.
Taiwanese military drills have simulated all possible scenarios of Chinese communist forces attacking the nation, the ministry said.
Taiwan had made "appropriate modification on combat plans" as it continues to enhance military preparedness to bolster its defense capabilities, the ministry said.
Last week, Taiwan staged large-scale emergency response drills enacting a wide array of scenarios, including enemy attacks using missiles and chemical weapons.
The drills were held days after China conducted military exercises around Taiwan, with part of them held as close as 160km off Taiwan's coast.
Additional reporting by Chen Yu-fu
Comments will be moderated. Keep comments relevant to the article. Remarks containing abusive and obscene language, personal attacks of any kind or promotion will be removed and the user banned. Final decision will be at the discretion of the Taipei Times.