Group to hold cannabis march
DECRIMINALIZATION: The advocates called on society and lawmakers to destigmatize marijuana use, and for laws to be amended to allow for tetrahydrocannabinol
Advocates from Green Sensation would tomorrow call for the decriminalization of cannabis, the organization said, adding that conservative religious groups had smeared their campaign and escalated attacks against their cause.
A series of entertainment and music performances are scheduled on Ketagalan Boulevard in Taipei, next to the Ministry of Foreign Affairs, from noon tomorrow, with vendors and non-governmental organizations to attend the event.
A large crowd is expected at 4:20pm to march to the legislature, group spokesperson Chung Ho-yun (鍾和耘) said.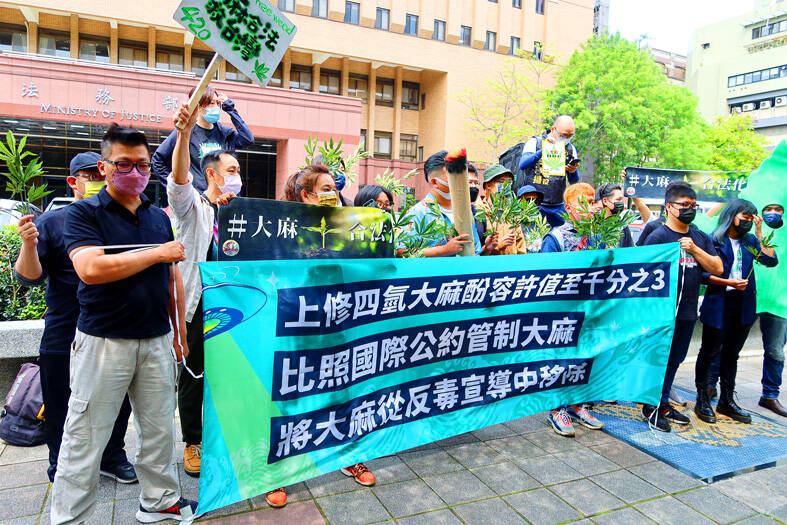 Advocates from Green Sensation hold a news conference in front of the Ministry of Justice in Taipei on April 16 last year.
Photo: CNA
"Our movement has come under escalating attacks this year, and we have encountered coordinated efforts to smear us, including disinformation and fake news circulating online by conservative religious groups with assistance by pan-blue political forces," Chung said.
He showed reporters a post on messaging app Line that showed this year's Green Sensation poster, with the message: "[President] Tsai's [Ing-wen (蔡英文)] DPP [Democratic Progressive Party] government is sponsoring this 'cannabis festival' to encourage all Taiwanese to smoke cannabis... Please circulate widely, so everyone will know that the DPP is poisoning all our citizens. Is this not the same as when the late Manchu Qing Dynasty encouraged people to smoke opium?"
"We condemn such vile tactics to smear us and vilify the government with fake news," Chung said, adding that the event is organized by advocates of personal liberty and the right to use medical marijuana.
The group raised NT$200,000 earlier this year in a fundraising project to finance the festival, he said.
The calls have also been debunked by MyGoPen, a Web site that combats fake news, Chung said, adding that the festival is entirely organized by activists and civil society groups, and the government has nothing to do with it.
"In fact, the harsh repression of cannabis has been the work of Ministry of Justice officials under the DPP administration," he added.
The smear campaign and fake news were created by groups such as Common Good Taiwan and the Family Guardian Coalition, and Chinese Nationalist Party (KMT) officials disseminated it on social media, Chung said.
"They even tried to shut us down by going to a local police precinct, demanding that they withdraw the permit allowing us to march and use the Ketagalan site," he said.
However, lawyers fought for their freedom of expression and the right to personal belief, so they did not succeed, he said.
"This shows Taiwan still needs to work on transitional justice, and ease the repression against cannabis, as we have to fight conservative forces all the time," he added.
This is the fifth year since the event in 2019 began to call for Taiwan to join 420 International Weed Day, Chung said, adding that this year would have a large lineup of Taiwanese entertainers and bands.
"We are asking society and lawmakers to stop the repression of cannabis," he said.
"We urge for decriminalization, and call on the Ministry of Justice and the courts to stop their so-called 'war on cannabis' which targets the younger generation," Chung said.
Chung called on the government to permit 0.3 percent tetrahydrocannabinol products — which follows regulations in many countries — and to follow the UN Commission on Narcotic Drugs' scrapping of cannabis from its narcotic drugs list in 2020.
The Ministry of Justice and lawmakers should do the same and amend the Narcotics Hazard Prevention Act (毒品危害防制條例), he said.
Comments will be moderated. Keep comments relevant to the article. Remarks containing abusive and obscene language, personal attacks of any kind or promotion will be removed and the user banned. Final decision will be at the discretion of the Taipei Times.