Ma Ying-jeou visits Sun Yat-sen site in Nanjing
CHINA TRIP: The former president said he hoped the two sides of the Taiwan Strait would work together to pursue peace, avoid war and strive to 'revitalize China'
Former president Ma Ying-jeou (馬英九) yesterday began a 12-day tour of China with a visit to the Sun Yat-sen Mausoleum in Nanjing.
He paid tribute to Sun Yat-sen (孫逸仙), a founder of the Republic of China, giving a short speech and then bowing in front of the memorial.
"The people of both sides of the Taiwan Strait belong to the Chinese nation, are children of Yandi (炎帝) and Huangdi (黃帝)," he told reporters who had been allowed to follow him on the trip, referring to figures said to have founded of the Han ethnicity in ancient China.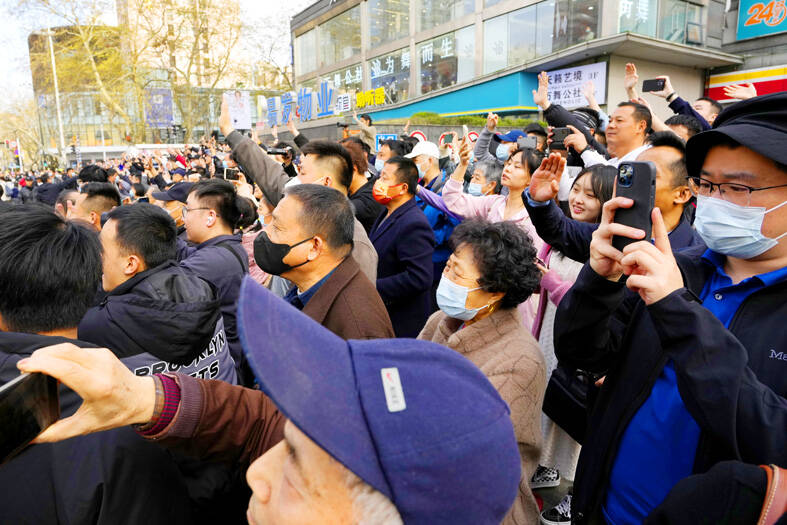 People wave as former president Ma Ying-jeou leaves the John Rabe Former Residence in Nanjing, China, yesterday.
Photo: AP
Ma has framed the trip as an effort to lower tensions between Taipei and Beijing by promoting exchanges, bringing Taiwanese college students with him on the visit.
"We sincerely hope that the two sides will work together to pursue peace, avoid war and strive to revitalize China. This is an unavoidable responsibility of Chinese people on both sides of the Strait, and we must work hard," he said, using an expression that refers to Chinese people as an ethnicity rather than a nationality.
Ma praised Sun, who advocated for a "modern Chinese nation" and the overthrow of the Qing Dynasty.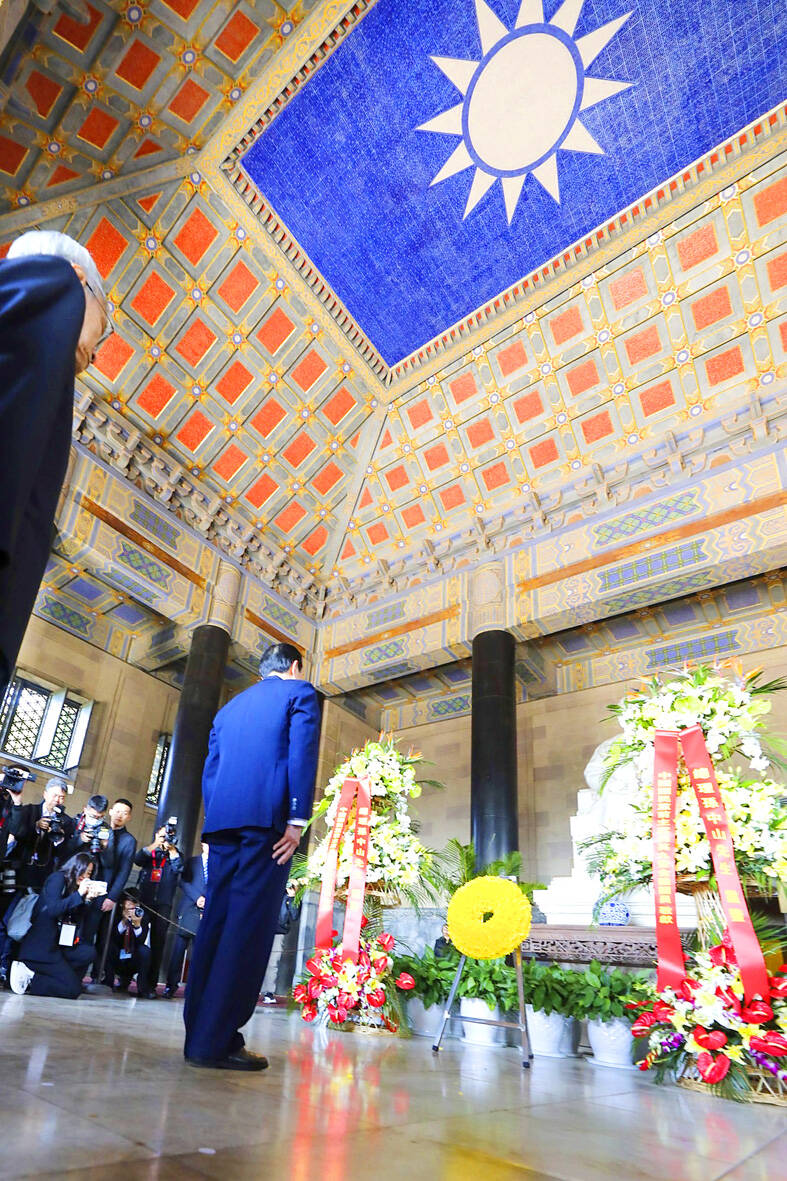 Former president Ma Ying-jeou stands at the Sun Yat-sen Mausoleum in Nanjing, China, yesterday.
Photo: Ma Ying-jeou's Office via AP
Outside the mausoleum, a crowd gathered to see if they could catch a glimpse of the former president.
Most of the regular tourists expecting to be able to see the mausoleum and the surrounding park found themselves blocked from entering, although a few who had reserved in advance were allowed to enter the site.
"Even though there are some difficulties on the official front, as long as there are benefits to the public and you can build a good foundation, then this will be good for the unification of both sides," said Chen Shaoan, who was at the mausoleum to see Ma.
Ma also visited the China Modern History Museum, which is the site of the old Presidential Palace in Nanjing.
Ma arrived at Shanghai Pudong International Airport earlier in the morning, where he was greeted by Chen Yuanfeng (陳元豐), deputy minister on China's Taiwan Affairs Office, Zhong Xiaomin (鍾曉敏), head of the Shanghai City Government's Taiwan Affairs Office, and Chinese Communist Party Shanghai Standing Committee member Zhang Wei (張為).
Additional reporting by CNA
Comments will be moderated. Keep comments relevant to the article. Remarks containing abusive and obscene language, personal attacks of any kind or promotion will be removed and the user banned. Final decision will be at the discretion of the Taipei Times.