President thanks Taiwanese in Japan
President Tsai Ing-wen (蔡英文) in Taipei yesterday thanked the Taiwanese community in Japan for deepening Taiwan-Japan ties and encouraged investment in Taiwan.
The Taiwanese community in Japan has always been united and contributed greatly to friendly ties between Taiwan and Japan through civil diplomacy, Tsai told a meeting with a delegation of an association formed from Taiwanese communities in Kyoto, Osaka, Kobe, Shikoku and Hiroshima.
The association collected disease prevention supplies during the COVID-19 pandemic to give to the Japanese government, healthcare institutions and schools, exemplifying the kindness of Taiwanese, she said.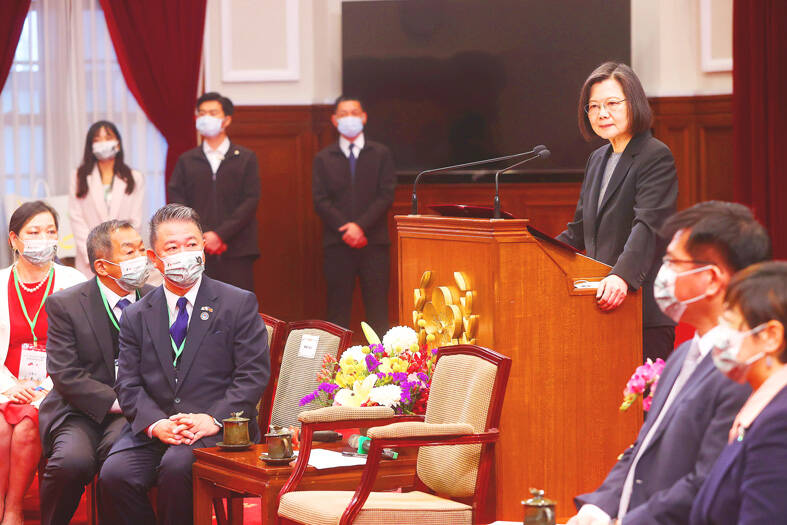 President Tsai Ing-wen, at podium, addresses a group of Japan-based Taiwanese at the Presidential Office in Taipei yesterday.
Photo: CNA
After China announced a ban on pineapple imports from Taiwan, the association purchased nearly 10 tonnes of the fruit from Taiwan and gave them to Japanese politicians and social welfare organizations to promote the nation's high-quality agricultural products, she said.
Tsai thanked the association for caring for Taiwan, adding that its efforts have deepened the friendship between the two nations.
The joint effort of Taiwan's government and society has meant the economy has developed steadily since the pandemic, earning the nation the No. 1 spot on Nikkei Asia's COVID-19 Recovery Index, which the magazine published last year, she said.
The Washington-based Heritage Foundation last month ranked Taiwan fourth in the world on its Index of Economic Freedom, the nation's best performance yet on the list, the president said.
Tsai encouraged members of the association to join the "Three Major Programs for Investing in Taiwan" that the government launched in 2019, including its "Action Plan for Welcoming Overseas Taiwanese Businesses to Return to Invest in Taiwan."
The programs, which have been extended to next year, have so far facilitated more than NT$2 trillion (US$65.82 billion) in investments and created more than 140,000 job opportunities, she said.
She urged members of the association to continue to exert their influence in Japan and "be the backup force of the government" to win more international support for Taiwan.
Comments will be moderated. Keep comments relevant to the article. Remarks containing abusive and obscene language, personal attacks of any kind or promotion will be removed and the user banned. Final decision will be at the discretion of the Taipei Times.