Ministry orders Honduras to vacate Taipei embassy
TASK FORCE DISPATCHED: MOFA said it would assist state employees with repatriation or relocation to other ally nations in the region after Tegucigalpa severed ties
The Ministry of Foreign Affairs (MOFA) on Monday ordered Honduras to vacate its embassy in Taiwan within 30 days of Sunday after Tegucigalpa made a similar demand of Taiwan.
Taipei on Monday announced that it had cut ties with Honduras after the Central American nation earlier said in a statement that it had established ties with Beijing and ended its diplomatic relationship with Taiwan.
Following the announcements, Honduran Deputy Minister of Foreign Affairs Antonio Garcia spoke on Honduran television saying that Taiwan would be required to vacate its embassy in the Honduran capital.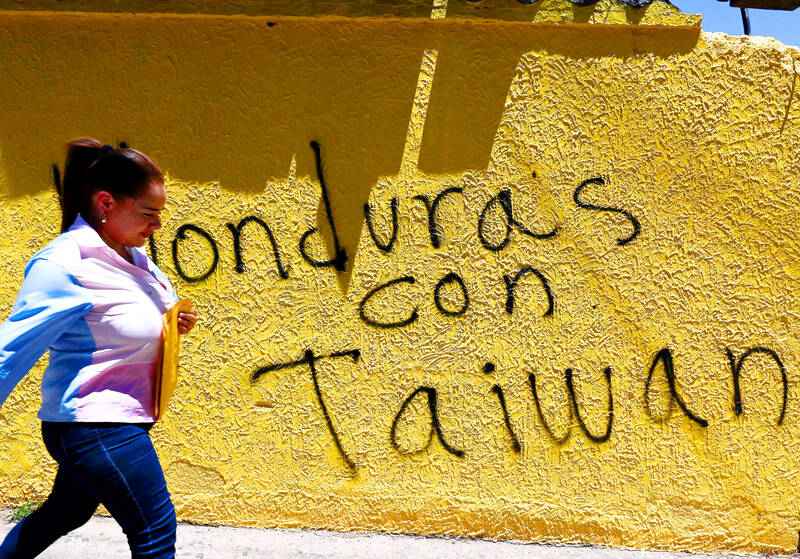 A woman walks past a wall with a message that reads "Honduras with Taiwan" in Spanish in Tegucigalpa on Monday.
Photo: AFP
In Taipei, MOFA later told a news conference that "according to the Vienna Convention on Diplomatic Relations and the principle of reciprocity," Honduras must vacate its embassy in Taipei within 30 days of Sunday, which is when it cut ties with Honduras.
Honduras asked Taiwan to vacate the Tegucigalpa embassy within 30 days of Saturday.
MOFA spokesman Jeff Liu (劉永健) yesterday said that the difference in dates was due to the time difference between the two countries.
A worker removes signage from the facade of the building that housed Taiwan's embassy in Tegucigalpa on Monday.
Photo: AFP
A task force has been sent to Honduras to help embassy staff with evacuation procedures, Liu said.
MOFA has appealed to the Honduran government to provide assistance and to allow embassy staff to complete their exit safely and securely, he said.
MOFA had records of 61 Taiwanese, including those employed by Taipei and their dependents, in Honduras at the time that ties were severed, he said.
The state employees were working either at the embassy or on development projects in the country, he said, adding that MOFA would assist them with repatriation or relocation to other ally nations in the region.
As the embassy property in Honduras was leased, there would be no issue with settling assets, he said.
Honduran scholarship students in Taiwan would be allowed to finish this semester and flight tickets would be provided to them after the end of the semester, Liu said.
He also commented on China's announcement that it would accept Honduran students studying in Taiwan at its universities.
As a free and democratic society, Taiwan provides a better learning environment than China, he said.
There are 359 Honduran students in Taiwan, including 220 in formal degree programs, 138 in language programs and one exchange student.
The severance of ties follows 82 years of diplomatic relations between the two countries.
Honduras in the past few years has made increasingly greater financial demands of Taiwan and threatened to cut ties in favor of China.
During his speech on Monday, Garcia said that China might invest up to US$10 billion in Honduras to boost the country's labor market.
Comments will be moderated. Keep comments relevant to the article. Remarks containing abusive and obscene language, personal attacks of any kind or promotion will be removed and the user banned. Final decision will be at the discretion of the Taipei Times.