S Korean envoy aims to boost chip cooperation
CHIP BACKGROUND: Coming from the trade ministry and holding a PhD in technology, Lee Eun-ho is Seoul's first non-foreign affairs pick for the Taipei representative position
South Korean Representative to Taiwan Lee Eun-ho wants to facilitate closer bilateral semiconductor cooperation to improve global supply chain resilience, and believes that his background in engineering can help in that effort, he said in an interview with Taiwanese media.
Lee is new to the job, having assumed his position at the Korean Mission in Taipei on Feb. 20. The office represents Seoul's interests in Taipei in the absence of official diplomatic ties.
Unlike predecessors who majored in diplomacy or public affairs, Lee received a PhD in mechanical engineering from the Georgia Institute of Technology in the US.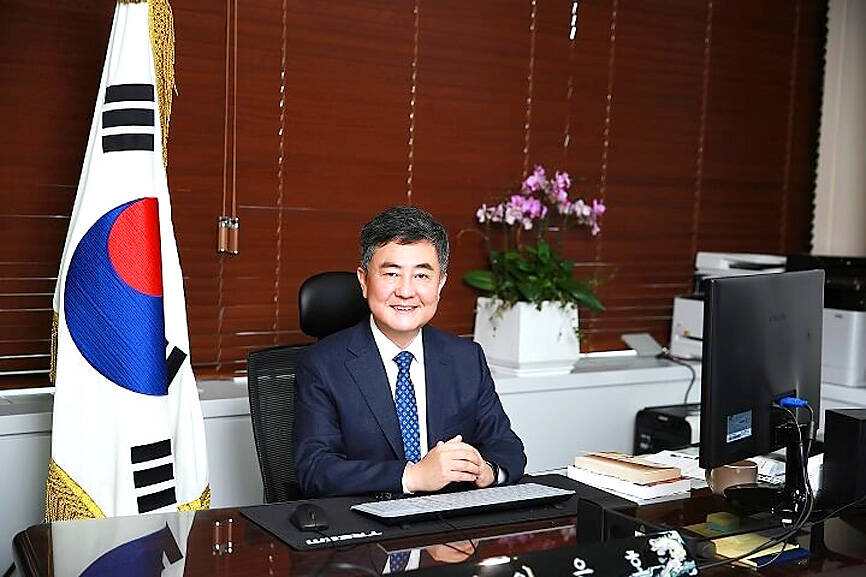 South Korean Representative to Taiwan Lee Eun-ho is pictured in an undated photograph.
Photo courtesy of the Korean Security Agency of Trade and Industry
Upon returning to South Korea, Lee continued to study micromechanical design, which shares similarities with semiconductor production, Lee said, adding that this provides him with some understanding of the industry.
Lee also studied the technology used in uncrewed aerial vehicles, or drones, he said.
Lee said that his background makes his appointment timely, given growing interest in integrated cicuit technology and its unprecedented supply shortage last year, which led to widespread concern over semiconductor supply stability.
Although some might consider Taiwan and South Korea as rivals in semiconductor manufacturing, Lee said the they are better described as close partners with complementary strengths.
Among Korea's strengths are its companies' 70 percent global market share in high-performance DRAM and 50 percent share of the global NAND flash market, he said.
The semiconductor sector is also South Korea's largest industry, accounting for a quarter of its investments and a fifth of its exports, he added.
Bilateral trade between the two economies totaled more than US$54 billion last year. Much of that was related to semiconductor products, and the two sides continue to learn from each other to advance their technologies, Lee said.
As a representative to Taiwan and someone who understands the chip industry, Lee said he would support close cooperation between the two countries' chipmakers so they can develop their respective interests in the global market.
Asked about the US-led "Chip 4" alliance, Lee said the grouping should work more closely to stabilize supply chain security and semiconductor resilience.
The Chip 4 alliance is a grouping of Taiwan, Japan, South Korea and the US to build cooperation in the design and production of advanced semiconductors.
A diplomatic source previously said Lee's appointment is significant, as it is the first time Seoul has named a Taipei envoy from its Ministry of Trade, Industry and Energy.
Since 1992, when official ties between the two countries ended as Seoul switched diplomatic recognition to Beijing, envoys to Taipei had come from the South Korean Ministry of Foreign Affairs.
Lee was also the first top South Korean envoy to Taiwan named by President Yoon Suk-yeol, who took office in May last year.
Lee since 2020 served as president of the Korean Security Agency of Trade and Industry, a government-funded institution to help the country's corporations comply with export controls and international trade standards.
Lee said that aside from semiconductor cooperation, South Korea and Taiwan also have strong partnerships on two-way travel and interpersonal exchanges.
In 2019, 2.5 million visitors traveled between Taiwan and South Korea, and the countries were each other's third-largest source of international tourism prior to the COVID-19 pandemic, Lee said.
Visits dropped to a low of 7,000 in 2021, bouncing back to 130,000 last year and continues to rise this year as normal travel resumes.
Lee replaced Chung Byung-won, who is now the South Korean ambassador to Sweden.
Comments will be moderated. Keep comments relevant to the article. Remarks containing abusive and obscene language, personal attacks of any kind or promotion will be removed and the user banned. Final decision will be at the discretion of the Taipei Times.