HONDURAS RELATIONS: US, Japan express support after Honduras switch
The US yesterday called on the world to deepen engagement with Taiwan after the nation severed diplomatic ties with Honduras.
The government yesterday morning announced the termination of diplomatic relations with the Central American country as the latter switched ties from Taipei to Beijing.
"While Honduras' action is a sovereign decision, it is important to note the PRC [People's Republic of China] often makes promises in exchange for diplomatic recognition that ultimately remain unfulfilled," a spokesperson for the American Institute in Taiwan said.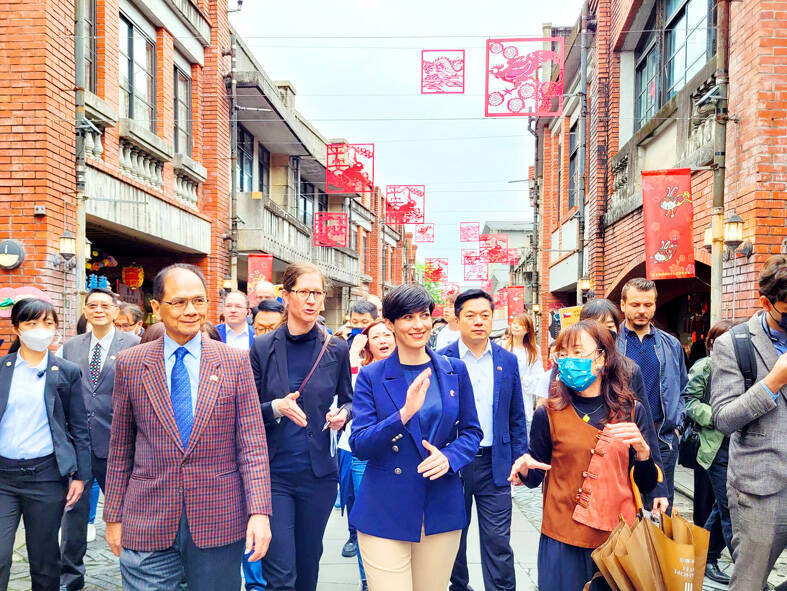 Czech Chamber of Deputies Speaker Marketa Pekarova Adamova, front center, and Legislative Speaker You Si-kun, front left, visit the National Center for Traditional Arts in Yilan County yesterday.
Photo: CNA
The US will "continue to deepen and expand our engagement with Taiwan in line with our longstanding 'one China' policy" despite Honduras' decision, they said.
Taiwan is "a reliable, like-minded and democratic partner" that has provided "significant and sustainable benefits" to the citizens of countries it works with, they said, calling on the world to boost ties with Taiwan.
The Ministry of Foreign Affairs expressed its sincere gratitude to the US for voicing support for Taiwan during such a difficult time.
Taiwan would continue to cooperate with like-minded partners to "earn international respect and the treatment it deserves as a responsible member of the global community," it said.
Meanwhile, Japan-Taiwan Exchange Association Representative Hiroyasu Izumi wrote on Facebook that Taiwan and Japan are important partners that share common values.
The two countries have close economic ties and people-to-people exchanges, he said.
"Japan will continue to see Taiwan as an irreplaceable and important partner," he said.
Japan is always on Taiwan's side and would continue moving forward together, he added.
Visiting Czech Chamber of Deputies Speaker Marketa Pekarova Adamova said the Czech Republic and Taiwan should cherish their friendship even more at this moment.
Taiwan and the Czech Republic share the historical background of fighting for freedom and democracy, which is why the Central European country supports Taiwan on the global stage, Adamova said.
The visit by the 160-strong delegation is comprised of lawmakers from across party lines, government officials, media and industry representatives, as well as academics.
"The Czech Republic is Taiwan's friend," she said.
Comments will be moderated. Keep comments relevant to the article. Remarks containing abusive and obscene language, personal attacks of any kind or promotion will be removed and the user banned. Final decision will be at the discretion of the Taipei Times.