Seven school staff suspended after suicide of student
Seven senior faculty members, including the principal, of a high school in Taichung were temporarily suspended from their jobs on Friday, pending an investigation by the Taichung Education Bureau into alleged bullying and abuse that led to the suicide of a student last month.
The city's education officials were too slow to suspend those involved, the student's father told a news conference on Wednesday, at which Democratic Progressive Party (DPP) Legislator Chang Liao Wan-chien (張廖萬堅) and members of the Humanistic Education Foundation were also present.
The boy had been a good student and a high achiever during elementary and junior-high, and had received academic awards, foundation executive Tseng Fang-wan (曾芳苑) said.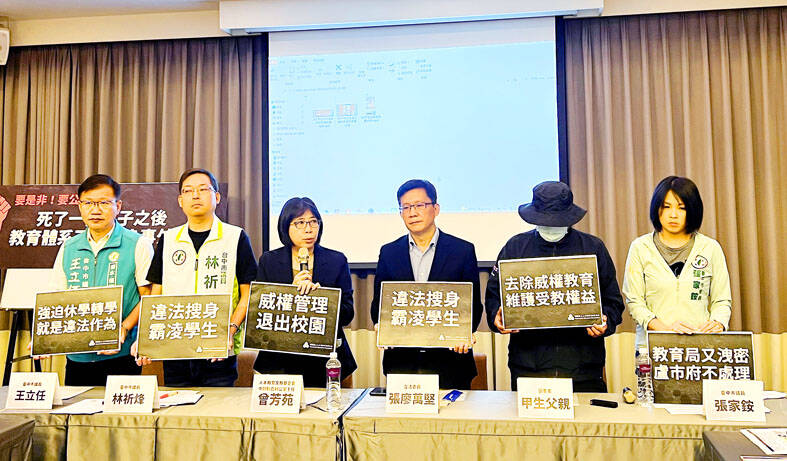 Democratic Progressive Party (DPP) Legislator Chang Liao Wan-chien, third right, holds a news conference in Taichung on Wednesday with local DPP city councilors, representatives from the Humanistic Education Foundation and the father of a high-school student, following the student's suicide last month.
Photo: CNA
"The school staff started to pick on him after he brought beer and cigarettes to school in his first year of senior-high," Tseng said, adding that "they began to conduct body checks and search his schoolbag, and he often got called to their offices for verbal rebukes."
"They also vilified him publicly, telling other students that he was 'trash' and the 'scourge of society,' warning them not to be associated with him," Tseng said.
"They later forced him to admit to wrongdoing conducted by other students, including the loss of NT$500 in cash and e-cigarette vapes, handing him two demerits and nine warnings," Tseng said.
"Then they asked him to leave the school and gave him a form to fill out, but he wrote on social media that he would rather die than be forced to quit," Tseng said.
He posted a photo of himself burning the form and said he was being falsely accused of misconduct, Tseng said, adding that the pressure and bullying from staff led him to commit suicide.
The student's father said he blamed himself for at first believing what school officials told him.
"They gave distorted accounts of what happened ... but more details were revealed after my son's death," he said.
"Then I knew they had put on a charade to deceive me and the other students. My son did make mistakes, but they exaggerated the whole thing and fabricated stuff to accuse him," he said.
"The bullying and mental abuse put enormous pressure on him, resulting in his suicide," he added.
The school's principal, head of student affairs, head of its military discipline office, two military disciplinary officers and two security officers would be temporarily suspended from their posts, the bureau announced on Friday, citing public pressure.
"Nothing was done earlier, the school wanted to conceal the whole thing. These actions came too late," the student's father said.
Comments will be moderated. Keep comments relevant to the article. Remarks containing abusive and obscene language, personal attacks of any kind or promotion will be removed and the user banned. Final decision will be at the discretion of the Taipei Times.