Less than 20% back China on Taiwan related affairs
GOVERNMENT POLL: Beijing must respect Taiwanese sentiment and abandon divisive tactics, while recognizing that both sides of the strait are sovereign, the MAC said
More than 80 percent of Taiwanese object to Beijing "buying off" Taiwan's diplomatic allies, oppose the "one country, two systems" framework and are against Beijing claiming that Taiwan is a part of China, a Mainland Affairs Council (MAC) poll issued yesterday showed.
About 83.7 percent of respondents said that the government should have positive and orderly cross-strait interactions that benefit the economy.
Nearly 79 percent of respondents support bolstering security screening of Chinese coming to Taiwan while restoring a semblance of interaction with China, while 84.3 percent said that Chinese jets crossing into Taiwan's air defense identification zone disrupt regional stability and safety.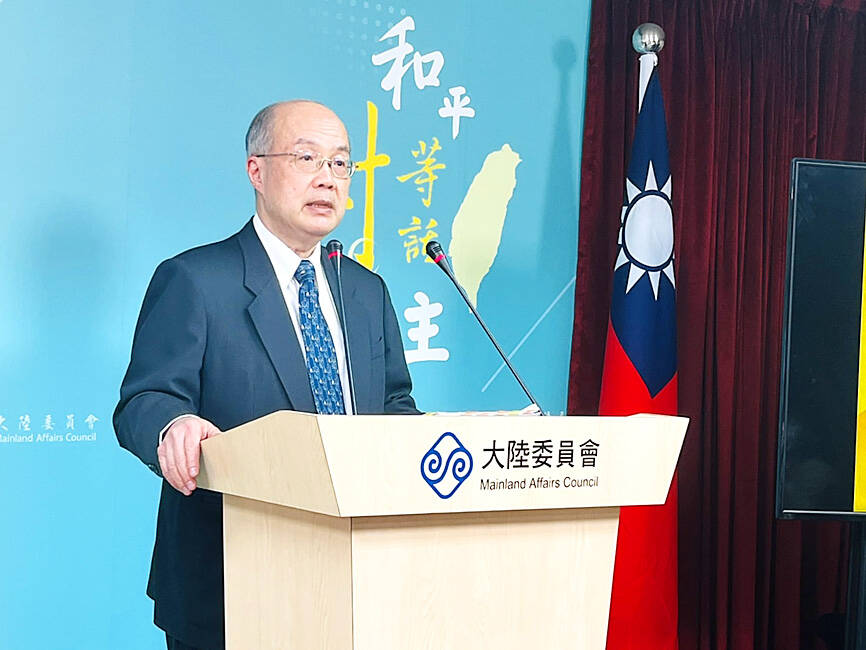 Mainland Affairs Council spokesman Jan Jyh-horng speaks to reporters at a news conference in Taipei yesterday.
Photo: Chen Yu-fu, Taipei Times
About 75.5 percent do not recognize Beijing's "one China" principle," which demonstrates that Taiwanese steadfastly oppose Beijing's attempts to suppress the nation's sovereignty, the council said.
About 85.5 percent said that cross-strait interaction should be based on mutual respect and dignity.
About 85.1 percent said that Taiwanese should determine the nation's future, and 88.4 percent support government endeavors to bolster self-defense.
The council urged Beijing to respect the opinions of Taiwanese and abandon attempts to "divide and conquer" via its "united front" rhetoric.
Beijing must recognize that both sides are independent of each other, it added.
Separately, council spokesman Jan Jyh-horng (詹志宏) said the office of former president Ma Ying-jeou (馬英九) has the prerogative of negotiating by what title he is referred to during his planned visit to China starting beginning on Monday.
Ma Ying-jeou Foundation executive director Hsioa Hsu-tsen (蕭旭岑) previously said that if Ma and Chinese President Xi Jinping (習近平) were to call each other "president," it would be a tacit confirmation of what former president Lee Teng-hui (李登輝) called in 1999 a "special state-to-state relationship."
Ma should be aware that his visit has the potential to convey to Beijing the majority Taiwanese opinion on cross-strait relations, and highlight Taiwan's resolve to uphold its democratic sovereignty, Jan said.
Regarding Ma's visit being planned so closely to President Tsai Ing-wen's (蔡英文) trip to Guatemala, Belize and the US, Jan said Ma's office could explain the timing.
Comments will be moderated. Keep comments relevant to the article. Remarks containing abusive and obscene language, personal attacks of any kind or promotion will be removed and the user banned. Final decision will be at the discretion of the Taipei Times.