Lu Hsiao-fen wins award in Osaka for film 'Day Off'
Taiwan's Lu Hsiao-fen (陸小芬) on Sunday won the Yakushi Pearl Award at this year's Osaka Asian Film Festival for her performance in the Taiwanese movie Day Off (本日公休), which premiered earlier this month.
Lu, 66, in the 1980s was known for her bold and expressive performances in a series of Taiwanese movies. Her role in Day Off is her first work in more than 20 years.
In the film, she plays the leading role as a conservative hairdresser called A-rui (阿蕊), who strongly resists social and generational changes, but is still able to maintain warm relations with her children.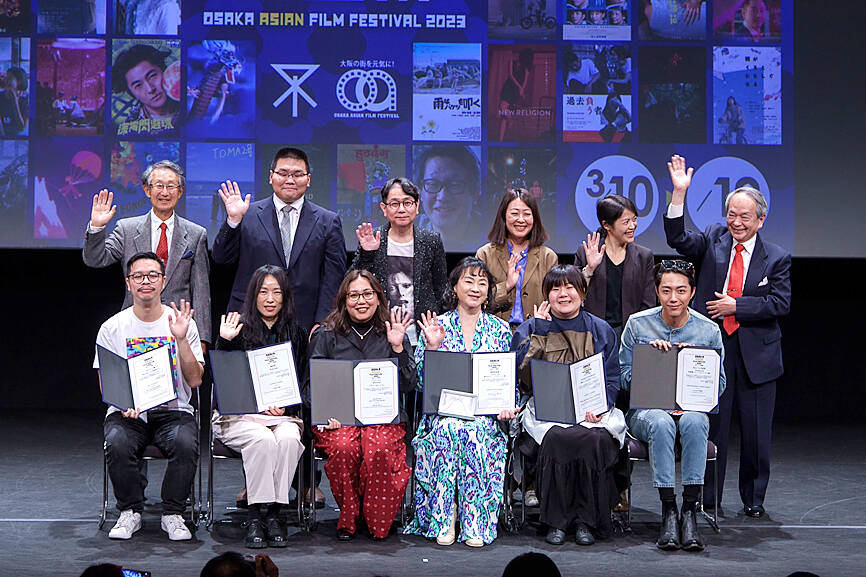 Taiwan's Lu Hsiao-fen, front, third right, poses for a photograph along with other guests at this year's Osaka Asian Film Festival on Sunday.
Photo courtesy of the Osaka Asian Film Festival via CNA
Day Off and Lu's role were created by director Fu Tien-yu (傅天余) in a family drama based on his mother.
"Just the use of scissors in the barbershop is enough to fascinate the audience. With her precisely orchestrated performance throughout the entire production, experienced actor Lu Hsiao-fen makes sure that Day Off is a masterpiece that will remain in people's memories forever," the film festival jury said.
The movie also won the Audience Award at the annual film festival.
"I did not waste any time in the past 20 years, waiting for such a wonderful screenplay," Lu said. "I am grateful to director Fu Tien-yu, as well as the audiences who have lent strong support to me."
Young Taiwanese actor Kai Ko (柯震東) won the Most Promising Talent Award as director of another Taiwanese movie, Bad Education (黑的教育), which depicts three juvenile delinquents who have graduated from high school and the absurd things they do.
Meanwhile, Taiwanese director Pan Ke-yin (潘克印) won the Housen Short Film Award Special Mention for directing the short comedy Daddy-To-Be (有了), in which things go wrong for a man when his girlfriend suspects she is pregnant.
Comments will be moderated. Keep comments relevant to the article. Remarks containing abusive and obscene language, personal attacks of any kind or promotion will be removed and the user banned. Final decision will be at the discretion of the Taipei Times.