CAA probing Starlux flight return
Civil Aeronautics Administration (CAA) officials are investigating why a Starlux Airlines flight to Penang, Malaysia, returned to Taiwan Taoyuan International Airport nearly two hours after takeoff yesterday morning.
The airline said in a statement that Flight JX721 to Penang took off from Taoyuan airport at 9:20am.
"After the dashboard showed a signal of an abnormality in the hydraulic system, the captain followed standard operating procedures and returned the flight to Taoyuan airport for safety precautions," the airline said, adding that the flight landed safely at the airport at 11:04am.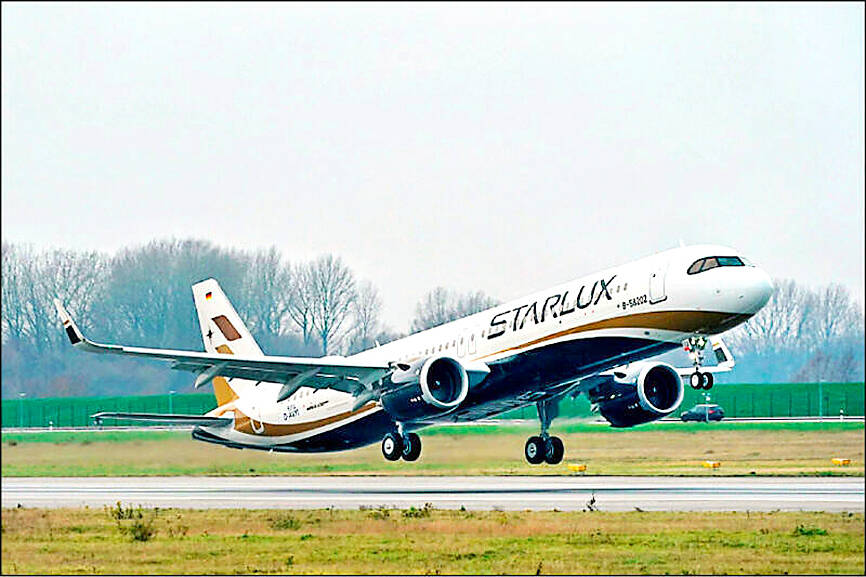 A Starlux Airlines plane is pictured in an undated photograph.
Photo courtesy of Starlux Airlines
The airline arranged for the passengers to have lunch after the flight landed and dispatched another plane to take them to Penang, which departed at 1:30pm, it said.
Separately, Taiwan International Ports Corp (TIPC) said that it would seek compensation from the owner of Cypress-registered container ship Hyundai Tokyo after the ship allegedly caused major damage to a pier when docking at the Port of Kaohsiung on Monday morning.
The 74,651-tonne container ship allegedly hit No. 77 pier at the port after failing to enter the dock at the correct angle. No casualties were reported.
The Maritime and Port Bureau and Taiwan Transportation Safety Board are to conduct separate investigations into the incident.
A preliminary investigation conducted by the bureau found that the pilot who guided the ship to the port had an alcohol-induced reaction.
The maritime pilot's alcohol density was measured at 0.69 in a test administered by personnel on the container ship, the bureau said.
After disembarking the ship, the pilot passed a walk test and tested only 0.19 in an alcohol test jointly administered by the bureau and police, it said.
The Kaohsiung Maritime Pilots' Office said the pilot drank the night before reporting for work and he thought the effects of the alcohol had receded.
Ship owners should request a change of maritime pilot if they have drunk alcohol, smell of alcohol or show signs of fatigue, it said.
Although the Criminal Code stipulates penalties for drunk driving on the road and at sea, the penalties do not apply to maritime pilots, as they guide ships and do not steer them.
TIPC's Kaohsiung office is calculating the cost of the damage and would seek compensation from the ship's owner.
The maritime pilot would be subject to punishment according to the Pilotage Act (引水法) if drinking alcohol was found to be directly or indirectly related to the accident.
Comments will be moderated. Keep comments relevant to the article. Remarks containing abusive and obscene language, personal attacks of any kind or promotion will be removed and the user banned. Final decision will be at the discretion of the Taipei Times.