CDC reports two serious flu cases and two deaths
NO JAB: The two deaths were a man in his 50s and a woman in her 80s, who both had underlying health conditions and did not get vaccinated this flu season
The Centers for Disease Control (CDC) yesterday reported two new cases of serious influenza complications and two flu-related deaths, saying that the flu season is expected to gradually come to an end in the middle of next month.
CDC Epidemic Intelligence Center Deputy Director Lee Chia-ling (李佳琳) said among the respiratory viruses isolated and identified at contracted laboratories in the past four weeks, 67.8 percent were influenza viruses, and most of them were the influenza A (H3N2) variant.
There were 47,009 hospital visits for flu-like symptoms last week, which is about the same as previous weeks, but higher than the same week in the past three years, she said, adding that the trend of weekly new flu cases has not begun to drop.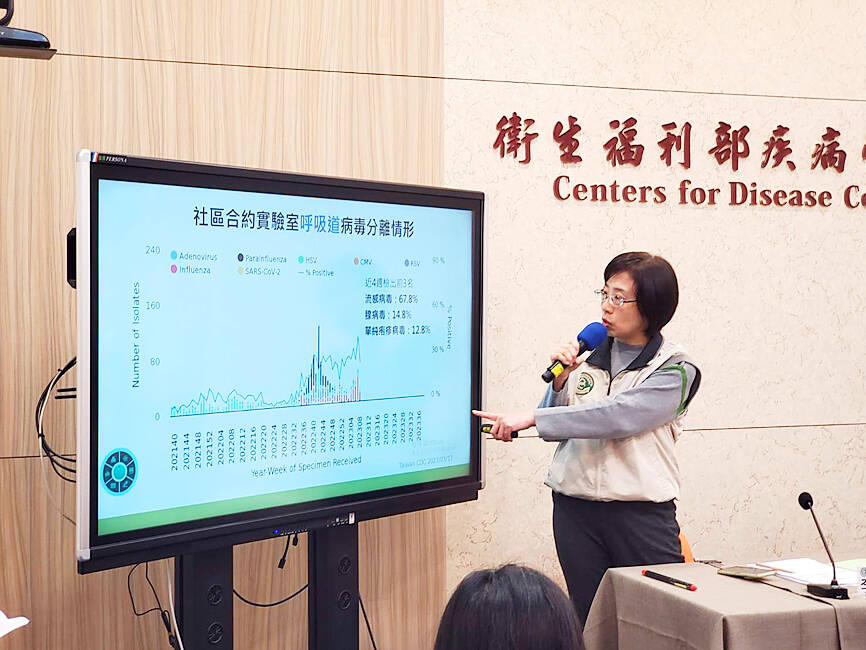 Centers for Disease Control Epidemic Intelligence Center Deputy Director Lee Chia-ling speaks at a news conference in Taipei yesterday.
Photo: Lin Hui-chin, Taipei Times
Lee said two new serious flu complications were reported and two flu-related deaths were confirmed last week, and 64 serious flu complications, including 13 deaths, have been confirmed this flu season, which began in October last year.
CDC physician Lin Yung-ching (林詠青) said the two deaths were a man in his 50s and a woman in her 80s, who both had underlying health conditions, including diabetes, and both did not get vaccinated this flu season.
Both suffered shortness of breath in late February and later developed bacterial infections during hospitalization, and they died of respiratory failure 17 days and 12 days after the onset of symptoms, he said.
Lin said elderly people, infants, pregnant women and people with underlying health conditions, who are at higher risk of serious flu complications, should see a doctor immediately if they develop early signs of severe complications, such as shortness of breath and cyanosis (skin, lips or nails turning blue due to low blood oxygen levels).
Meanwhile, 156,342 hospital visits for diarrhea were reported last week and most of the clustered diarrhea patients had the norovirus, while enterovirus D68 and coxsackievirus A6 (CA6) accounted for most of the enterovirus infections identified last week, Lee said.
Comments will be moderated. Keep comments relevant to the article. Remarks containing abusive and obscene language, personal attacks of any kind or promotion will be removed and the user banned. Final decision will be at the discretion of the Taipei Times.