Agency cracks down on HK immigration loophole
About 2,000 recent immigrants from Hong Kong are under a one-year observation period, as the National Immigration Agency cracks down on nonproductive investments for the purpose of immigration, an official said on Sunday.
Since the Hong Kong government passed a National Security Law in 2020, residents have been leaving the territory in large numbers.
Some have sought residency in Taiwan, although in steadily decreasing numbers.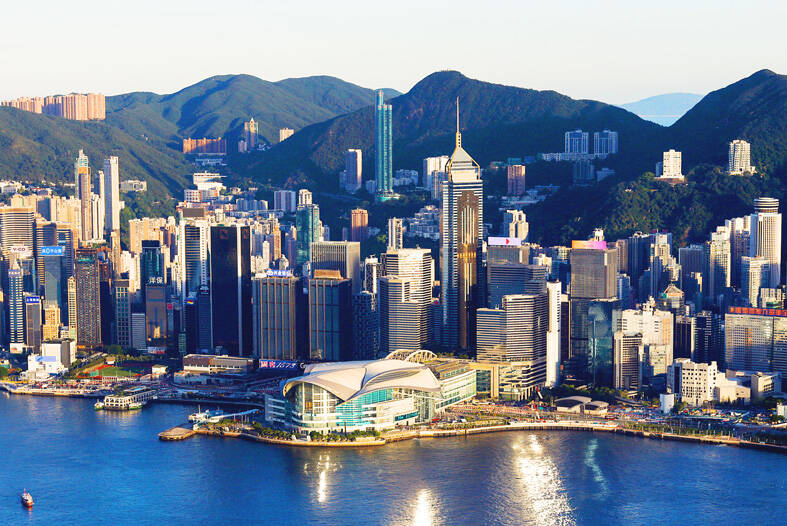 The Hong Kong skyline is pictured on July 13, 2021.
Photo: REUTERS
Agency statistics show that 8,945 residence permits were issued to Hong Kongers last year, down 2,228 people — or 19.9 percent — from a high of 11,173 in 2021.
The number who received permanent residency dropped by 389 people from 1,685 in 2021 to 1,296 last year.
It was a marked decline from the previous two years, with 1,576 people receiving permanent residency in 2020 and 1,474 in 2019.
There are a few reasons for the dramatic decline between 2021 and last year, an official said on Sunday on condition of anonymity.
An atmosphere of reluctance in Taiwan to accept immigrants from Hong Kong is palpable, they said, citing relaxed rules for Hong Kong jobseekers proposed last year, which were put on hold due to controversy around national security and job protectionism.
Add to this more favorable conditions offered by other countries and a conservative shift in Taiwan's immigration rules, and many are choosing other destinations, they added.
Sentiment among Hong Kongers toward Taiwan has also deteriorated, in part due to some media outlets in the territory disseminating information intended to drive a rift between the two and fomenting misunderstandings about Taiwanese society, the official said.
From 2019 to 2021, the number of Hong Kongers granted permanent residency increased by more than 100 each year before falling by nearly 400 last year, they said, but added that it was still higher than before 2019.
The change is attributable to shifting immigration policies, especially those governing investment immigration, the official said.
There has been an influx of consulting firms — some founded by former immigration officials — that invest on behalf of their clients so they can receive a visa, they said.
The firms set up companies for their clients, then transfer ownership to the next client once they have been granted residency, they said.
Hundreds of such companies have been identified at the same addresses, with some people rescinding their investment immediately after receiving permanent residency, they added.
As many of these investments are nonspecific and nonproductive, the immigration agency has imposed a one-year observation period for such applications, the official said.
About 2,000 applicants are under observation, more than 800 of whom are about to reach the one-year mark, they added.
Comments will be moderated. Keep comments relevant to the article. Remarks containing abusive and obscene language, personal attacks of any kind or promotion will be removed and the user banned. Final decision will be at the discretion of the Taipei Times.