Minister to visit in boost to German-Taiwan ties
'NORMALIZATION OF RELATIONS': The trip could bring awareness to Germany of Taiwan, its democratic values and the importance of protecting them, an analyst said
A visit by German Minister of Education and Research Bettina Stark-Watzinger to Taiwan signals the normalization of relations between Taiwan and Germany, a German expert on cross-strait relations said.
Stark-Watzinger, who is scheduled to arrive in Taiwan today for a two-day visit, is the first German minister to visit the nation in 26 years.
"One could say that this is a return to normal after decades of self-censorship," German Institute for International and Security Affairs senior fellow Gudrun Wacker told German newspaper Der Tagesspiegel.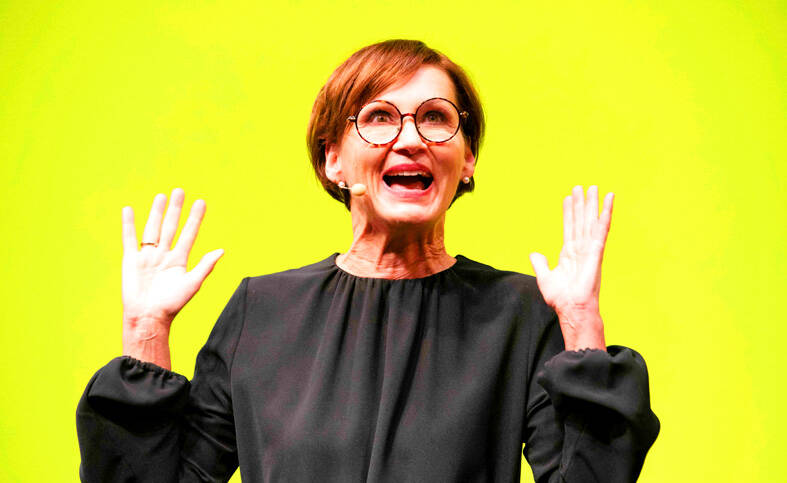 German Minister of Education and Research Bettina Stark-Watzinger speaks at an Epiphany Meeting in Stuttgart, Germany, on Jan. 6.
Photo: AFP
As Germany and China increased interactions in economic and political fields after the 1990s, the European country abstained from engaging in exchanges with Taiwan that would aggravate Beijing, she said.
The paper called the visit "a journey of historical dimension," while Die Zeit said it is "symbolic," considering cross-strait tensions and China's resentment toward visits by German parliamentarians since autumn last year.
"The aim of the trip is to strengthen and expand cooperation with Taiwan in science, research and education," the German Ministry of Education and Research said, adding that "Germany and Taiwan share the same values and are committed to them: peace, freedom, human rights."
The semiconductor industry would be the focus of the minister's visit, as Taiwan is a global leader in the field and Taiwan Semiconductor Manufacturing Co is reportedly planning to set up its first European plant in Dresden, Germany, Der Tagesspiegel reported.
Stark-Watzinger is scheduled to meet with National Science and Technology Council Minister Wu Tsung-tsong (吳政忠), Minister of Education Pan Wen-chung (潘文忠) and Minister of Digital Affairs Audrey Tang (唐鳳) to discuss cooperation in the high-tech field, along with green hydrogen, battery research and educational cooperation, it said.
"The visit of the minister of science makes a lot of sense, because it is exactly the type of cooperation that we are striving for with Taiwan," European Council on Foreign Relations Asia program director Janka Oertel said.
The trip could also help create "awareness in Germany that Taiwan is a place of freedom, democracy and innovation whose existence is in danger," she added.
As high-ranking visits always provoke aggressive reactions from China, "ensuring Taiwan's security, integrating it internationally and protecting it from violent annexation by China" are essential, Oertel said.
"Taiwan is a valued partner in every sense of the word — a model democracy in Asia that also behaves responsibly internationally," Wacker said.
Boosting exchanges with Taiwan does not contradict the German "one China" policy, Wacker said, adding that Germany should signal to Beijing that "violent action against Taiwan would have a high price."
The Chinese embassy in Berlin on Friday last week voiced opposition to the planned visit, calling on Germany to "adhere to the 'one China' principle without making any compromises," the Editorial Network Germany reported.
Mutual ministerial visits are "completely normal," and are in line with the German "one China" policy, the German Federal Foreign Office said on the same day.
Comments will be moderated. Keep comments relevant to the article. Remarks containing abusive and obscene language, personal attacks of any kind or promotion will be removed and the user banned. Final decision will be at the discretion of the Taipei Times.