Ma's China trip 'sends wrong signal'
CONTROVERSY: Ma is to visit five cities during a 12-day trip to the country, but as a former president, his trip is not personal and is the concern of Taiwan, an official said
Plans by former president Ma Ying-jeou (馬英九) to visit China send the wrong signal to the international community regarding China's "aggressive, expansionist" behavior toward Taiwan, the Democratic Progressive Party (DPP) said yesterday.
The 73-year-old former president is to visit Nanjing, Wuhan, Changsha, Chongqing and Shanghai from Monday next week to April 7, the Ma Ying-jeou Foundation said yesterday.
DPP spokesman Chang Chih-hao (張志豪) yesterday criticized the move as appeasement by Ma, alluding to the UK's and France's concessions to Nazi Germany that contributed to the outbreak of World War II.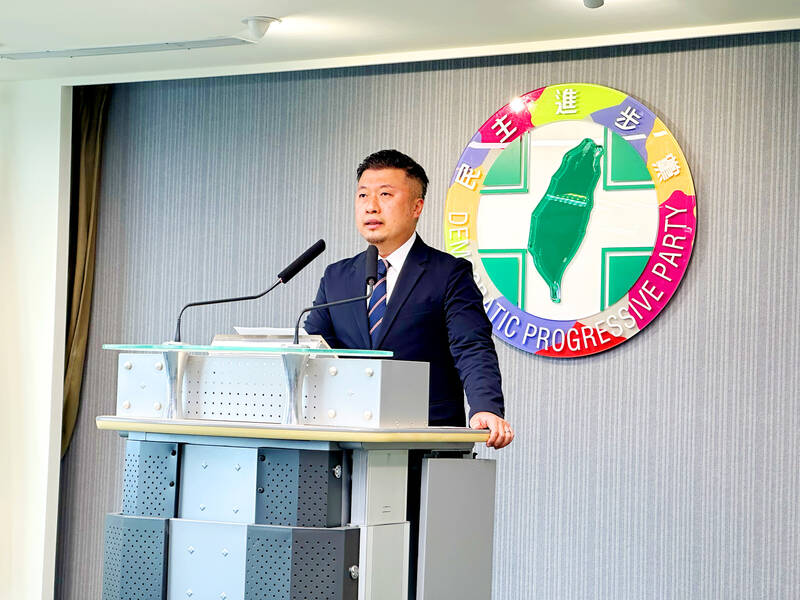 Democratic Progressive Party spokesman Chang Chih-hao addresses the media in an undated photograph.
Photo: Chen Yun, Taipei Times
"China is intimidating Taiwan with its military aggression, yet Ma chooses to visit China. He is embracing appeasement, which sends the wrong message to the world. Taiwanese do not accept a former president willing to be a pawn in the Chinese Communist Party's (CCP) plan to annex Taiwan," Chang said.
China has "manipulated and pressured our ally Honduras to cut ties with Taiwan, and has not ceased sending warships and aircraft into our seas and airspace, escalating tension in the Taiwan Strait," he said.
"Ma clearly disregards the public sentiment against actions by the Chinese government," he added.
Ma's trip "crosses the line," as it comes so soon after the start of Chinese President Xi Jinping's (習近平) third term, New Power Party Chairwoman Claire Wang (王婉諭) said, adding that China's threats against Taiwan show no signs of easing.
"Ma is a former elected president, so it would not just be a personal trip, but is the concern of all of Taiwan. It is inappropriate for Ma to visit China during this sensitive time, as China is persisting in its military aggression, and he lacks the political acumen of a former president," she said.
"We ask Ma to keep the interests of Taiwan's 23 million people in mind. He should take a firm stance to demand that China remove the missiles aimed at Taiwan, and to stop the incursion of Chinese aircraft into our airspace," she added.
Although exchanges are needed between Taiwan and China, as a former president, Ma must avoid being used as a tool to promote China's unification agenda, Taiwan People's Party caucus convener Chiu Chen-yuan (邱臣遠) said.
The Taiwan Statebuilding Party condemned Ma for including an ancestor worship event in his China itinerary, as it sends the message that "Taiwanese have Chinese cultural roots."
Meanwhile, Chinese Nationalist Party (KMT) caucus whip William Tseng (曾銘宗) said the DPP might use the visit to vilify the KMT for its political gain.
All Taiwanese are in the same boat, KMT caucus secretary-general Hsieh Yi-fong (謝衣鳳) said.
"Everyone agrees" that President Tsai Ing-wen's (蔡英文) planned visit to the US is a good thing for expanding international exchanges, she said.
"Surely Ma's visit to China for ancestor worship is within the scope of Tsai's so-called healthy and orderly cross-strait exchanges," she added.
The two visits should be considered the same, she said, decrying what she called a "double standard."
Although the visit could cause controversy, people should wait for Ma's actual words and actions in China before judging, former KMT secretary-general King Pu-tsung (金溥聰) said.
Additional reporting by Lin Liang-sheng
Comments will be moderated. Keep comments relevant to the article. Remarks containing abusive and obscene language, personal attacks of any kind or promotion will be removed and the user banned. Final decision will be at the discretion of the Taipei Times.