Thousands of doses of COVID-19 drug to expire in autumn
More than 7,000 doses of a monoclonal antibody therapy for treating COVID-19 are to expire in November, the Central Epidemic Command Center (CECC) said yesterday, adding that it would consider expanding the antiviral's usage.
Local media yesterday reported that the center in September last year purchased 10,000 doses of Evusheld — a combination of two medications, tixagevimab and cilgavimab — but only about a quarter of them have been used before their expiration this fall. The drug costs about NT$100,000 (US$3,268) per dose.
Minister of Health and Welfare Hsueh Jui-yuan (薛瑞元) confirmed the reports and said the CECC would convene a specialists' meeting to discuss whether the use of the drug should be expanded, but expired doses would be disposed of.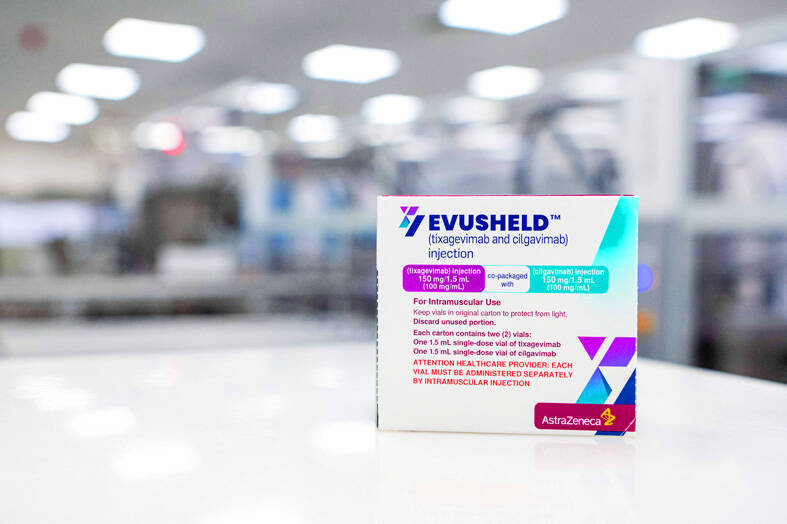 A box of Evusheld, a drug for preventing and treating COVID-19, is pictured in an AstraZeneca facility for biological medicines in Sodertalje, Sweden, on Feb. 8 last year.
Photo: AFP
Centers for Disease Control (CDC) Deputy Director-General Philip Lo (羅一鈞), who is the CECC's spokesman, said the current usage of the drug is based on the recommendations of the US National Institutes of Health, but the center would present suggestions to healthcare providers about expanding its use at the meeting.
There are still about 7,300 Evusheld doses remaining, and the recommended dosage regimen requires two injections, so they could be used on more than 3,600 patients, Lo said, adding that the expiration date is Nov. 30.
Although Evusheld is effective for treating infections of some Omicron subvariants of SARS-CoV-2 — such as BA.2.75, the current dominant strain in Taiwan — studies have shown that it is less effective at treating new subvariants, such as BQ.1 and XBB, he added.
The center yesterday reported 5,411 new local infections, which is 15.9 percent lower than on Monday last week, and also reported 133 imported cases and 28 deaths.
Lo said that people who tested positive on Sunday or earlier should still be reported as COVID-19 cases and placed in isolation under the CECC's previous policy, as well as seek treatment through telemedicine this week, adding that the grace period is from yesterday to Sunday.
Most of the delayed reported cases are expected to be from yesterday and today, and starting from next week, daily local reports are to consist of mainly moderate-to-severe cases, with numbers estimated to be about 400 to 800 per day, he said.
Regarding concerns from some doctors at primary care clinics that abolishing mandatory isolation for confirmed cases and canceling telemedicine for COVID-19 treatment might increase the risks to the elderly and children who are waiting to see a doctor at clinics, Hsueh said the change is a step that Taiwan has to take.
Data showed that allowing mild cases to leave their homes is a risk that is still manageable, he said.
The government has not canceled all telemedicine and has discussed with representatives of primary care clinics about expanding telemedicine services to include other diseases and adjusting the payment according to National Health Insurance standards, but they declined the proposal, he added.
Additional reporting by CNA
Comments will be moderated. Keep comments relevant to the article. Remarks containing abusive and obscene language, personal attacks of any kind or promotion will be removed and the user banned. Final decision will be at the discretion of the Taipei Times.