Chiayi cafe serves up coffee with art
At Coffee Wait People (故事的開始等一個人) in Chiayi County, customers can get a coffee personalized to more than just their taste.
Coffee cups are a canvas for owner Kao Kuo-fang (高國方), who has been drawing portraits of his customers and famous figures for more than eight years.
He does not charge extra for the artwork, saying that he does it for his own amusement, and to give his customers a nice and meaningful surprise.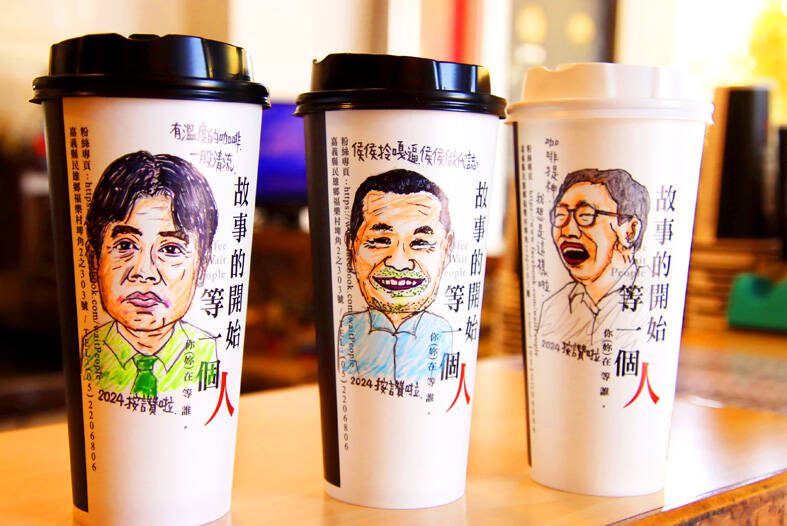 From left, portraits of Vice President William Lai, New Taipei City Mayor Hou You-yi and former Taipei mayor Ko Wen-je are pictured on coffee cups in Coffee Wait People cafe in Chiayi County's Minsyong Township.
Photo: Lin Yi-chang, Taipei Times
Kao said he was inspired to open the cafe by the novel Cafe. Waiting. Love (等一個人咖啡), which he read while working in the restaurant industry, he said.
He opened Coffee Wait People near Minsyong Township's (民雄) industrial district about 10 years ago, serving inexpensive coffee to the employees of neighboring businesses.
Latte art was popular at the time, but it was too time consuming for his busy customers and did not last, but then he got the idea to draw on cups instead, he said.
"At first they were super ugly," said Kao, who has no background in art and found the curvature of the cup particularly challenging to draw on.
After years of practice, he said he was gradually able to capture the essence of each of his subjects.
He would find pictures of people who liked his cafe on Facebook and draw them in his free time, then upload a photograph and tag the person.
If they liked it, they could come to the cafe to buy a coffee and take the cup home with them, he said.
Some customers have even brought photos of crushes and asked for a drawing to give as a one-of-a-kind gift, he said.
Each drawing usually takes about two hours to complete, although he will sometimes do a quick three-minute portrait of someone in the shop to give as a surprise, Kao said.
The cafe's regulars include Chiayi County Councilor Bonnie Chan (詹琬蓁) and Minsyong Mayor Lin Yu-ling (林于玲), who commissioned Kao to make drawings of each of her more than 30 staffers for their birthdays.
Kao often draws public figures for his own collection, including the 37 members of the Chiayi County Council, county Commissioner Weng Chang-liang (翁章梁), Vice President William Lai (賴清德), former Taipei mayor Ko Wen-je (柯文哲) and New Taipei City Mayor Hou You-yi (侯友宜).
He sometimes takes suggestions from customers and does a quick 10-minute drawing for them, he said.
"My greatest joy as a cafe owner is seeing my customers' smiling faces," he said.
Comments will be moderated. Keep comments relevant to the article. Remarks containing abusive and obscene language, personal attacks of any kind or promotion will be removed and the user banned. Final decision will be at the discretion of the Taipei Times.