Lift price freeze or egg sales stop: suppliers
SHORTAGE: As there is no unified wholesale market for eggs, there is no market closure mechanism, a COA official said, adding that the agency was not involved in egg pricing
A group of wholesale egg suppliers in Taipei is threatening to halt sales "indefinitely" if the Poultry Association extends a pricing freeze this week amid a domestic egg shortage.
The Poultry Association's production and marketing supervision committee on Saturday froze the wholesale price of domestically produced eggs, which the group said was unsustainable and would harm egg farmers and suppliers.
The wholesale price of eggs in Taiwan is NT$55 per jin (600g), while the farm gate price is NT$45.5 per jin, the highest in several years, amid an egg shortage caused by avian flu epidemics, increased feed costs and a high number of molting hens, government officials said.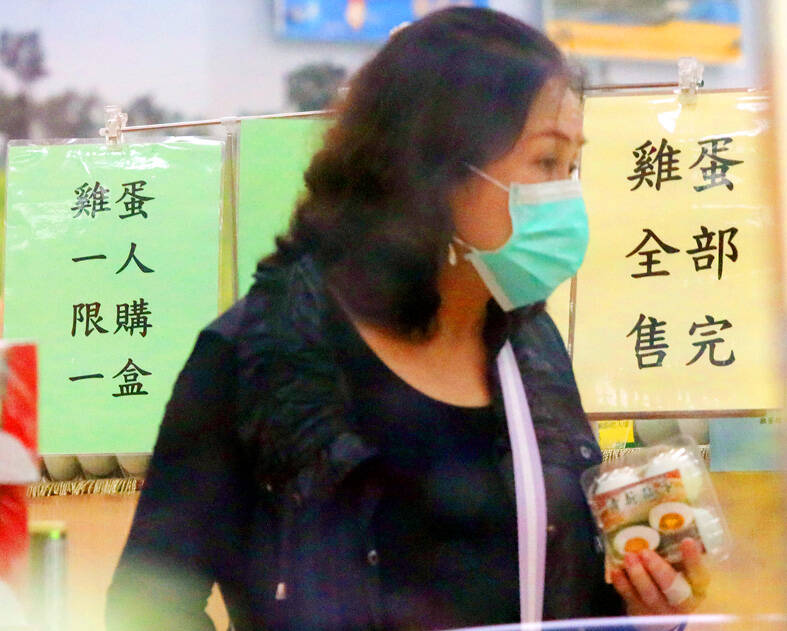 A woman holding a box of eggs passes by a Taipei Agricultural Products Exhibition Center where signs say that customers are limited to purchasing one box of eggs.
Photo: CNA
One of the Poultry Association committee members said the decision to freeze wholesale prices was partly because Taiwan was importing eggs to alleviate the shortage.
The nation has already taken delivery of part of a shipment of 5 million eggs from Australia and has ordered 2 million from Turkey, which would start arriving next month, Taiwan Egg Marketing Cooperative head Wu Tien-fu (吳天福) said.
When the committee meets this week, it would consider wholesale price adjustments based on whether imported supplies are sufficient to meet market demand, he said.
Lin Tien-lai (林天來), who heads the Taipei commercial egg association, said that he would seek a meeting with officials at the Council of Agriculture (COA), and if wholesale prices remain frozen this week, the egg market might be "closed indefinitely."
Department of Animal Industry Deputy Director Chiang Wen-chuan (江文全) on Sunday said that the government agency has not been involved in the pricing decisions, or the negotiations between producers and sellers, and was not part of Saturday's committee meeting.
The COA fully respects the market mechanism, but if the egg price review committee does not set a price, it would be left up to buyers and sellers to negotiate prices, Chiang said.
However, if businesses contravene the market mechanism, government agencies would investigate and address any problems, he added.
Regarding the threat to close the egg market indefinitely, Chiang said there is no unified wholesale market for eggs, so there is no "market closure" mechanism.
Some wholesalers have been offering farmers a price increase of NT$3 per jin in a bid to secure supplies, Wu said, adding that it had been an independent decision by the wholesale buyers and the COA was not involved.
The current daily domestic output of chicken eggs is 22.2 million (111,000 boxes), 200,000 fewer than the 22.4 million over the past few weeks when output was already 500,000 to 800,000 lower than usual, COA data showed.
Comments will be moderated. Keep comments relevant to the article. Remarks containing abusive and obscene language, personal attacks of any kind or promotion will be removed and the user banned. Final decision will be at the discretion of the Taipei Times.