Cultural education exhibition held in Huashan park
The government should allocate more money for art and culture in rural areas, Cloud Gate Dance Theatre (雲門舞集) founder Lin Hwai-min (林懷民) said at the opening ceremony of a cultural education exhibition organized by the Ministry of Culture and the Ministry of Education at the Huashan 1914 Creative Park in Taipei on the weekend.
"Promoting equality in arts and culture in Taiwan is achievable," he said.
Lin has been running the Cloud Gate Dandelion Dance culture education project since 2019, which organizes dance sessions and lectures at schools in rural areas, Lin said.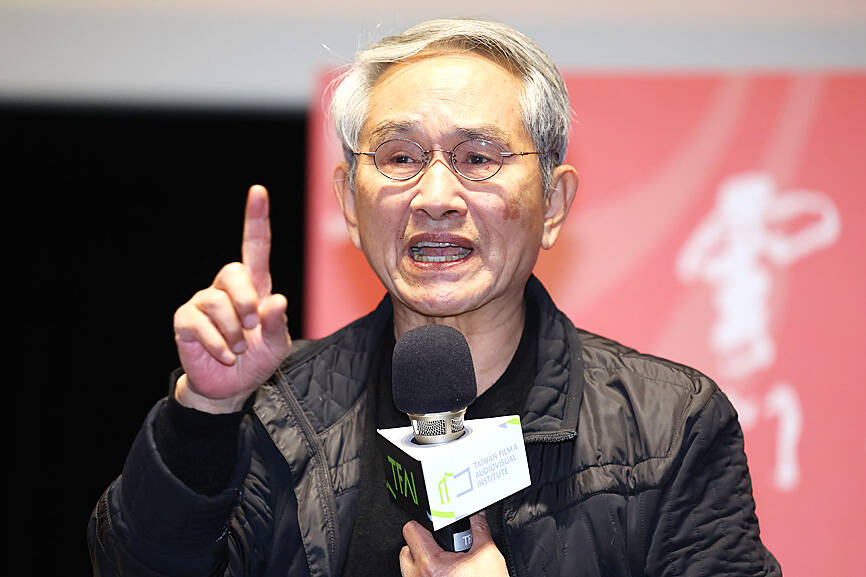 Cloud Gate Dance Theatre founder Lin Hwai-min speaks at an event in Taipei on March 4.
Photo: CNA
The project aims to bring art experiences to 12,000 teachers and students in 69 towns and villages across the country, he said.
"What bodies learn cannot be taken away," Deputy Minister of Culture Lee Ching-hwi (李靜慧) said, quoting the slogan of the dance troupe, emphasizing the importance of cultural education.
The exhibition is part of the cultural education program, which was jointly launched by the two ministries in 2017 to integrate cultural experience courses into the existing curriculum, she said.
The program has assisted 360 art groups or artists organize 629 cultural activities and courses in 1,849 elementary schools, junior-high schools and high schools, she said.
The cross-agency effort brings culture and art into schools, and allows children to experience culture and art through their five senses, Department of Teacher and Art Education director Wu Hsiao-hsia (武曉霞) said.
Democratic Progressive Party Legislator Rosalia Wu (吳思瑤) thanked art groups and school teachers for developing such courses, and urged the government to continue providing resources in those fields.
The exhibition featured lectures, forums, workshops and demonstrations presented by 20 art groups and artists, sharing the achievements of the program.
Ju Percussion Group (朱宗慶打擊樂團) founder Ju Tzong-ching (朱宗慶) shared his experience developing creativity in daily life, and Tang Mei Yun Taiwanese Opera Company (唐美雲歌仔戲團) founder Tang Mei-yun (唐美雲) talked about the company's history and how opera keeps up with the times.
Children participated in workshops, learning about acting, dance, woodwork and folk arts, while guest speakers gave metalwork and glass art demonstrations.
Comments will be moderated. Keep comments relevant to the article. Remarks containing abusive and obscene language, personal attacks of any kind or promotion will be removed and the user banned. Final decision will be at the discretion of the Taipei Times.