Taipei discussing Shanghai forum: Mayor Chiang
'DIGNIFIED AND FRIENDLY': Such cross-strait meetings have led to substantial inroads and are more important amid heightened tensions, the Taipei mayor said
The Taipei City Government is discussing issues relating to the twin-city forum with Shanghai, Taipei Mayor Chiang Wan-an (蔣萬安) said yesterday, adding that such exchanges are especially important amid tense ties across the Taiwan Strait.
Progress is being made and announcements are forthcoming, Chiang said.
Chiang made the remarks to reporters on the sidelines of a groundbreaking ceremony for a northern section of the Taipei MRT Circular (Yellow) Line in New Taipei City's Sanchong District (三重) alongside New Taipei City Mayor Hou You-yi (侯友宜).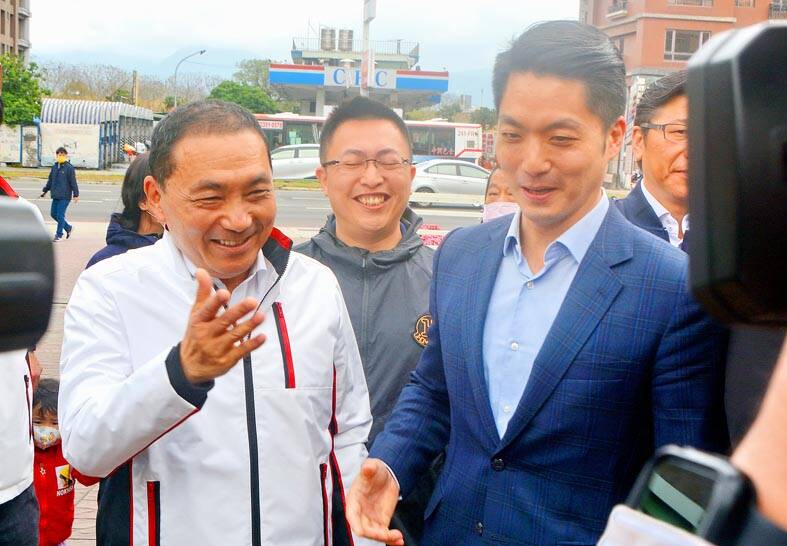 Taipei Mayor Chiang Wan-an, right, speaks with New Taipei City Mayor Hou You-yi, left, at a groundbreaking ceremony for a section of the Taipei MRT's Circular Line in Taipei yesterday.
Photo: CNA
Taipei and Shanghai take turns to hold the annual forum, with Shanghai in line to host it this year.
The twin-city forum has been held 13 times since 2010, and Taipei is continuing to have positive interations with Shanghai, Chiang said in response to a question on whether he would visit Shanghai this summer.
Exchanges between the two cities are even more important and meaningful amid heightened cross-strait tensions, he said.
Chiang said he has asked Taipei Deputy Mayor Lin Yi-hua (林奕華) to discuss the details and agenda of the forum with Shanghai, and make announcements when deemed necessary.
Asked if he supports exchanges with China, Hou said it is everyone's wish that the exchanges advance under fair, dignified and friendly conditions to improve the well-being of residents on both sides.
Hou added that he would be glad to see exchanges that benefit peace and stability.
Separately, in an interview with the Chinese-language United Daily News, Chiang said that the forum has only been missed once since they began, due to the COVID-19 pandemic, and participants are eager for an in-person meeting.
The meetings have led to substantial achievements, such as Shanghai learning from Taipei how to implement a "keep trash off the ground" program, he told the newspaper.
Shanghai has rich experience in holding major international events, which Taipei can learn from, he added.
The report cited Lin a saying that there would be a meeting in Shanghai this year, possibly in July or August, and Taipei would arrange a preparatory task force for the discussions.
Comments will be moderated. Keep comments relevant to the article. Remarks containing abusive and obscene language, personal attacks of any kind or promotion will be removed and the user banned. Final decision will be at the discretion of the Taipei Times.