Robert Tsao launches justice group
RIGHTS ADVOCACY: The organization would provide free legal counsel to cases that involve civil liberties, while also promoting judicial reform, Robert Tsao said
Civil society must take the lead in judicial reform to shore up faith in a fair and just legal system, United Microelectronics Corp founder Robert Tsao (曹興誠) said at an event marking the launch of the Taiwan Civil Liberties Union in Taipei yesterday.
The backlog of cases, bad judgements and poor efficiency that persist in the justice system show that the government's top-down efforts at judicial reform are more sound and fury than substance, he said.
The new organization — which takes inspiration from the American Civil Liberties Union — was created to consolidate human rights advocacy in Taiwan through a bottom-up social movement, he said.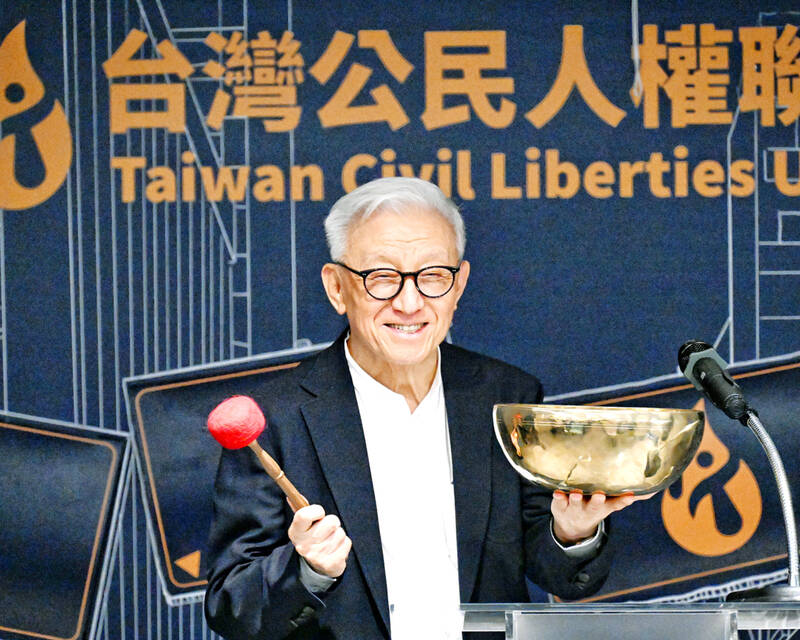 United Microelectronics Corp founder Robert Tsao yesterday hosts an event to launch the Taiwan Civil Liberties Union in Taipei.
Photo: Fang Pin-chao, Taipei Times
The low quality and inefficiency of the nation's judiciary stem from an inappropriate trial structure, overreliance on prosecutorial authority in criminal investigations, criminalization of innocuous activities and lack of accountability of judicial officers, he said.
The Code of Criminal Procedure (刑事訴訟法) gives prosecutors power to appeal the result of a first trial, which renders the district court a toothless institution, Tsao said.
District court judges should be the main arbiters of criminal cases, and should have the power to dismiss meritless prosecutions with prejudice, he said.
Allowing prosecutors to try the same crime repeatedly contravenes Article 17 of the International Covenant on Civil and Political Rights and the double jeopardy principle of common law, while causing paralysis in the justice system, Tsao said.
The investigation and prosecution of crimes should be assigned separately to police and prosecutors according to principles of the division of labor and professionalism, he said.
Prosecutors lack the expertise to conduct investigations, unlike police, who have been trained in forensics and investigative techniques, he said, adding that requiring prosecutors to approve investigations adds red tape.
Many criminal offenses should be redefined as matters more appropriately governed by the Civil Code or legalized entirely, allowing police to focus on preventing and investigating serious crimes, Tsao said.
Libel should be treated as a civil offense to reduce unnecessary trials initiated by politicians that waste prosecutors' and police resources, he said.
Perversion of justice by judges and prosecutorial abuse are breaches of Article 124 and Article 125 of the Criminal Code, but these laws are rarely invoked due to the reluctance of the justice system to regulate itself, Tsao said.
Entrusting the Ministry of Justice to reform itself was a mistake that stalled progress, and civil liberty advocates should focus on exerting legislative pressure, Tsao said.
The union would provide free legal counsel to the public in cases that concern civil liberties, and it would work with academics and lawmakers to promote positive change, he said.
Comments will be moderated. Keep comments relevant to the article. Remarks containing abusive and obscene language, personal attacks of any kind or promotion will be removed and the user banned. Final decision will be at the discretion of the Taipei Times.