Tourism voucher specifics being ironed out
A tourism program that would offer cash incentives to foreign nationals to visit Taiwan is scheduled to begin on April 15, but many aspects of the plan have not been finalized, Tourism Bureau Deputy Director-General Trust Lin (林信任) said yesterday.
The bureau plans to distribute 500,000 NT$5,000 vouchers to foreign nationals visiting Taiwan if they meet certain criteria, such as arriving individually and not as part of a tour group, Lin told a news conference to mark Travel Safety Awareness Week, which begins tomorrow.
The vouchers might be distributed through a lottery system, but the specifics are being discussed, Lin said.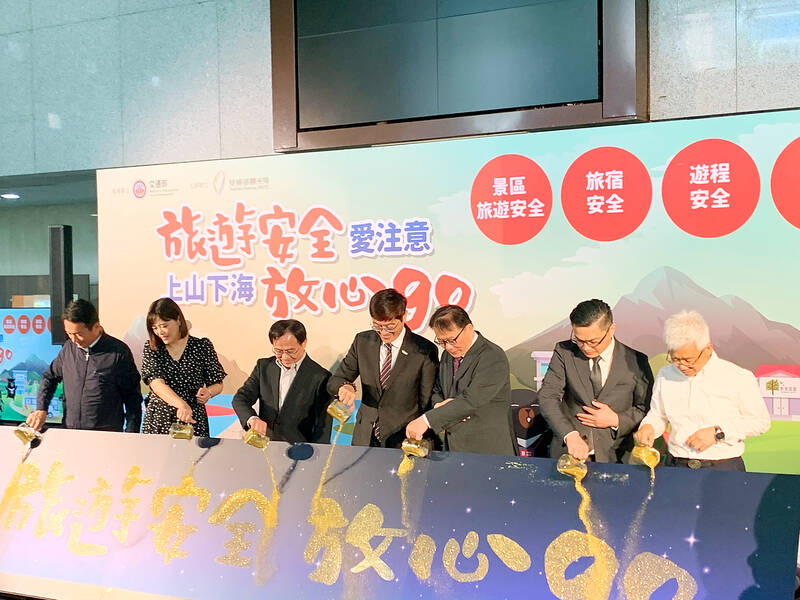 Tourism Bureau officials pour glitter over a sign advocating safe travel at a news conference in Taipei yesterday.
Photo: Ting Yi, Taipei Times
It was also unclear whether business travelers would be eligible, or if the vouchers would only go to leisure travelers, he added.
Visitors would be able to use the vouchers — which could take the form of a stored-value card or other medium — for hotels, shopping, transportation and dining, the bureau previously said.
The bureau said it plans to also award travel agencies NT$10,000 for every tour group of eight to 14 travelers it brings to Taiwan, and NT$20,000 for larger groups, with up to 90,000 tour groups expected to receive a subsidy.
Taiwan is hoping to attract 6 million overseas visitors this year, the bureau said.
Lin said that by the end of this month, about 1 million foreign visitors are expected to have arrived in Taiwan since January.
In the three years prior to the COVID-19 pandemic, Taiwan averaged about 11.2 million overseas visitors per year, but those numbers plummeted to about 1.38 million in 2020, 141,000 in 2021 and 895,000 last year, including 302,100 in December.
Separately, Lin also urged the public to use only legal campsites when spending the night outdoors during their travels.
About 1,500 illegal campsites exist in Taiwan, although the bureau is working with operators to bring them up to code, he said.
Ten percent of each hectare of farmland or forest can be used as campground, but the area must not overlap with environmentally sensitive areas, the bureau said.
Local governments have been asked to search for illegal campsites and impose fines of NT$60,000 that can be repeatedly issued on operators who fail to comply, it added.
Additional reporting by Ting Yi
Comments will be moderated. Keep comments relevant to the article. Remarks containing abusive and obscene language, personal attacks of any kind or promotion will be removed and the user banned. Final decision will be at the discretion of the Taipei Times.