Most plant-based cutlery fails inspection
Four out of 20 tableware items made from plant fibers tested by the Cabinet's Consumer Protection Committee were found to contain formaldehyde, including Louisa travel mugs and FamilyMart plates, while more than half failed inspection, the committee said yesterday.
The four products were found to contain residual formaldehyde, considered a Category 1 carcinogen; nine others failed labeling requirements as stipulated in the Act Governing Food Safety and Sanitation (食品安全衛生管理法); and one item was awaiting results, the committee said.
The use of plant-fiber utensils has been increasing with a rise in environmental consciousness, committee ombudsman Kao Ssu-chung (高賜忠) told a news conference at the Executive Yuan in Taipei.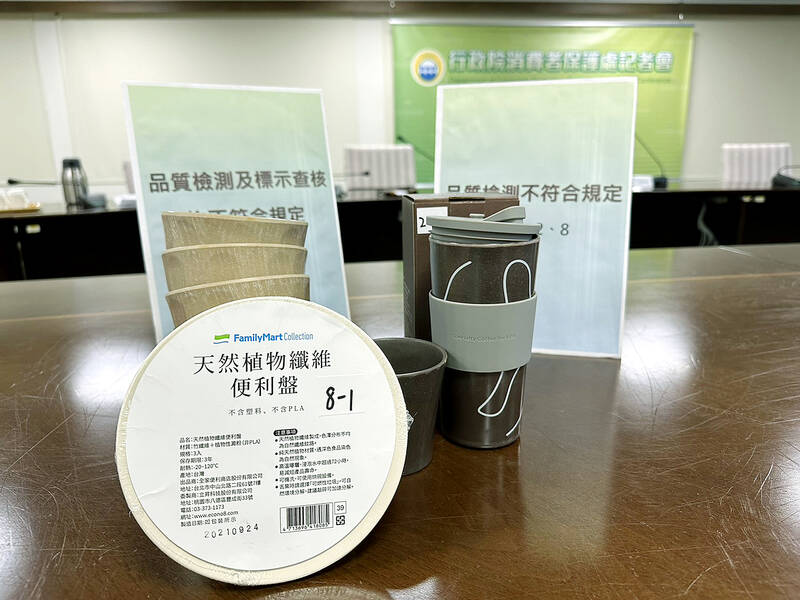 FamilyMart plates and Louisa travel mugs are pictured in Taipei yesterday.
Photo: Yang Yuan-ting, Taipei Times
Inspectors in April last year selected 15 products from physical stores and five from online retailers, Kao said.
Health authorities needed a substantial amount of time to conduct chemical tests of the samples and determine the formaldehyde sources, Kao said.
None of the products contained residual florescent whitening agents or plasticizers, meeting government requirements, he added.
Products failing to comply with the food safety act and the Commodity Labeling Act (商品標示法) could face fines ranging from NT$30,000 to NT$70,000 (US$982 to US$2,291), Kao said.
A 500ml reusable bamboo fiber cup offered by the Louisa coffee chain was found to contain 18 parts per million (ppm) of residual formaldehyde, while a plate made from 100 percent natural bamboo fibers from FamilyMart was found with 21ppm of the substance, Kao said.
Two different bamboo fiber cup products — one made in the US — sold by online shopping platform Momo.com Inc were found with 5ppm and 6ppm residual formaldehyde, he said.
Ingestion of formaldehyde can cause adverse reactions in the lungs, liver and kidneys, and could increase the risk of miscarriage, Food and Drug Administration Taipei Office Deputy Director-General Lin Hsu-yang (林旭陽) said.
The distributors of the products containing formaldehyde have been ordered to destroy the items in accordance with the act, Lin said.
The Executive Yuan has instructed manufacturers and retailers to bolster promotion and oversight of Taiwanese and US-made products to ensure they do not contain residual formaldehyde, he added.
Lin said the government is considering more inspections over the next six months, along with stricter border inspections.
Local health bureau officials have not found materials containing formaldehyde at the manufacturing plants, Lin said, adding that manufacturers could face fines up to NT$3 million for non-compliance.
FamilyMart pulled the plates from circulation after it was notified of the infraction in June last year, the company said in a statement, adding that customers who return the items with a receipt can receive a refund.
Momo.com said that it removed the identified products from sale and has notified its vendors.
Louisa said in a statement that it would seek damages from Jiawang Environmental Technology Co, the mug's manufacturer, which advertises its products as "pollution free."
It also said that only one of many batches of the mugs was identified as containing formaldehyde, adding that refunds can be obtained by customers who are concerned about their purchase.
The mugs have been removed from sale and sent back to the manufacturer for destruction, it added.
Comments will be moderated. Keep comments relevant to the article. Remarks containing abusive and obscene language, personal attacks of any kind or promotion will be removed and the user banned. Final decision will be at the discretion of the Taipei Times.