Eswatini trade pact to be extended by five years
President Tsai Ing-wen (蔡英文) and Eswatini Prime Minister Cleopas Sipho Dlamini agreed to extend a bilateral economic cooperation agreement to 2028, a source familiar with the matter said on Tuesday.
Dlamini said he would soon arrange for his country — Taiwan's sole diplomatic ally in Africa — to renew cooperation with Taipei during talks with Tsai and Premier Chen Chien-jen (陳建仁), the person said.
The two countries signed their first bilateral agreement in 2008 with a term of 10 years, which in 2018 was replaced by a five-year agreement.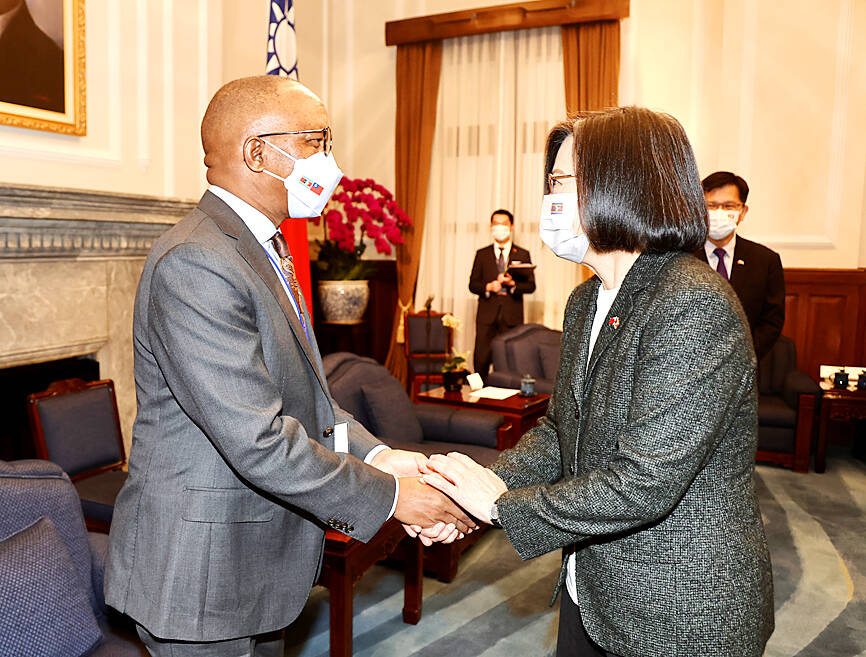 President Tsai Ing-wen, right, shakes hands with Eswatini Prime Minister Cleopas Sipho Dlamini at the Presidential Office on Monday last week.
Photo: CNA
The agreement is to include pledges by the Kingdom of Eswantini to continue supporting Taiwan's bid to join international organizations, and for Taipei to facilitate the African nation's economic development, the person said.
Dlamini on Sunday departed Taipei after an official eight-day visit in which he met with Tsai and Chen, and visited the Taipei Traffic Information Center and other facilities in Taoyuan's Linkou Industrial Park, including the CPC Corp, Taiwan oil refinery, and talked with business representatives about investments in Eswatini, the person said.
Eswatini has been a diplomatic ally of Taiwan since the former colony's independence from the UK in 1968.
The 2008 agreement called for Taiwan to provide aid toward developing agriculture, vocational skills training, trade, information technologies, education, infrastructure, public health and hygiene.
In 2018, then-minister of foreign affairs David Lee (李大維) and then-Eswatini minister of foreign affairs Mgwagwa Gamedze in Taipei signed an agreement that committed Taiwan to boosting bilateral trade from US$7.6 million in 2017 to US$17.96 million in 2021.
The two countries have had success collaborating on projects in the areas of agriculture, skills training, information technology and natal care, with Taiwan furnishing several medical and technical missions, the person said.
Taipei is grateful for Eswatini's vocal support of Taiwanese causes in the UN and the WHO, including recent advocacy for Taipei's inclusion in the UN Framework Convention on Climate Change, the person said.
Comments will be moderated. Keep comments relevant to the article. Remarks containing abusive and obscene language, personal attacks of any kind or promotion will be removed and the user banned. Final decision will be at the discretion of the Taipei Times.