Legislator chided for using China info in session presentation
Democratic Progressive Party (DPP) officials on Wednesday criticized independent Legislator May Chin (高金素梅) for citing Chinese reports during the previous day's legislative session, and questioned her claims that the US is using a fellowship exchange program to influence the government and provoke a war with China.
During the legislative session on Tuesday, Chin presented information on slides featuring simplified Chinese characters, "and also used the same format and phrasing as used in official Chinese documents," DPP spokesman Chang Chih-hao (張志豪) said.
Chang and DPP Legislator Kuo Kuo-wen (郭國文) said that materials on several slides were copied from Chinese investment firm reports outlining trade disputes the country had with the US and Japan, including semiconductor sanctions dating back to the 1980s and disputes regarding steel products dating back to the 1960s.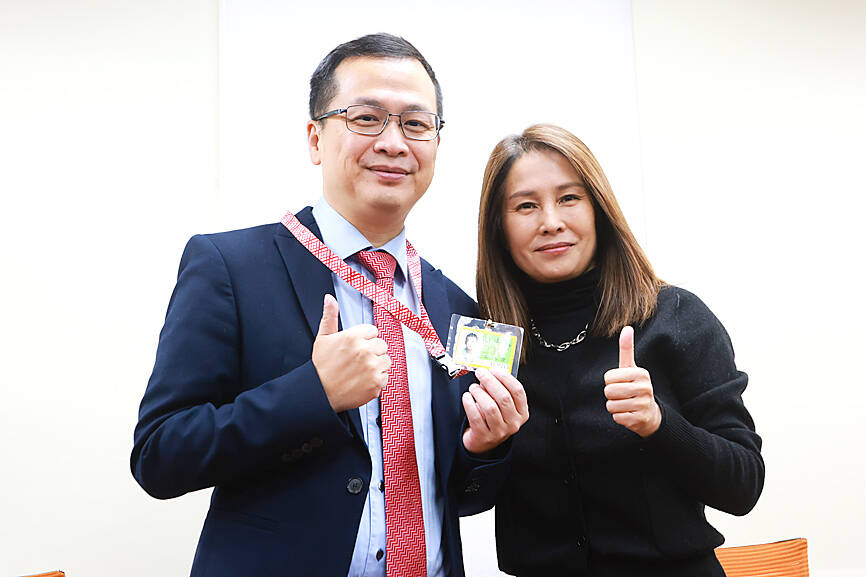 Independent Legislator May Chin, right, poses for a photograph with Chinese Nationalist Party Taipei City Councilor Lo Chih-chiang on Feb. 21.
Photo: CNA
"We have this legislator who uses data and reports coming from Chinese business and government to question our officials," Chang said.
"I believe Chin prepared her questioning using materials and reports supplied by the Chinese Communist Party [CCP], and followed their script," he said.
By doing so, she represented the Chinese government, not Taiwanese, he added.
"Chin misrepresented the US Taiwan Fellowship Program as working to control our government," Chang said.
Chin is aligning with the Chinese Nationalist Party (KMT) and pan-blue camp to promote the idea that "the US will not come to Taiwan's defense," he said.
"Chin is oblivious to the fact that China is the foremost threat to Taiwan's existence. It has been unrelenting in its military incursions, in undermining Taiwan's security and attempting to isolate the country internationally," Chang said.
"She dared not to ask China to remove missiles aimed at us while expecting Taiwan not to arm itself and prepare for war. It is disappointing to see her pandering to China," Chang said.
"Chin enjoys the fruits of Taiwan's democratic systems and free parliamentary elections, but self-identifies as a member of China's ethnic minority," DPP Legislator Liu Shyh-fang (劉世芳) said.
Chin's ideas are not acceptable to most Taiwanese, Liu added.
DPP caucus deputy secretary-general Hung Sun-han (洪申翰) said that Chin supports "China's rise as a regional power."
"Chin is engaging in China's propaganda warfare," Hung said.
During her address on Tuesday, Chin said that Ukraine is now at war because the US had a Ukraine Fellowship Program and other exchanges with the country that are similar to the Taiwan Fellowship Program, which is being used to promote war against China to benefit US business interests.
"What you are saying is incorrect," Chen said.
Chin's father was a Chinese soldier who arrived in Taiwan with the KMT in the late 1940s during the Chinese Civil War. Her mother is from the indigenous Atayal community, making Chin eligible to run in elections as a representative of an indigenous electoral district.
Chin was first elected to the legislature in 2002, and has worked closely with the KMT legislative caucus.
Comments will be moderated. Keep comments relevant to the article. Remarks containing abusive and obscene language, personal attacks of any kind or promotion will be removed and the user banned. Final decision will be at the discretion of the Taipei Times.