Honduran shrimp imports unaffected by ties: Fisheries Agency
SUFFICIENT SUPPLY: Trade matters are unaffected by diplomatic ties, the government said, as China lifted its import ban on Taiwanese largehead whitetails and jack mackerels
Shrimp supply would not be affected if Honduras ends its diplomatic relations with Taiwan, as the nation has sufficient shrimp production to meet domestic demand, the Fisheries Agency said.
Taiwan imports 25,000 to 36,000 tonnes of whiteleg shrimp per year, 32 to 37 percent of which is from Honduras, Fisheries Agency Deputy Director-General Lin Kuo-ping (林國平) said.
Taiwan produces about 11,000 tonnes of whiteleg shrimp per year, which is sufficient to meet domestic demand, Lin said.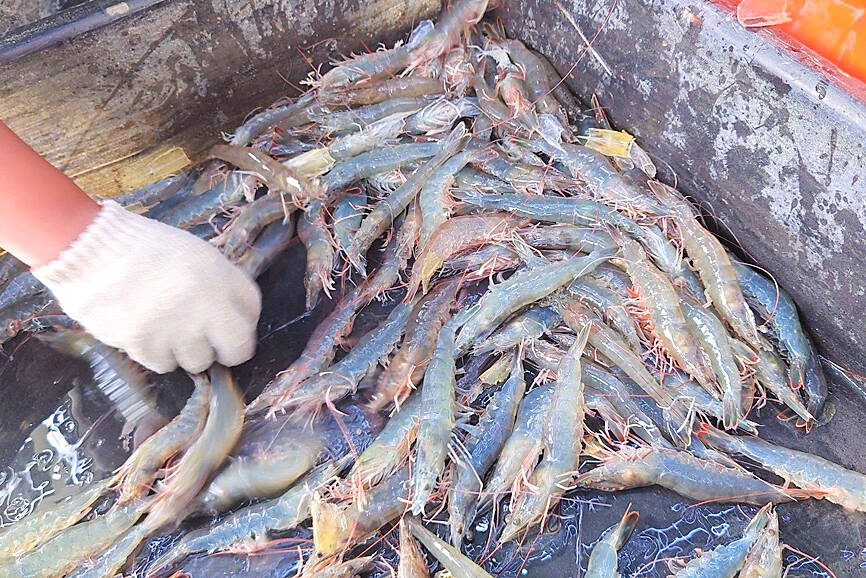 A fish farmer inspects white shrimp harvested at a fish farm in Tainan on July 7 last year.
Photo: Yang Chin-cheng, Taipei Times
The export and import of whiteleg shrimp is a trade issue on which formal diplomatic ties have no bearing, he added.
Taiwan also imports whiteleg shrimp from Nicaragua, Panama and Thailand, he said.
Bilateral trade between Taiwan and Honduras has increased since the countries signed a free-trade agreement in 2007, Minister of Economic Affairs Wang Mei-hua (王美花) said on Wednesday.
Taiwan exports about US$60 million of goods to Honduras per year and imports US$120 million of goods from the Central American nation, she said.
Whiteleg shrimp and coffee are Honduras' two largest exports to Taiwan, she added.
Separately, the agency said it would continue to diversify the export of fishery products, even as China reinstates Taiwanese imports of frozen largehead hairtail and frozen jack mackerel.
China in August last year banned Taiwanese imports of the products, alleging that that COVID-19 could spread from the packaging.
China on Wednesday announced that imports of largehead whitetail and jack mackerel would be immediately restored.
Taiwan in 2021 exported about 4,000 tonnes of frozen jack mackerel to other countries, agency data showed.
Before China imposed the import ban, about 4,000 tonnes of frozen jack mackerel were exported from January to July last year, 40 to 50 percent of which went to China, the agency said.
Between August and December last year, about 1,700 tonnes of jack mackerel were exported to Egypt, Mozambique, Thailand and seven other nations, the agency said.
Jack mackerel exports also reached about 900 tonnes from January to last month, it said.
About 9,000 tonnes of largehead hairtail were exported to other countries in 2021, 90 percent of which was exported to China, the agency said.
From August to December last year, about 300 tonnes of largehead hairtail was exported to Malaysia, Japan, South Korea and other nations.
Exports of largehead hairtails also reached about 500 tonnes during the first two months this year, the agency added.
"We have been using criteria consistent with international standards to inspect fishery products exported to other countries. We are glad that China has canceled the requirement to test for SARS-CoV-2 on fishery products, which is incongruent with international standards," the agency said.
"We, along with the US, Australia and India, have expressed concerns at the WTO Sanitary and Phytosanitary Measures Committee over China's practice, which is inconsistent with trade regulations and affects trade of agricultural products across the Taiwan Strait," it said.
The agency implemented measures to help Taiwanese fishers and retailers when China imposed the import ban, including upgrading food processing and freezer storage facilities, offering incentives for fishery exports and keeping prices at production sites stable, it said.
"We have successfully expanded the sale of Taiwanese fishery products to markets in South Korea, Japan, Malaysia and the US," the agency said. "We will continue to help fishers sell to more high-end markets."
Comments will be moderated. Keep comments relevant to the article. Remarks containing abusive and obscene language, personal attacks of any kind or promotion will be removed and the user banned. Final decision will be at the discretion of the Taipei Times.