China lifts ban on chilled beltfish, horse mackerel
China has lifted a ban on imports of fresh chilled beltfish and frozen Atlantic horse mackerel from Taiwan amid an easing of COVID-19 restrictions, China's Taiwan Affairs Office (TAO) spokesman Ma Xiaoguang (馬曉光) said in a statement on Wednesday.
Chinese customs on Aug. 3 last year suspended imports of the two types of fish products from Taiwan "based on the consideration of biosecurity risk prevention," Ma said, alleging that traces of the COVID-19 virus had been detected on the outer packaging of the products from Taiwan.
However, China has downgraded its COVID-19 management protocols and canceled measures such as testing for the virus on all imported cold-chain food products, Ma said.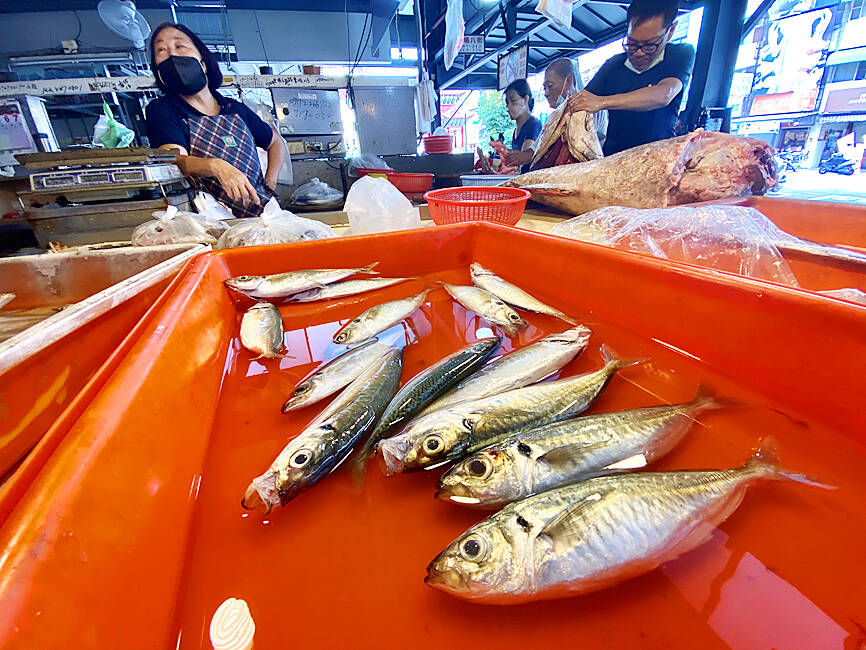 Horse mackerel are displayed at a stall at a market in Kaohsiung on Aug. 3 last year.
Photo: CNA
"To promote the healthy development of cross-strait trade, the General Administration of Customs has decided to resume imports of chilled large-head hairtail and frozen mackerel from Taiwan from March 15," Ma added.
China on June 13 last year suspended imports of Taiwanese grouper, claiming that prohibited chemicals and excessive levels of oxytetracycline had been repeatedly detected in shipments of the fish.
Later that year Chinese authorities imposed an import ban on more than 100 Taiwanese companies selling aquatic products and processed foods, which Beijing claimed had failed to submit documents or provide correct information needed to comply with new customs registration rules.
However, on Jan. 29, the TAO announced that the import ban on products made by 63 Taiwanese companies, including Kaoliang liquor brewed by Kinmen Kaoliang Liquor Inc, had been lifted.
The office said those companies had successfully registered or updated their registration information, so they can resume exports to China.
Fisheries Agency Deputy Director-General Wang Cheng-fang (王正芳) confirmed that the Council of Agriculture had received documents from China regarding the changes.
The council is happy to see China complying with international standards by lifting the ban, Wang said.
In addition to the Chinese market, the council will continue to work with the industry to expand sales in high-end markets around the world, Wang added.
Keelung Fishermen's Association director-general Chen Wen-chin (陳文欽) said that exports to China of fresh chilled beltfish and frozen Atlantic horse mackerel are expected to resume from July or August, when the production season starts, and run until March next year.
Comments will be moderated. Keep comments relevant to the article. Remarks containing abusive and obscene language, personal attacks of any kind or promotion will be removed and the user banned. Final decision will be at the discretion of the Taipei Times.