NCC head defiant after accusations over Mirror News
National Communications Commission (NCC) Chairman Chen Yaw-shyang (陳耀祥) yesterday said that he would neither resign nor recuse himself from reviews of cases related to Mirror News, even after Taipei's Shilin District Prosecutors' Office listed him as a defendant in such a case, alleging that he exercised undue influence to help the news channel secure a broadcasting license.
The Shilin office accused Chen of malfeasance in office and contravening the Anti-Corruption Act (貪污治罪條例). The case was yesterday transferred to the Taipei Prosecutors' Office.
"I have not received any information about this matter," Chen told reporters on the sidelines of a meeting of the legislature's Transportation Committee. "Lawsuits related to Mirror News were filed by shareholders who are in dispute with one other, and we have turned documents related to these lawsuits over to the prosecutors. We respect the investigations into the commission's role in the dispute."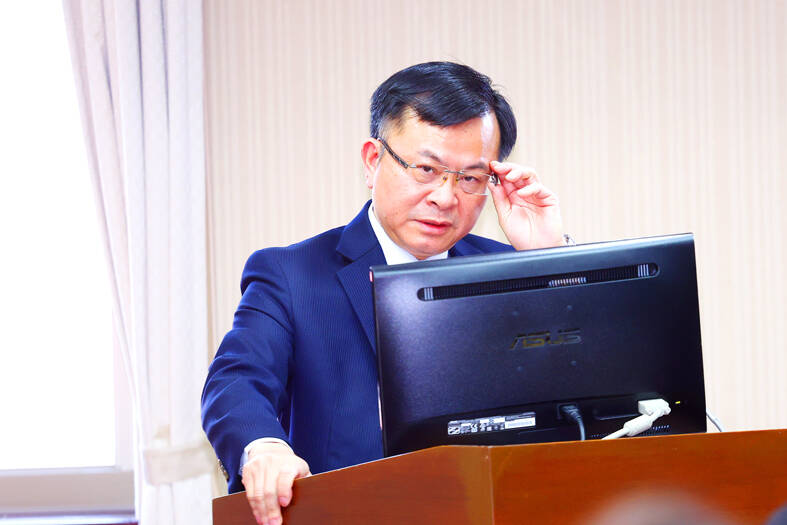 National Communications Commission Chairman Chen Yaw-shyang yesterday attends a meeting of the legislature's Transportation Committee in Taipei.
Photo: CNA
Chen said that he felt "shocked" after hearing the "regrettable" news that he was listed as a defendant, adding that he and other NCC staff are innocent.
The Transportation Committee yesterday rejected a motion proposed by New Power Party legislators asking Chen to recuse himself from reviews related to Mirror News.
"So far, we have only heard about Chen being listed as a defendant from the news. We have neither seen any document sent by the prosecutors nor seen substantial evidence in the case. We will not know if Chen needs to recuse himself until the prosecutors release the results of their investigation," said Chinese Nationalist Party (KMT) Legislator Chen Hsueh-sheng (陳雪生), who serves as the convener of the committee.
Meanwhile, Mirror News founder Pei Wei (裴偉) was listed as a defendant after being accused by a shareholder of contravening the Company Act (公司法) and breach of trust under the Criminal Code.
The cable news channel has been mired in controversy since it obtained the license on Jan. 19 last year — the first broadcasting license granted to a news channel in the past 10 years. Its operation also came under scrutiny following a series of management reshuffles.
Recorded conversations provided by a whistle-blower last year appeared to show that Pei told shareholders that then-premier Su Tseng-chang (蘇貞昌) had instructed Chen to grant Mirror News the license. They also indicate that former Democratic Progressive Party (DPP) secretary-general Hong Yao-fu (洪耀福) told Chen that President Tsai Ing-wen (蔡英文) is in favor of the station being granted a license.
Su, the Presidential Office and Mirror News denied the allegations.
Former Taiwan People's Party legislator Tsai Pi-ru (蔡璧如) last year reported the allegations to the Ministry of Justice, which assigned the Shilin District Prosecutors' Office to review them.
Comments will be moderated. Keep comments relevant to the article. Remarks containing abusive and obscene language, personal attacks of any kind or promotion will be removed and the user banned. Final decision will be at the discretion of the Taipei Times.