US lawmakers arrive in Taipei for Tsai meeting
A bipartisan US congressional delegation arrived in Taiwan yesterday on a two-day visit that is to include meetings with President Tsai Ing-wen (蔡英文) and other senior government officials, the Ministry of Foreign Affairs said.
The delegation comprises Republican US representatives and Chairman of the Defense Appropriations Subcommittee Ken Calvert, Tom Cole, Dave Joyce and Mike Garcia, as well as Democratic US Representative Ed Case, the ministry said in a news release.
Upon their arrival at Taipei International Airport (Songshan airport), the five representatives were welcomed by North American Affairs Department Director-General Douglas Hsu (徐佑典), it said.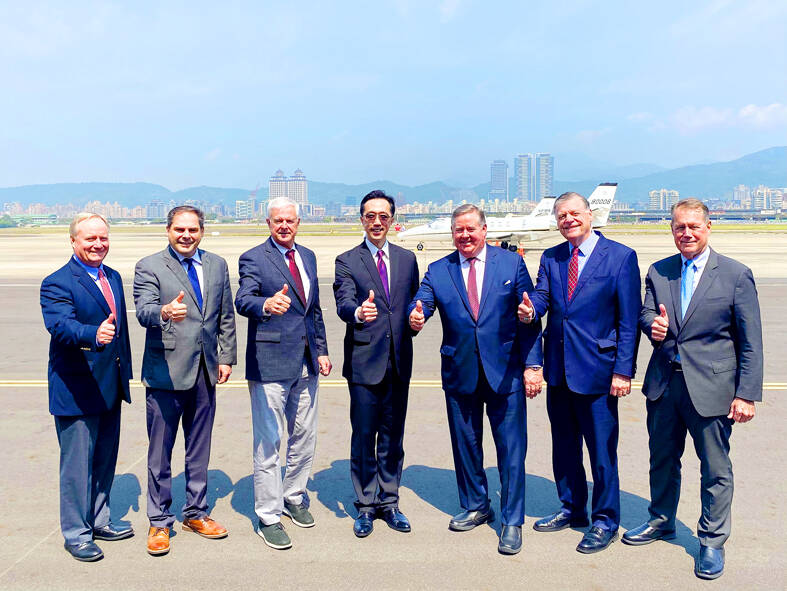 US Representative and Chairman of the Defense Appropriations Subcommittee Ken Calvert, third right, Ministry of Foreign Affairs North American Affairs Department Director-General Douglas Hsu, center, and others pose for a photograph at Taipei International Airport (Songshan airport) yesterday after their arrival.
Photo courtesy of Ministry of Foreign Affairs via CNA
During their visit, they are to meet with Tsai, National Security Council Secretary-General Wellington Koo (顧立雄) and Minister of Foreign Affairs Joseph Wu (吳釗燮) to discuss bolstering bilateral security cooperation, and economic and trade ties, it said.
The American Institute in Taiwan said the representatives are in Taiwan as part of a larger visit to the Indo-Pacific region.
In related news, former US national security adviser Robert O'Brien on Tuesday said that the only one who would "destroy" Taiwan is China.
O'Brien, who served in the administration of former US president Donald Trump from 2019 to 2021, made the comments in an interview with the Central News Agency when asked about a comment he made recently to the Soufan Center, a New York-based think tank.
News reports quoted him as saying that the US would destroy Taiwan's semiconductor fabs if China were to invade the nation.
"The United States and its allies are never going to let those factories fall into Chinese hands," the reports quoted him as saying.
On Tuesday O'Brian clarified his statement, saying that "anyone who says that the US is somehow going to destroy Taiwan or attack Taiwan — that's propaganda and misinformation from the Chinese Communist Party [CCP]."
It would be difficult for China to take the nation without destroying its infrastructure and Taiwan's talent would not be willing to work for the CCP, he said, adding that the US — like Taiwan — would work to prevent an invasion in the first place.
Asked about the speculated invasion date of 2027, O'Brien said it might be possible, as Chinese President Xi Jinping (習近平) would like to achieve unification with Taiwan within his lifetime.
Within one to three years, Xi could try to coerce Taiwan into a unification "that the people of Taiwan just don't want," he said.
"One of the great stories of my lifetime is Taiwan," he said, highlighting its thriving democracy, rule of law and innovative people.
O'Brien complimented the administration of US President Joe Biden for continuing the Trump administration's efforts to protect Taiwan, which he said was his top priority while in office.
To protect its democracy, Taiwan must become so bloated it would spoil China's appetite, he said.
He approved of Taiwan's extension of mandatory military service to one year and acquisition of weapons systems that would make an invasion difficult, saying that the moves send a strong message that Taiwan is willing to fight.
The US should prioritize military assistance to Taiwan as it has done for Ukraine, he said, urging the Biden administration to deliver arms purchased by Taiwan as soon as possible.
O'Brien also recommended that Taiwan and the US bolster trade ties, including by signing a free-trade agreement that would allow more Taiwanese and US firms to invest and manufacture in each others' countries.
Comments will be moderated. Keep comments relevant to the article. Remarks containing abusive and obscene language, personal attacks of any kind or promotion will be removed and the user banned. Final decision will be at the discretion of the Taipei Times.