Ex-Honduran envoy pans switch plan
'ECONOMIC REPERCUSSIONS': President Xiomara Castro's plan would affect farmers in the country and Honduran students enrolled at Taiwanese universities, Rafael Sierra said
Former Honduran ambassador to Taiwan Rafael Sierra yesterday criticized Honduran President Xiomara Castro's bid to establish diplomatic ties with China, saying that severing relations with Taiwan would likely result in economic repercussions for his country.
Castro's effort to switch diplomatic recognition from Taiwan to China is based on untruthful premises, Sierra wrote on Twitter, adding that it could harm the interests of farmers and more than 300 students receiving Taiwanese scholarships.
Salvadorans who moved to China on promises of scholarship were required to restart their studies from scratch, compelling many to return home empty-handed, Sierra said, referring to students enrolled in Taiwan when El Salvador switched recognition to Beijing in 2018.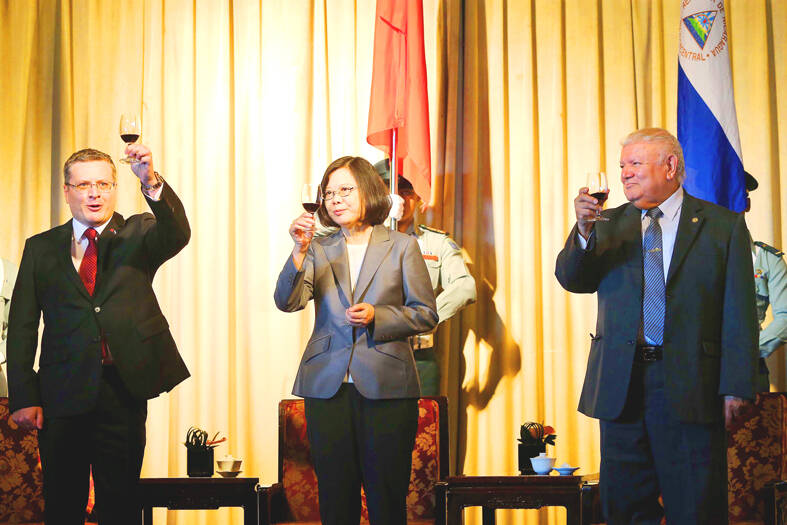 Former Honduran ambassador Rafa Sierra, left, raises his glass during an event for Central American Independence Day at the Grand Hotel in Taipei on Sept. 15 last year Warning: Excessive consumption of alcohol can damage your health
Photo: CNA
Trade with Taiwan has been favorable to his country because of Taiwanese demand for melons, shrimp, coffee and other products from Honduras, he said.
As Costa Rica has discovered after establishing diplomatic relations with Beijing, China's larger market does not necessarily result in more demand for Central American products, he said.
Taiwanese programs provide aid to many families in Honduras via agriculture technical assistance for avocado and potato seed production, and hog and floating cage fish farming, he said.
These families would face an uncertain future if the Taipei-run International Cooperation and Development Fund were to withdraw from the country, he said.
Fernando Ramos, a Honduran columnist who writes for Taiwanese media, told the Central News Agency that election challenges and fiscal woes might have influenced the Castro administration's foreign policy with regard to Taiwan.
Castro's announcement on Twitter of her intention to establish ties with Beijing likely signaled that a decision had already been made, Ramos said.
Honduras is facing a steep fiscal crisis that might jeopardize Castro's election promises of infrastructure projects, which could fuel the opposition parties' criticism of the government ahead of general elections next year, he said.
A meeting between Honduran Minister of Foreign Affairs Eduardo Enrique Reina and Chinese Vice Minister of Foreign Affairs Xie Feng (謝峰) in January was likely part of Tegucigalpa's efforts to find new sources of funding for a dam project on the Patuca River, he said.
The resources Beijing could offer to infrastructure and energy projects in Honduras were a powerful incentive in contrast to Taiwan's approach to foreign aid, which revolves around the soft-power domains of education, technology and vocational training, Ramos said.
Honduran students in Taiwan were alarmed by the potential threat to their scholarship programs, Ramos said, urging Taipei not to cut academic exchange programs.
Taipei has long conducted educational cooperation with countries that do not recognize it, and showing respect for the rights of Honduran students would demonstrate that Taiwan is not like China, he added.
Honduran lawmaker Tomas Zambrano, a high-profile critic of Castro, told a local TV channel that switching recognition would likely affect the country's relationship with the US, its main trade partner.
Comments will be moderated. Keep comments relevant to the article. Remarks containing abusive and obscene language, personal attacks of any kind or promotion will be removed and the user banned. Final decision will be at the discretion of the Taipei Times.