Bird populations stabilizing: survey
Taiwan's native bird population has stabilized and grown steadily over the past decade, the Taiwan Breeding Bird Survey showed, with researchers attributing the positive results to conservation efforts.
The survey — a collaboration of the Council of Agriculture's Endemic Species Research Institute (ESRI), National Taiwan University's Institute of Ecology and Evolutionary Biology and the Taiwan Wild Bird Federation, along with volunteers and amateur scientists — monitored birds during breeding seasons from 2011 to 2019, ESRI Director Yang Jia-dong (楊嘉棟) said on Monday.
The survey found that the "individual population trajectories for 87 species did not show a significant change," a paper published in last month's edition of the journal Ecological Indicators showed.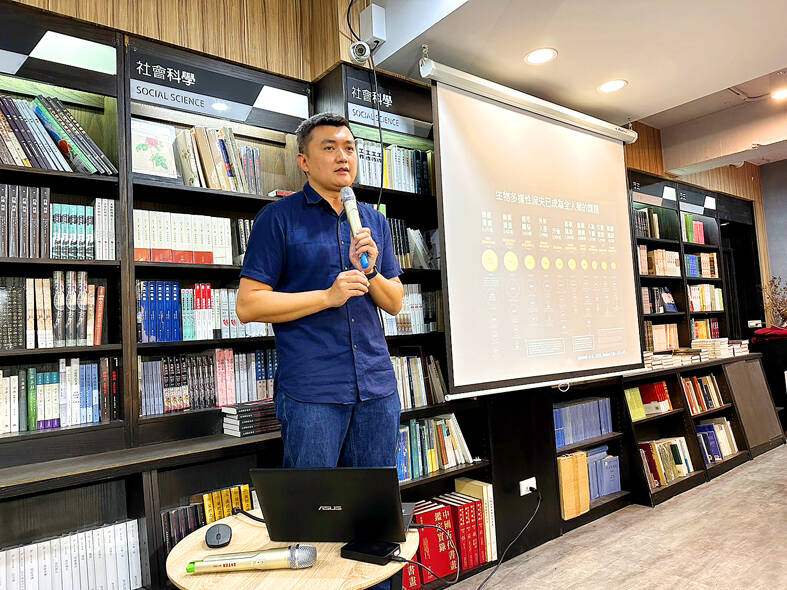 Endemic Species Research Institute researcher Lin Da-li speaks at a seminar in Taipei on Monday.
Photo: Yang Yuan-ting, Taipei Times
The project's two main indicators, "forest birds" and "farmland birds," showed gradual increases during the nine-year survey, Yang said.
"We have seen gradual growth of Taiwan's bird species in both the forest and farmland habitats over the past decade," but there was a significant decline for two endemic species: the Taiwan bamboo partridge and the gray-cheeked fulvetta, said ESRI researcher Lin Da-li (林大利), one of the paper's authors.
The dwindling population of the Taiwan bamboo partridge is likely due to poaching and trapping with snare nets, while the decline of gray-cheeked fulvettas could be due to expanded farming and related activities, and loss of habitat, Lin said.
Although the overall survey results are good news for conservationists, Lin said he is concerned about declines among six bird species: the tree sparrow; the light-vented bulbul; vinous throated parrotbill; the black drongo; the long-tailed shrike; and the plumbeous water redstart bird.
"The data showed a steady decline for birds that commonly breed in grassland or near rivers, along with carnivorous birds, and could be due to habitat destruction and too much human construction, such as concrete and artificial barriers in grasslands or on the banks of rivers and streams," Lin said.
A surge in foreign invasive species and a rise in feral dogs and cats in the birds' habitats are also contributing to population declines, he said.
Taiwan is only the second country in Asia, after India, to publish national monitoring data on bird species.
"We hope these biodiversity indices can inform government agencies when formulating policy, help national development planning, and promote organic farming and other environmentally friendly practices," Lin said.
Taiwanese non-governmental organizations participated in last year's UN Biodiversity Conference in Montreal, where member countries adopted 23 goals to achieve by 2030, including restoring 30 percent of terrestrial and marine ecosystems, developing stronger conservation policies and reversing a decline in biodiversity, Yang said.
The Taiwan bird survey included bird-monitoring programs conducted by 311 volunteers, with a focus on 107 regularly occurring breeding bird species in Taiwan — 100 native species and seven introduced species — with 52 in the forest, 20 on farmland and 28 found in both habitats, he said.
Comments will be moderated. Keep comments relevant to the article. Remarks containing abusive and obscene language, personal attacks of any kind or promotion will be removed and the user banned. Final decision will be at the discretion of the Taipei Times.