Herbal COVID-19 drug receives EUA extension
LOW AND STEADY: The CECC reported a 12.1% drop in local COVID-19 cases from Sunday last week, and said it would review its remaining mask mandates next month
Emergency use authorization (EUA) for a traditional herbal formula for treating COVID-19 has been extended until June next year, Minister of Health and Welfare Hsueh Jui-yuan (薛瑞元) said yesterday.
The ministry has extended the EUA for Chingguan Yihau (清冠一號), also marketed as Respire Aid and NRICM101, to give pharmaceutical companies time to complete clinical trials and obtain a drug permit before the authorization expires, Hsueh said.
Hsueh made the remarks at the Taipei Traditional Chinese Medicine International Forum, hosted by the National Union of Chinese Medical Doctors' Association, where Vice President William Lai (賴清德) said he had taken Chingguan Yihau when he contracted COVID-19.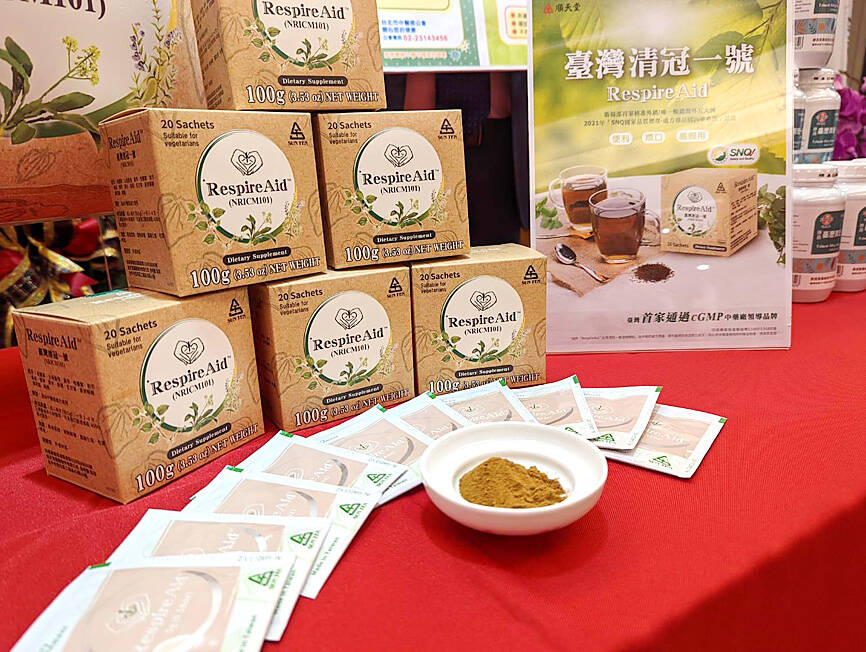 A display of the herbal medicine product Respire Aid, also known as Chingguan Yihau, or NRICM101, is pictured in Taipei in an undated photograph.
Photo: Wu Liang-yi , Taipei Times
Lai said that he was not eligible for antiviral drugs, but felt that his respiratory symptoms were greatly relieved by taking the herbal medicine.
More than 1.5 million people have taken Chingguan Yihau for COVID-19 and many still take herbal medicines to relieve their symptoms after an acute infection, association chairman Chan Yung-chao (詹永兆) said.
The number of estimated Chinese herbal medicine users has increased by 40 percent to about 8.15 million people in 2021, he said.
Hsueh said that traditional herbal medicines would be included in the ministry's drug shortage reporting system as early as next month.
The Pharmaceutical Affairs Act (藥事法) requires pharmaceutical firms to report shortages of drugs to the Food and Drug Administration, but as drug shortage reports are now being reviewed by the ministry, it would include traditional herbal medicines in the system, he said.
The supply of herbal medicine ingredients has been affected by global political and economic events, so Taiwan must re-evaluate the situation and, hopefully, establish a self-sufficient supply chain through cross-ministerial cooperation or with New Southbound Policy countries, he said.
Separately, the Central Epidemic Command Center (CECC) yesterday reported 8,869 new local COVID-19 cases, 12.1 percent fewer than on Sunday last week.
It also reported 224 imported cases and 39 deaths.
Centers for Disease Control (CDC) Deputy Director-General Philip Lo (羅一鈞), who is also the CECC's spokesman, said that as daily local caseloads have remained at a low level, the next phase of easing the mask mandate for healthcare facilities and at public transportation venues is expected to be discussed in the middle of next month.
Regarding whether more people might report infections this week to receive COVID-19 insurance compensation before it becomes invalid, as mild cases would no longer be required to be reported or enter quarantine from Monday next week, Lo said he expected some slight fluctuations.
However, as no new subvariants of SARS-CoV-2 have been reported recently, daily case counts are not expected to increase by much, he added.
Comments will be moderated. Keep comments relevant to the article. Remarks containing abusive and obscene language, personal attacks of any kind or promotion will be removed and the user banned. Final decision will be at the discretion of the Taipei Times.