Tourism Bureau beats Q1 visitor target
UPS AND DOWNS: The cost of group travel to destinations in Asia is expected to fall 10 to 20 percent next quarter, but rise up to 40 percent for trips to North America
The nation is expected to greet its 1 millionth international visitor of the first quarter at the end of this month, earlier than scheduled, the Tourism Bureau said.
The bureau had set a goal of attracting 820,000 international tourists during the first quarter, but it met that target faster than expected, International Affairs Division Director Huang Shih-fang (黃勢芳) said yesterday.
The Taiwan Lantern Festival and an intensive international tourism marketing campaign helped the bureau exceed its goal, bureau Deputy Director-General Trust Lin (林信任) said.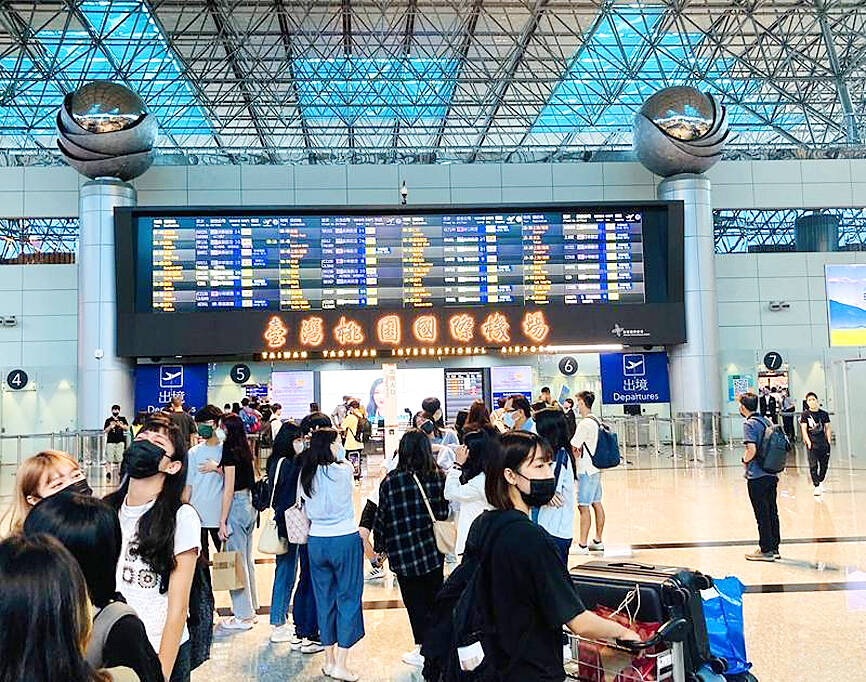 People stand inside Taiwan Taoyuan International Airport's departure hall in an undated photograph.
Photo: Chen Hsin-yu, Taipei Times
"We need to intensify our tourism marketing in Japan. Before the COVID-19 pandemic, Japan was our second-largest source of international tourists," Lin said.
However, the return of Japanese tourists has not been significant, as Tokyo extended domestic travel subsidies from this month until the beginning of summer, he said.
South Korea has emerged as the largest source of international tourists so far this year, the bureau said, adding that Taiwan was already reporting a gradual increase in South Korean tourists before the COVID-19 pandemic.
From October last year to January, Taiwan has recorded 696,474 outbound tourists and 254,359 inbound visitors, bureau data showed.
Booking.com Taiwan area manager Regina Chan (詹雅?) said that most of the inbound travelers who arrived after Taiwan reopened its borders in the middle of last year came for business.
More international tourists want to visit Taiwan following international media coverage of Taiwan and changes in cross-strait relations, she said.
Taiwan can draw tourists from nations targeted by the New Southbound Policy and those from Europe and North American with more diverse tour arrangements, such as those focused on religion and natural scenery in Taiwan, she said.
In related news, the Travel Quality Assurance Association (TQAA) on Friday said that the cost of group tours from Taiwan to Asian destinations, including Japan and Southeast Asia, is expected to fall 10 to 20 percent in the second quarter compared with the previous quarter.
The travel agency trade group said that the depreciation of the yen and cuts in airline fares would lower group travel costs to Japanese cities.
Citing Tokyo and Osaka as the most popular destinations for Taiwanese, the association said it expected five-day tours to Osaka to cost NT$42,800 to NT$62,800 during the cherry blossom season next month and from NT$33,900 to NT$55,900 in May and June.
However, tour group costs to the US, Canada and Europe are expected to continue to rise in the April-to-June period, the TQAA said.
The sequential increase in costs to travel to the US and Canadian markets is expected to reach 30 to 40 percent in the quarter, reflecting higher transportation and lodging expenses amid rising airfares and bus costs, as well as a labor shortage.
Comments will be moderated. Keep comments relevant to the article. Remarks containing abusive and obscene language, personal attacks of any kind or promotion will be removed and the user banned. Final decision will be at the discretion of the Taipei Times.