Experts divided on plan for US defense stockpile
Military experts on Tuesday expressed mixed views on the possibility of the US establishing a "contingency stockpile" of munitions and other defense articles in Taiwan based on a provision in this year's National Defense Authorization Act (NDAA), which US President Joe Biden signed into law in December last year.
The act calls for the establishment of a contingency stockpile in Taiwan, similar to stockpiles in Thailand, South Korea and other major US allies. It also authorizes the US Department of State and the US Department of Defense to propose up to US$100 million each fiscal year through 2032 to maintain a stockpile in Taiwan, and allows the US Congress to review the annual budgets.
Chinese Nationalist Party (KMT) Legislator Johnny Chiang (江啟臣) this week weighed in on the issue, asking Minister of National Defense Chiu Kuo-cheng (邱國正) during a question-and-answer session at the legislature in Taipei whether he thinks the US would move parts of its stockpiles in other countries to Taiwan.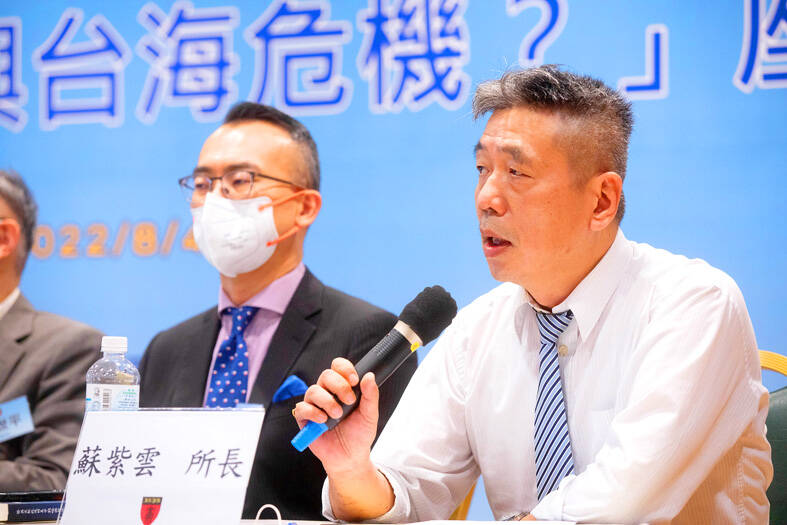 Institute for National Defense and Security Research fellow Su Tzu-yu, right, speaks at a symposium in Taipei on Aug. 4 last year.
Photo: CNA
Chiu said Taiwan and the US are in talks about such a move, but no agreement had been reached.
Su Tzu-yun (蘇紫雲), a research fellow at the government-funded Institute for National Defense and Security Research, said that contingency stockpiles are an essential part of the US military's strategy to respond to regional military conflicts.
The US stockpiles in Europe, the Middle East and Asia enable Washington to send its military relatively lightly equipped on reginal missions, greatly reducing response times, Su said.
The US military is familiar with stockpiling weaponry in Taiwan, as it operated depots at Ching Chuan Kang Air Base in Taichung and Tainan Air Base during the Vietnam War, he said.
If the US were to again establish a stockpile in Taiwan, it would have to build depots or rent existing ones, which it might have to fortify, Su added.
However, regardless of a stockpile or a permanent presence of US troops in Taiwan, Washington would come to the nation's aid if it were to be attacked, he said.
If Washington establishes a stockpile in the nation, it would elevate Taiwan's status to a "quasi-diplomatic ally" of the US, he said.
Asked whether a US stockpile in Taiwan would cross Beijing's "red line," Su said that Chinese incursions into the nation's air defense identification zone and crossing's of the Taiwan Strait's median line have frequently crossed Taiwan's red line.
Taiwan has the right to engage in self-defense under international law, Su added.
"If we don't help ourselves, no one will," he said.
Meanwhile, Chieh Chung (揭仲), an associate research fellow at the National Policy Foundation, a think tank affiliated with the KMT, criticized the defense minister's statement at the legislature.
If Chiu spoke without prior authorization by the US, his statement might cause trouble for Washington, Chieh said.
It is premature to talk about a US contingency stockpile in Taiwan, because the US agencies involved in such a step have not proposed a related appropriations bill, Chieh said.
The White House is likely to adopt a reserved stance on the proposal, as it is concerned that it could negatively affect US-China relations, Chieh said, adding that Beijing would see it as crossing a red line.
It would take time to select suitable sites for a stockpile, build depots and transport the defense articles, he said.
Any change in the cross-strait situation might halt the establishment of a stockpile, he added.
Chieh said that Japan's Okinawa, where the US operates several military bases, would be more suitable for a stockpile, as sending more weapons there would not affect cross-strait tensions, he said.
"Rather than talking about a contingency stockpile, we should urge the US to clear its backlog of munitions and launch platforms that it has promised to sell to Taiwan," he said.
Comments will be moderated. Keep comments relevant to the article. Remarks containing abusive and obscene language, personal attacks of any kind or promotion will be removed and the user banned. Final decision will be at the discretion of the Taipei Times.