Tsai lauds Taiwan-Japan friendship
EARTHQUAKE ANNIVERSARY: Japan's representative to Taiwan said it is a blessing for his country to have such a neighbor, while Tsai also highlighted aid efforts elsewhere
Officials from Taiwan and Japan yesterday lauded the mutual assistance between the two countries as they observed the 12th anniversary of a devastating earthquake that hit northern Japan in 2011.
President Tsai Ing-wen (蔡英文) wrote on social media that the mutual assistance between Taiwan and Japan had never stopped in the 12 years since the magnitude 9.0 earthquake and subsequent tsunami devastated large parts of the country's main island of Honshu on March 11, 2011.
The earthquake triggered more than 10m high waves, causing serious damage in more than 40 municipalities in Iwate, Miyagi and Fukushima prefectures.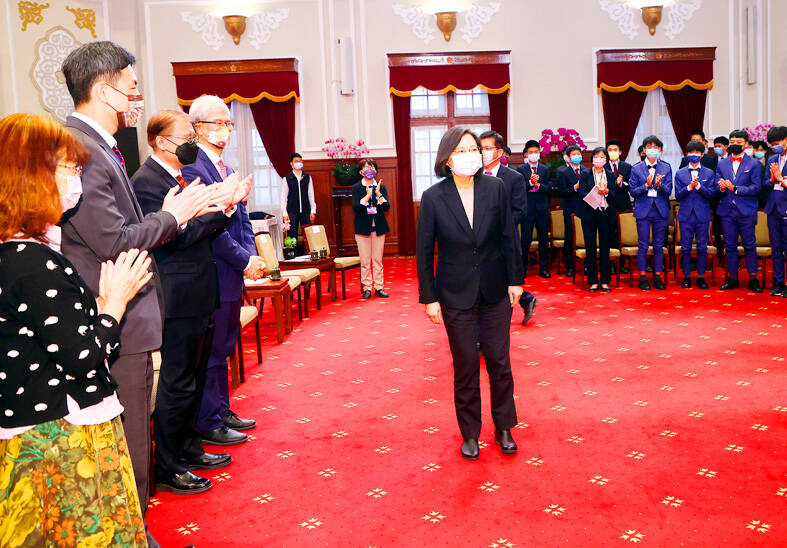 President Tsai Ing-wen, center, attends an event at the Presidential Office in Taipei on Wednesday.
Photo: CNA
About 18,500 people were confirmed dead or are listed as missing, Japanese government data show.
Tsai said Taiwan helped by sending rescue teams to the country, while the government and the public donated NT$6.85 billion (US$222.1 million at the current exchange rate) in total.
After COVID-19 spread around the world in early 2020, Taiwan supplied masks and medial equipment to Japan, and the Japanese government later sent 3.4 million vaccine doses to Taiwan, she said.
Hiroyasu Izumi, who heads the Japan-Taiwan Exchange Association, the country's de facto embassy in Taiwan, wrote on social media that Taiwanese and Japanese have always supported each other in times of crisis.
This "cycle of kindness" has deepened the friendship between Taiwan and Japan, Izumi said.
Many Japanese remember the help Taiwanese people offered after the 2011 disaster, he said.
It is a blessing for Japan to have such a neighbor, Izumi added.
Tsai said that Taiwan has been a force for good in the international community, and is determined to continue to help others in need.
Taiwan's contributions are not limited to other countries in the Asia-Pacific region, she said, citing its assistance to Turkey after a devastating earthquake last month.
Premier Chen Chien-jen (陳建仁) wrote on social media that Taiwan wishes to "make friends with the world through sincerity and good deeds," citing the aid it provided to Japan and Turkey.
Comments will be moderated. Keep comments relevant to the article. Remarks containing abusive and obscene language, personal attacks of any kind or promotion will be removed and the user banned. Final decision will be at the discretion of the Taipei Times.