Tsai Ing-wen to receive global leadership award
RECOGNITION: The president would join former US presidents and ambassadors as recipients of the prestigious award when she makes a stopover in the US next month
President Tsai Ing-wen (蔡英文) is to receive a leadership award from the Hudson Institute, where she is scheduled to give a speech when she makes a stopover in the US next month, the Financial Times reported.
Tsai is to receive the institute's annual Global Leadership Award and speak at an event sponsored by the Washington-based think tank on March 30, the newspaper cited people familiar with the matter as saying.
Tsai would join a list of past Hudson Institute award honorees that includes media mogul Rupert Murdoch, former US ambassador to the UN Nikki Haley, former US secretary of state Henry Kissinger, former US president Ronald Reagan and former Japanese prime minister Shinzo Abe.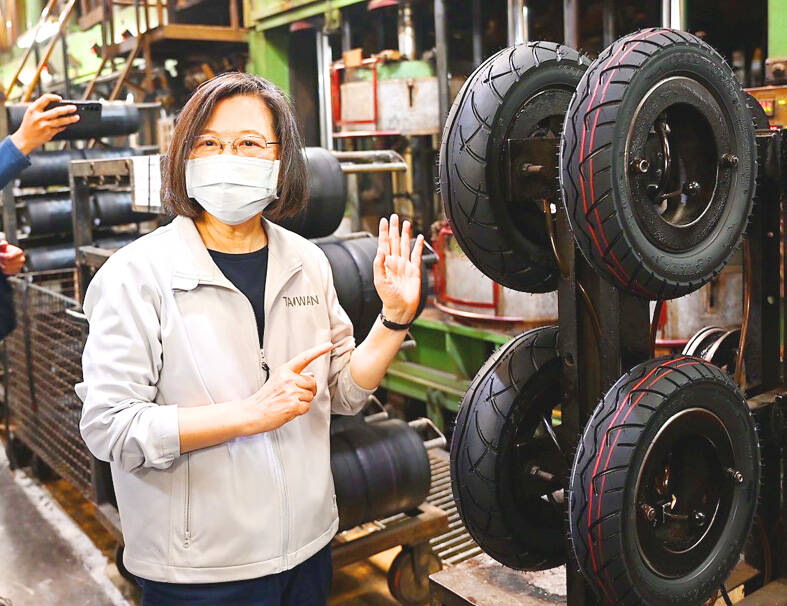 President Tsai Ing-wen visits Kenda Rubber Industrial Co in Changhua County's Yuanlin City yesterday.
Photo copied by Chen Kuan-pei, Taipei Times
The newspaper on Monday reported that Tsai would visit California and New York early next month on the way to visit Taiwan's diplomatic allies Guatemala and Belize.
She is to meet US House of Representatives Speaker Kevin McCarthy in California and deliver a speech at the Ronald Reagan Presidential Library in Simi Valley, California, it added.
McCarthy on Tuesday confirmed his plans to meet with Tsai.
The Chinese embassy in Washington objected to Tsai's plan to meet with McCarthy, saying that Beijing "firmly rejects all forms of official interactions between the US and Taiwan," the Financial Times reported.
Tsai's visit and her speeches might "trigger a harsh response from Beijing," it said, citing rising US-China tensions in the wake of an alleged Chinese spy balloon flying over North America last month.
Chinese Minister of Foreign Affairs Qin Gang (秦剛), who previously served as ambassador to Washington, on Tuesday warned about possible "conflict and confrontation" between China and the US, as the US' China policy had "entirely deviated" from the right track.
Separately, Czech President Petr Pavel was sworn in on Thursday, replacing Milos Zeman, who pushed for closer relations with China and Russia during his two five-year terms in office.
Pavel, who sees China and Russia as security threats, had a telephone conversation with Tsai two days after winning the election.
He told Tsai that Taiwan is a trustworthy partner, and that the Czech Republic would support the nation in safeguarding its democratic system.
Comments will be moderated. Keep comments relevant to the article. Remarks containing abusive and obscene language, personal attacks of any kind or promotion will be removed and the user banned. Final decision will be at the discretion of the Taipei Times.