Micronesia discusses ties with Taiwan
'POLITICAL WARFARE': The Pacific island nation is experiencing Chinese threats, espionage and bribery, and is in talks with Taiwan about its diplomatic recognition
The Federated States of Micronesia held talks with Taiwanese lawmakers last month about switching diplomatic ties for US$50 million in assistance after growing frustrated with China, Micronesian President David Panuelo said in a letter.
Panuelo lost his seat in Tuesday's national poll, election officials confirmed.
In a letter sent to state governors of the Pacific island nation, Panuelo said he met with Minister of Foreign Affairs Joseph Wu (吳釗燮) last month to discuss switching diplomatic recognition.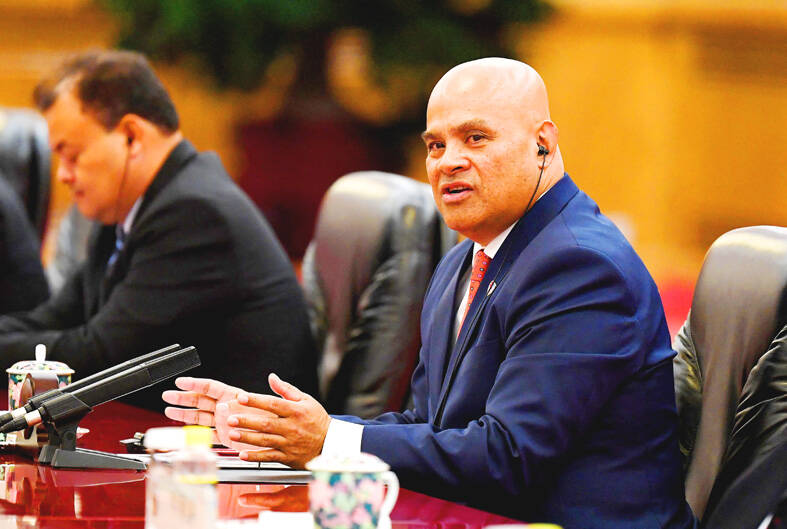 Micronesian President David Panuelo speaks at a meeting at the Great Hall of the People in Beijing on Dec. 13, 2019.
Photo: AFP
"I was transparent with Foreign Minister Wu; we project we need an injection of approximately US$50,000,000 to meet our future needs. We can and will receive this, over a three year period, if and when we establish diplomatic relations with Taiwan," he wrote. "Taiwan assures me that they will simply 'pick up' any and all projects that China is currently undertaking."
The aid would come on top of "greatly added layers of security and protection that come with our country distancing itself from the PRC [People's Republic of China], which has demonstrated a keen capability to undermine our sovereignty, reject our values, and uses our elected and senior officials for their own purposes," he added.
An interim US$15 million annual assistance package was also offered, he wrote.
In a statement yesterday, the Ministry of Foreign Affairs said that China's ambition to expand in the Pacific was obvious when it signed a security agreement with the Solomon Islands last year.
In the face of China's abominable behavior, such as political warfare and "gray zone" tactics, democratic allies should unite to prevent its authoritarian expansion from harming global interests, it said.
Contrary to China's unsubstantiated promises and overexaggerated Belt and Road projects, Taiwan has always adhered to the spirit of practical diplomacy and put "Taiwan can help" into action, it added.
A spokesperson from the Micronesian presidential office declined to comment.
In the letter, which was dated Thursday and reported by The Diplomat, Panuelo accused China of waging "political warfare" in his country and bribing government officials.
"Simply put, we are witnessing political warfare in our country," Panuelo warned leading lawmakers, detailing allegations of Chinese espionage, coercion of government officials and "direct threats" against his personal safety.
Panuelo has previously voiced concerns about Beijing's growing power in the South Pacific, most notably opposing a security deal that could allow Chinese troops to be deployed to the region.
However, his letter further warns the incoming government about a barrage of threats that he believes risk making the sparsely populated island federation a vassal state.
Among the allegations, Panuelo said his Cabinet colleagues transmitted recordings of bilateral meetings directly to China.
"We are bribed to be complicit, and bribed to be silent. That's a heavy word, but it's an accurate description regardless," he said. "What else do you call it when an elected official is given an envelope filled with money after a meal at the PRC embassy or after an inauguration?" he said.
He also said he was personally followed by "two Chinese men" while attending a meeting in Fiji in July last year.
Paneulo said that both were embassy officials and that one was later identified as an "intelligence officer" in the Chinese military.
"To be clear: I have had direct threats against my personal safety from PRC officials acting in an official capacity," he said, adding that he had to change his phone number because of "incessant" calls from China's ambassador trying to persuade him to accept Chinese COVID-19 vaccines.
Asked about the issue at the legislature yesterday, Wu confirmed that the two had an "exchange of views," but the US$50 million figure differed slightly from the facts.
Additional reporting by Liu Tzu-hsuan and Yang Cheng-yu
Comments will be moderated. Keep comments relevant to the article. Remarks containing abusive and obscene language, personal attacks of any kind or promotion will be removed and the user banned. Final decision will be at the discretion of the Taipei Times.