Insurance payments for mild COVID-19 symptoms to end
From March 20, insurance companies would no longer pay out claims from policyholders with mild COVID-19 symptoms, the Non-life Insurance Association of the ROC said yesterday.
The association said it made the decision following an announcement by the Central Epidemic Command Center (CECC) that it would no longer release reports on the numbers of people with mild symptoms.
"Starting on March 20, if a policyholder with COVID-19 is diagnosed with mild symptoms, the insurer will no longer pay any claims, as the insured will not be recognized as being infected with a statutory notifiable disease," it said.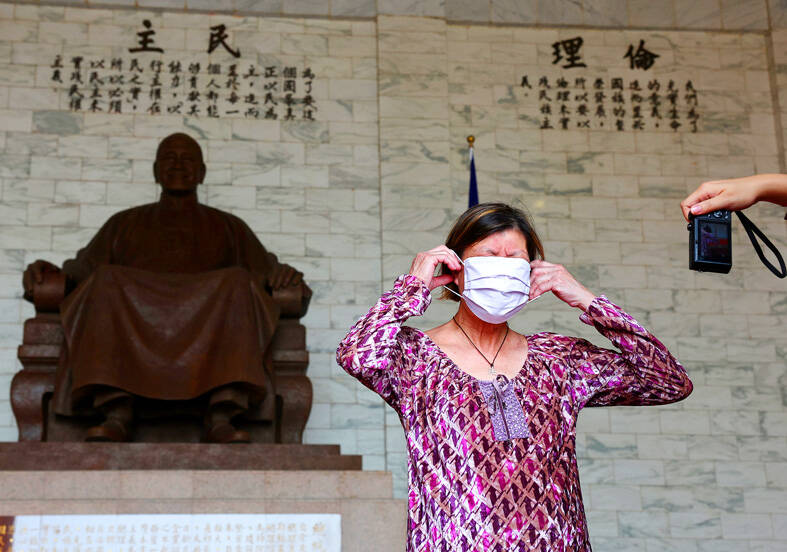 A woman adjusts her mask at Chiang Kai-shek Memorial Hall in Taipei on Wednesday.
Photo: CNA
The decision stems from the CECC's redefinition of severe atypical infectious lung diseases, it said, adding that the redefinition changes the conditions that must be met for a claim to be made.
Under the new definition, a claim can only be made if there is a need for oxygen therapy, or if there are complications requiring hospitalization or leading to death, within 14 days of a serious lung infection, or a body temperature of 38°C or higher, the association said.
The CECC on Thursday announced that from March 20, people who have only mild symptoms of COVID-19 would no longer have to report or isolate.
Cases would only have to be reported when patients develop pneumonia or other complications, are hospitalized or die after running a fever of at least 38°C or have respiratory symptoms within 14 days of the onset of symptoms, it said yesterday.
Also yesterday, the CECC reported 9,098 new cases of COVID-19 and 54 deaths from the disease.
Among the new infections, 8,913 were domestic, a 34.1 percent drop from the same day a week earlier, the CECC said.
It was the second consecutive day with fewer than 10,000 local cases reported and the daily number was expected to remain at about that level through the weekend, it added.
Comments will be moderated. Keep comments relevant to the article. Remarks containing abusive and obscene language, personal attacks of any kind or promotion will be removed and the user banned. Final decision will be at the discretion of the Taipei Times.