Temperatures to decline to 9°C early next week
With a continental cold air mass approaching, temperatures are expected to dip to as low as 9°C next week, the Central Weather Bureau (CWB) said yesterday.
The cold air system is expected to hit the nation tomorrow night and its momentum is likely to peak early on Tuesday morning, plunging temperatures to between 12°C and 14°C in most low-lying areas north of Tainan, while some open areas could experience lows of 9°C or 10°C, the bureau said.
The cold air mass is expected to start dissipating on Wednesday, it said, adding that the system is expected to move quickly and bring strong winds.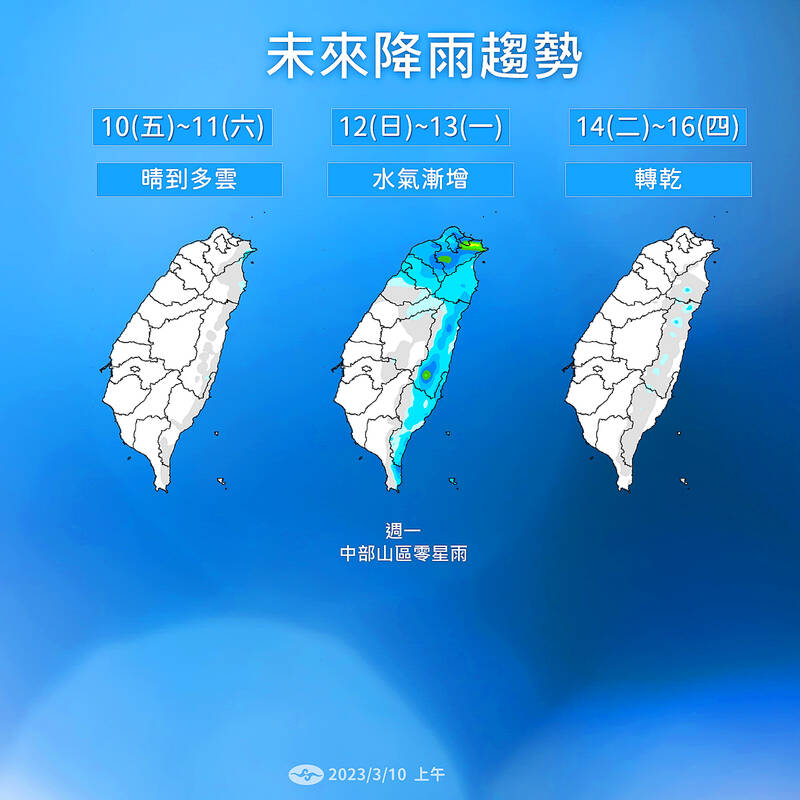 A Central Weather Bureau graphic shows estimated rainfall levels from yesterday to Thursday.
Photo courtesy of the Central Weather Bureau
Amid the low temperatures, dry conditions are likely, as there is little moisture in the cold air system, it added.
Citing a European Centre for Medium-Range Weather Forecasts model, Wu Der-rong (吳德榮), an adjunct associate professor of atmospheric sciences at National Central University, said that the weather in northern and northeastern Taiwan would change quickly as the cold air mass moves in.
Wu said that temperatures in some low-lying areas could even fall to 8°C early on Tuesday and Wednesday due to the radiative cooling effect — the cooling of the ground at night under clear skies, light winds and dry conditions.
Cloudy or sunny skies would be likely in most of the nation when the system arrives, he said.
Meanwhile, the Environmental Protection Administration said an easterly wind system is expected to cause poor air quality in most of Taiwan over the next two days, adding that some parts of the nation could see an "orange" alert on the air quality index, meaning the air quality would be unhealthy for sensitive groups.
Comments will be moderated. Keep comments relevant to the article. Remarks containing abusive and obscene language, personal attacks of any kind or promotion will be removed and the user banned. Final decision will be at the discretion of the Taipei Times.