Official posts bail amid wind power probe
EX-CEO DETAINED: Prosecutors said county officials allegedly approached Wpd Taiwan Energy executives to seek bribes after planned wind projects were opposed
Yunlin County Council Speaker Shen Tsung-lung (沈宗隆), who has been implicated in a bribery scandal related to the wind power company Wpd Taiwan Energy Co, was released on bail yesterday after being questioned.
Prosecutors on Wednesday questioned 27 people and filed motions with a local court to detain six of them, including Shen, over their alleged involvement in the case, citing the risk that they might collude to tamper with evidence.
Of the six, the Yunlin District Court only approved the detention of a former Wpd Taiwan Energy chief executive officer surnamed Pan (潘), saying that if he were not detained, he could adversely influence the statements of witnesses.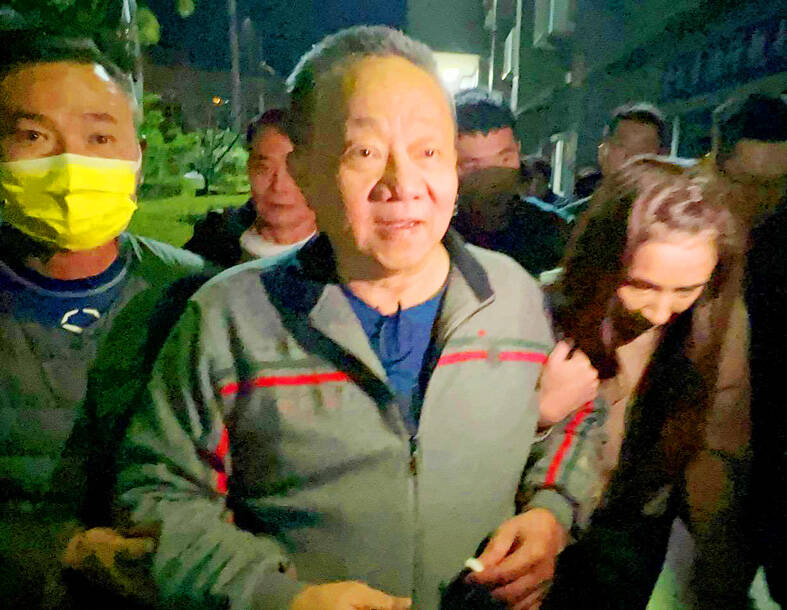 Yunlin County Council Speaker Shen Tsung-lung leaves the Yunlin District Prosecutors' Office after being released on bail early yesterday.
Photo: Huang Shu-li, Taipei Times
The evidence presented by prosecutors showed no need to detain the other five, including Shen, the court said.
Shen was released on bail of NT$2 million (US$64,834), while Yunlin County Councilor Wang You-min (王又民) and a subcontractor surnamed Chung (鍾) were released on bail of NT$500,000 and NT$1 million respectively.
Pan's wife, surnamed Yu (游), was released on NT$60,000 bail, while Yu's sister was released without bail.
The court ordered the five who were released on bail not to change their residence or leave the country.
The Yunlin District Prosecutors' Office did not rule out appealing the court's decision, saying that the evidence was "solid" and the defendants were suspected of serious crimes, including contraventions of the Anti-Corruption Act (貪污治罪條例).
On Thursday, authorities searched sites in Yunlin County as part of the probe involving alleged bribes totaling NT$26 million.
In addition to Shen and Wang, both of the Chinese Nationalist Party (KMT), prosecutors said they are also investigating two councilors without party affiliation: Hsu Liu-pin (許留賓) and Huang Wen-hsiang (黃文祥).
Hsu and Huang were released on Thursday after posting bail of NT$300,000 apiece.
Councilors and their office aides allegedly held secret talks with executives of Wpd Taiwan Energy to seek bribes after county councilors opposed the firm's planned coastal wind power projects, Yunlin head prosecutor Chu Chi-jen (朱啟仁) said.
Headquartered in Bremen, Germany, the company focuses on sustainable energy projects. It set up a Taiwan office in 2016. In 2020, it pursued wind power projects in Yunlin County.
The projects were impeded by the Yunlin County Council due to protests and resistance by local residents, Chu said.
While submitting proposals to develop wind power plants in 2020, media reports said that Wpd Taiwan Energy executives complained of delays and documents being held up, including construction blueprints, business licenses and operating permits.
The company sought the support of Shen and other councilors to expedite the approval process, reports said.
Wpd Taiwan Energy executives allegedly agreed to pass on "payments" through project contractors and intermediaries so the wind projects would be approved, prosecutors said.
"Our company has done projects for two decades in Taiwan and has always been in legal compliance with all application procedures," Wpd Taiwan Energy said in a statement on Thursday.
"The former chairman of our Taiwan company office resigned last year and we are fully cooperating with the investigation of this case," it said.
Comments will be moderated. Keep comments relevant to the article. Remarks containing abusive and obscene language, personal attacks of any kind or promotion will be removed and the user banned. Final decision will be at the discretion of the Taipei Times.