Special fund sought to fix water leaks in south
'DROUGHT CRISIS': A lawmaker said the leakage rate in Taiwan needs addressing as a lack of precipitation in southern Taiwan is worrying for residents and industries
The government should allocate a special fund of NT$70 billion (US$2.27 billion) to repair water leaks, as southern Taiwan is facing its most serious water shortage in three decades, Democratic Progressive Party (DPP) Legislator Lai Jui-lung (賴瑞隆) said yesterday.
The initiative would reduce the country's water leakage rate from 13.1 percent to 10 percent or less and could be completed by 2029, Lai said.
Taiwan has faced extreme climate change in the past few years and the low water levels at most reservoirs in the nation's south are low due to a lack of precipitation, which is worrying for residents and industries, he told a news conference at the Legislative Yuan in Taipei.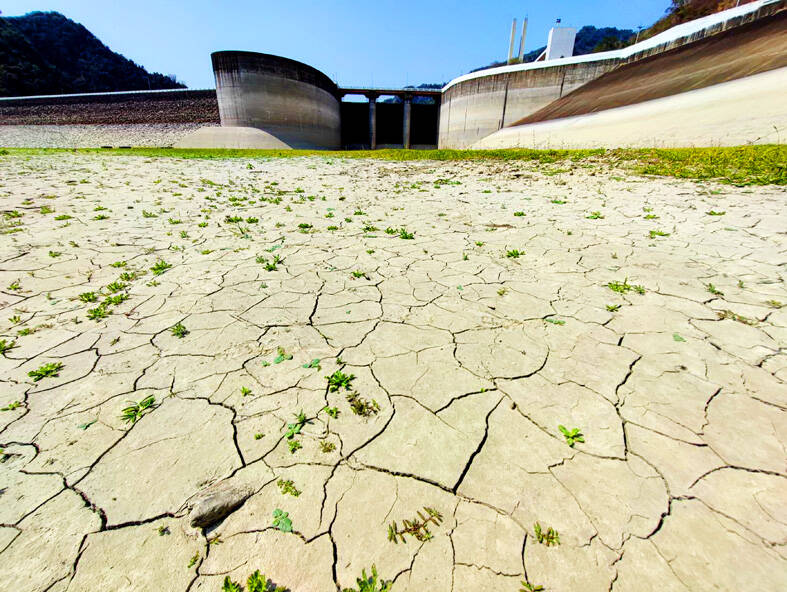 A dry section of the Zengwen Reservoir bed spanning Chiayi County and Tainan is pictured on Wednesday.
Photo: Wu Chun-feng, Taipei Times
"Kaohsiung raised its water alert level from green to yellow on Wednesday, which means water pressure would be reduced during off-peak hours," he said, adding that Kaohsiung has not experienced more than 200mm of rain in a day for nearly 600 days.
"The Kaoping River (高屏溪) is the largest natural water source in the Kaohsiung and Pingtung regions, but it is only barely sufficient for municipal water supply," Lai said. "We are facing a drought crisis, and the government's priority must be water retention and reducing leaks."
The average nationwide water leakage rate was 13.1 percent last year, accounting for a total loss of 415.18 million tonnes, equivalent to 27 times the capacity of the Agongdian Reservoir (阿公店水庫) in Kaohisung, or 4.6 times the capacity of the Nanhua Reservoir (南化水庫) in Tainan, Lai said, citing government data.
The high leakage rate increases operating costs for state-run Taiwan Water Corp and diminishes flow rates, "so we must allocate this special fund to get working on replacing old pipes in the municipal water supply network," he said.
The government on Wednesday last week set up the Drought Contingency Response Center and it is developing programs to stabilize supply for southern regions, Water Resources Agency Deputy Director Huang Hung-fu (黃宏莆) said.
"At our agency, we are monitoring the daily situation closely," Huang said. "We have a water supply shortage in the south, while north and central Taiwan are more stable."
Leakage reduction programs over the past decade have lowered the rate to 13 percent, and it is projected to decrease to 12 percent next year and dip below 10 percent by end of the decade, he said.
The municipal water network was originally built using plastic pipes and after three to four decades of use, they are prone to cracking or bursting, Taiwan Water Corp general manager Lee Chia-jung (李嘉榮) said.
Pipe renewal programs are under way and local firms have been tasked with detecting supply lines that have high rates of leakage, Lee said.
To improve the engineering needed to reduce the leakage rate, the next phase of the project would require a bigger budget, he added.
Comments will be moderated. Keep comments relevant to the article. Remarks containing abusive and obscene language, personal attacks of any kind or promotion will be removed and the user banned. Final decision will be at the discretion of the Taipei Times.