Tsai's US trip 'nothing new,' Price says
CONSISTENT POLICY: Tsai Ing-wen has transited through the US six times since her inauguration as president in 2016, the US Department of State spokesman said
The US Department of State on Wednesday said that high-level Taiwanese officials transiting through the country was "nothing new" and consistent with Washington's unofficial relations with Taiwan.
"Transits of the United States by high-level Taiwan officials are consistent with long-standing US policy and with our unofficial and strong relations with Taiwan," state department spokesman Ned Price told a news briefing in Washington.
Price made the remarks in the wake of a Financial Times report on Monday citing sources as saying that President Tsai Ing-wen (蔡英文) would stop over in California and New York early next month on the way to visit diplomatic allies Guatemala and Belize.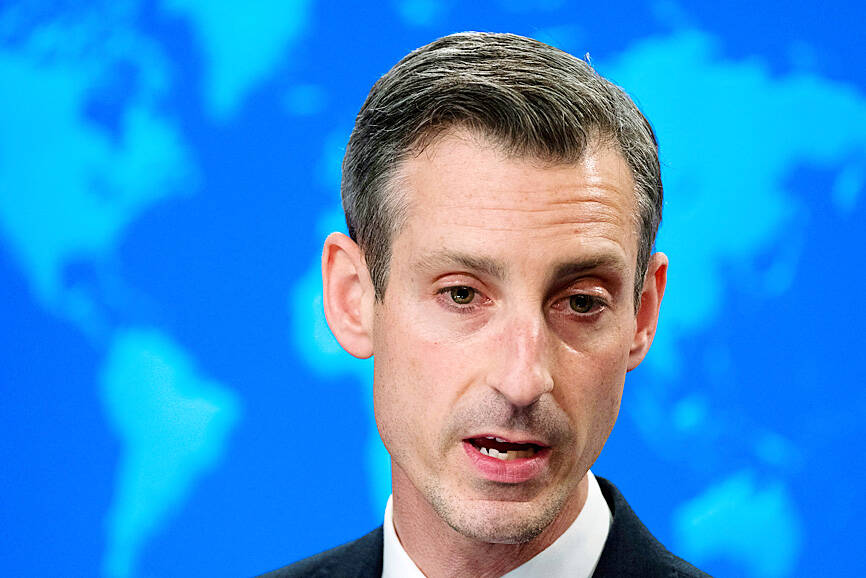 US Department of State spokesman Ned Price speaks during a news conference in Washington on March 10 last year.
Photo: Reuters
The Financial Times report said that Tsai would meet US House of Representatives Speaker Kevin McCarthy in California rather than in Taipei to avoid an aggressive Chinese military response.
On Tuesday, McCarthy confirmed to reporters on Capitol Hill that he plans to meet with Tsai in the US, but added that the meeting does not preclude a trip later to Taiwan.
Price said the House speaker has the right to decide who he meets with.
Tsai has transited through the US six times since she was inaugurated in 2016, Price said.
"That is nothing new. It is not something that would break any new ground. It is entirely consistent with the status quo," he said.
Chinese Ministry of Foreign Affairs spokeswoman Mao Ning (毛寧) on Wednesday said that Beijing was concerned about Tsai's transit, and had already presented its serious objections to Washington and demanded that the latter clarify the situation.
Asked for comment on Mao remarks, a diplomatic source in Taipei said the Chinese government has no right to comment on or interfere with high-level Taiwan-US exchanges.
The source said Republic of China presidents regularly visited diplomatic allies twice a year before the COVID-19 pandemic, and often made transit stops on US soil before and after visiting allies in Central and South America, the Caribbean or Africa.
During these stopovers in the US, they often met with local officials and overseas Taiwanese, the source said.
Even if Tsai did meet McCarthy in the US instead of Taipei, the decision would have been made mutually by Taipei and Washington, and not in order to avoid an aggressive Chinese military response amid tensions between Beijing and Washington, as the Financial Times claimed.
"A neighbor is in no position to have a say on two friends visiting each other," the source said, referring to China and the exchanges between Taiwan and the US.
Meanwhile, Overseas Community Affairs Council Minister Hsu Chia-ching (徐佳青) yesterday confirmed that Tsai plans to stop over in Los Angeles and New York as part of her trip to Central America.
Asked in the Legislative Yuan about Tsai's arrangements for meeting with overseas Taiwanese while she is abroad, Hsu said the council has been informed to organize banquets for overseas Taiwanese when Tsai transits the US next month.
According to preliminary planning, there would be four banquets during Tsai's trip, including in New York, the western US, Guatemala and Belize, Hsu said, adding that the details have yet to be finalized.
"On the west coast it's most likely Los Angeles, but Los Angeles is very big so we don't know in which area," Hsu said, adding that she would be part of the delegation going on the trip.
The Presidential Office declined to confirm any travel arrangements.
"We are still planning the president's schedule. As soon as details are finalized we will make them public," it said in response to a question from Reuters.
On Wednesday, the Presidential Office said "transit arrangements" had been in place for many years, although it did not directly mention the US.
Additional reporting by Sally Liu
Comments will be moderated. Keep comments relevant to the article. Remarks containing abusive and obscene language, personal attacks of any kind or promotion will be removed and the user banned. Final decision will be at the discretion of the Taipei Times.