Gender gap remains in Taiwan despite progress: academic
Shih Hsin University professor Wu Wei-ting (伍維婷) on Wednesday called on the government to address persistent gender equality issues in Taiwan, such as wage disparities and women's underrepresentation in top management positions.
Efforts in the public and private sectors over the past few years allowed Taiwan to make "much progress" in promoting gender equality, she said at an event to mark International Women's Day.
Regardless, gender disparities remain wide in political, economic and social quarters, and require additional government measures to effect change, Wu said, citing her research and government data.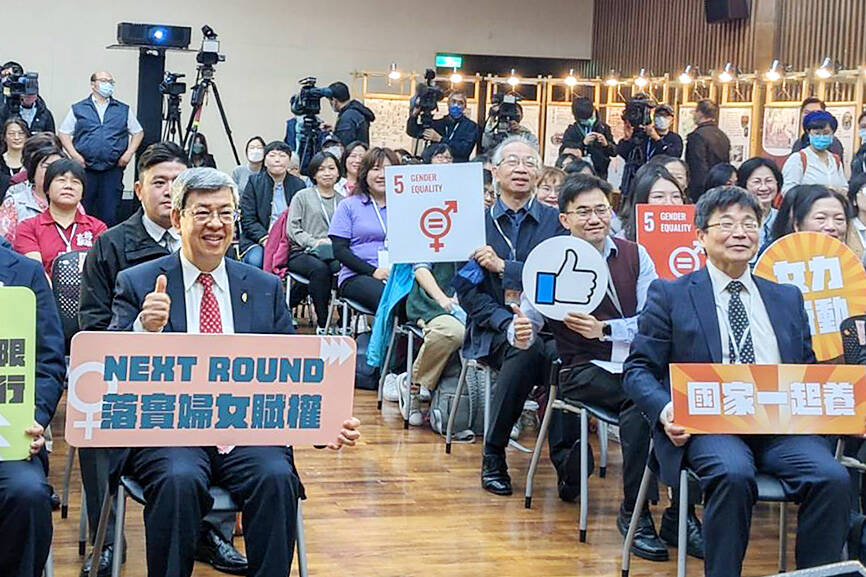 Premier Chen Chien-jen, front row left, attends an event in Taipei marking International Women's Day on Wednesday.
Photo: Chiu Chih-jou, Taipei Times
Female workers in Taiwan receive a monthly wage that is on average NT$6,000, or 15 percent, less than men, she said.
If ranked with the 27 EU member states, Taiwan would have the 19th-largest gender pay gap, Wu said.
Corporate executives in Taiwan are mostly men, despite significant contributions women have made to the economy, Wu said, adding that only 9 percent of the leaders of Taiwan's 149 universities and colleges are women.
Meanwhile, women are responsible for more than 80 percent of household chores, Wu said, citing a government survey conducted in 2016.
Men should be encouraged to take equal responsibility for those chores, she added.
Meanwhile, Premier Chen Chien-jen (陳建仁) told the event that Taiwan is a model of gender equality for other Asian countries.
The efforts of civil society groups and government agencies helped Taiwan in 2019 become the first country in Asia to legalize same-sex marriage, Chen said.
Female lawmakers comprised 41.59 percent of the legislature in 2020, ranking first among Asian countries, Chen said, citing data from the Inter-Parliamentary Union.
The government is not being complacent about these achievements as "there is still room for improvement," he added.
Chen said he had taken note of Wu's advice and that the government remains committed to ensuring women's rights at home and in the workplace.
Comments will be moderated. Keep comments relevant to the article. Remarks containing abusive and obscene language, personal attacks of any kind or promotion will be removed and the user banned. Final decision will be at the discretion of the Taipei Times.