Crime crackdown begins after showy Bamboo party
Police and justice officials yesterday were instructed by the premier's office to enhance efforts to restrain organized crime after the Bamboo Union held a large, highly visible banquet at a hotel in Taipei on Monday, a Cabinet spokesman said.
The Bamboo Union — a self-described business association and allegedly Taiwan's largest crime group — made headlines with the event at the Taipei Marriot, which featured a red-carpet entrance lined by 170 female greeters as a parade of luxury vehicles arrived.
Following the banquet's extensive media coverage, the National Police Agency was told by Premier Chen Chien-jen (陳建仁) to implement measures to discourage such public events, which cast Taiwan in a bad light and insult law enforcement authorities, Cabinet spokesman Lo Ping-cheng (羅秉成) told a news conference in Taipei.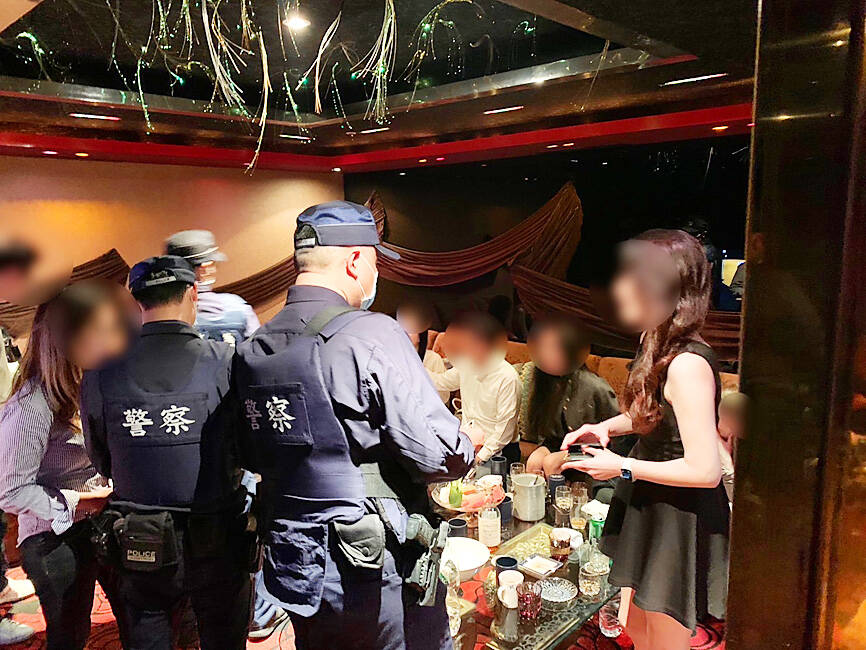 Taipei police inspect a KTV establishment on Wednesday as part of a series of sweeps of bars and entertainment venues in the city.
Photo: CNA
Chen also told the Ministry of Justice to instruct the Taiwan High Prosecutors' Office to enhance efforts to bolster measures to contain organized crime, Lo said.
Police should vigorously inspect businesses run by criminal gangs to determine any illegal activities and take swift action against the suspects, Lo cited the premier as saying.
Taipei Mayor Chiang Wan-an (蔣萬安), commenting on the banquet, said that law enforcement authorities must not be challenged, and that he had instructed Taipei police to forcefully crack down on organized crime in the city.
The Taipei City Police Department has been instructed to create a task force to draft concrete measures to discourage criminal gangs, the police agency said on Wednesday.
About 200 officers on Wednesday evening inspected businesses suspected to be operated by or affiliated with criminal gangs in Taipei, and found three wanted fugitives, two of whom are suspected of fraud and one of forgery, Taipei City Police Commissioner Chang Jung-hsin (張榮興) said at Zhongshan Precinct that night.
The Taipei police department remains steadfast in its resolve to purge criminal gangs, it said in a statement.
Comments will be moderated. Keep comments relevant to the article. Remarks containing abusive and obscene language, personal attacks of any kind or promotion will be removed and the user banned. Final decision will be at the discretion of the Taipei Times.