Proposed 20-year nuclear plant extension opposed
NO WASTE STORAGE: Renewable energy last year contributed more than the output of nuclear sources, but the nation risks moving backward, critics said
The National Nuclear Abolition Action Platform yesterday criticized calls by politicians to extend the service of the Guosheng Nuclear Power Plant's No. 2 reactor, saying it disregards public sentiment and does not address problems with waste storage.
Some lawmakers have suggested a 20-year extension of the No. 2 reactor at the plant in New Taipei City's Wanli District (萬里), which is set to reach the end of its lifespan on Tuesday, the groups told a news conference in Taipei.
More than 12 years after the Fukushima Dai-ichi nuclear power plant disaster in Japan, issues with contamination and wastewater have yet to be resolved, Green Citizens' Action Alliance secretary-general Tsuei Su-hsin (崔愫欣) said.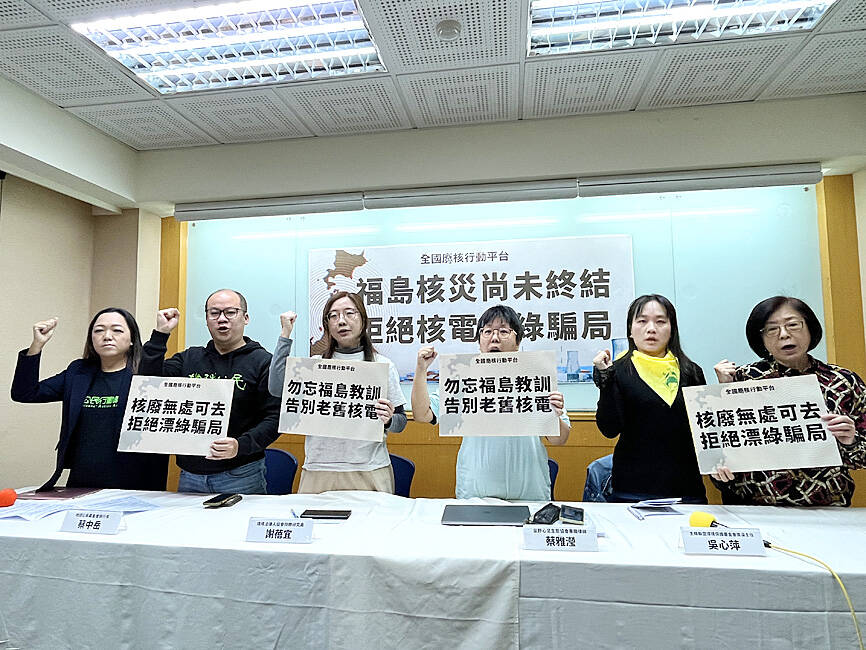 Members of the National Nuclear Abolition Action Platform attend a news conference to oppose extending the service of the Guosheng Nuclear Power Plant No. 2 reactor in Taipei yesterday.
Photo: Chen Chia-yi, Taipei Times
The disaster occurred just as the plant turned 40 years old, said Tsai Ya-ying (蔡雅瀅), an attorney with the Wild at Heart Legal Defense Association.
Although the main cause was a tsunami triggered by an earthquake, an underlying weakness that exacerbated the disaster was the age of its facilities, Tsai said.
The second reactor at the Guosheng plant is about to turn 40 next week and should be decommissioned, she said.
Without locations identified to store nuclear waste, there is no basis for discussing continued use of the reactor, Environmental Jurists Association researcher Hsieh Pei-yi (謝蓓宜) said.
Politicians and corporate leaders — including Taipei City Councilor Wang Hung-wei (王鴻薇) and Broadcasting Corp of China chairman Jaw Shaw-kong (趙少康) — have been using "false, one-sided information" to call for its extension, Citizen of the Earth, Taiwan executive director Tsai Chung-yueh (蔡中岳) said.
They have not addressed the issue of waste storage sites at the plant being filled to capacity, he said, adding that they have evading the question whenever asked.
They are not only disregarding public concern about nuclear waste, but also ignoring legal provisions that require extension requests to be made at least five years before a nuclear plant's decommission date, Tsai said.
Japan's experience with restarting its nuclear plants was much different than perceived, the groups said.
In 2011, Japan had 54 nuclear generating units, 24 of which had been decommissioned, they said.
In the years since, seven have been restarted, and more planned restarts were canceled due to public opposition, the groups said.
Last year, renewables contributed close to that of nuclear in the nation's power mix, at 8.3 percent, the groups said, adding that Taiwan should not to "move backward" on energy transition.
Renewable energy should be made a more viable long-term goal, Homemakers United Foundation director Wu Hsin-ping (吳心萍) said.
Solar and small-scale hydropower are being used in many communities, Wu said.
For example, one small 20-kilowatt solar installation in Taipei, despite frequent overcast weather in the capital, is able to produce a month of power in a year for about 70 households, she said.
Comments will be moderated. Keep comments relevant to the article. Remarks containing abusive and obscene language, personal attacks of any kind or promotion will be removed and the user banned. Final decision will be at the discretion of the Taipei Times.